T.J. and Marina Doherty are the new owners of Roosevelt Trail Garden Center and its division, L.J.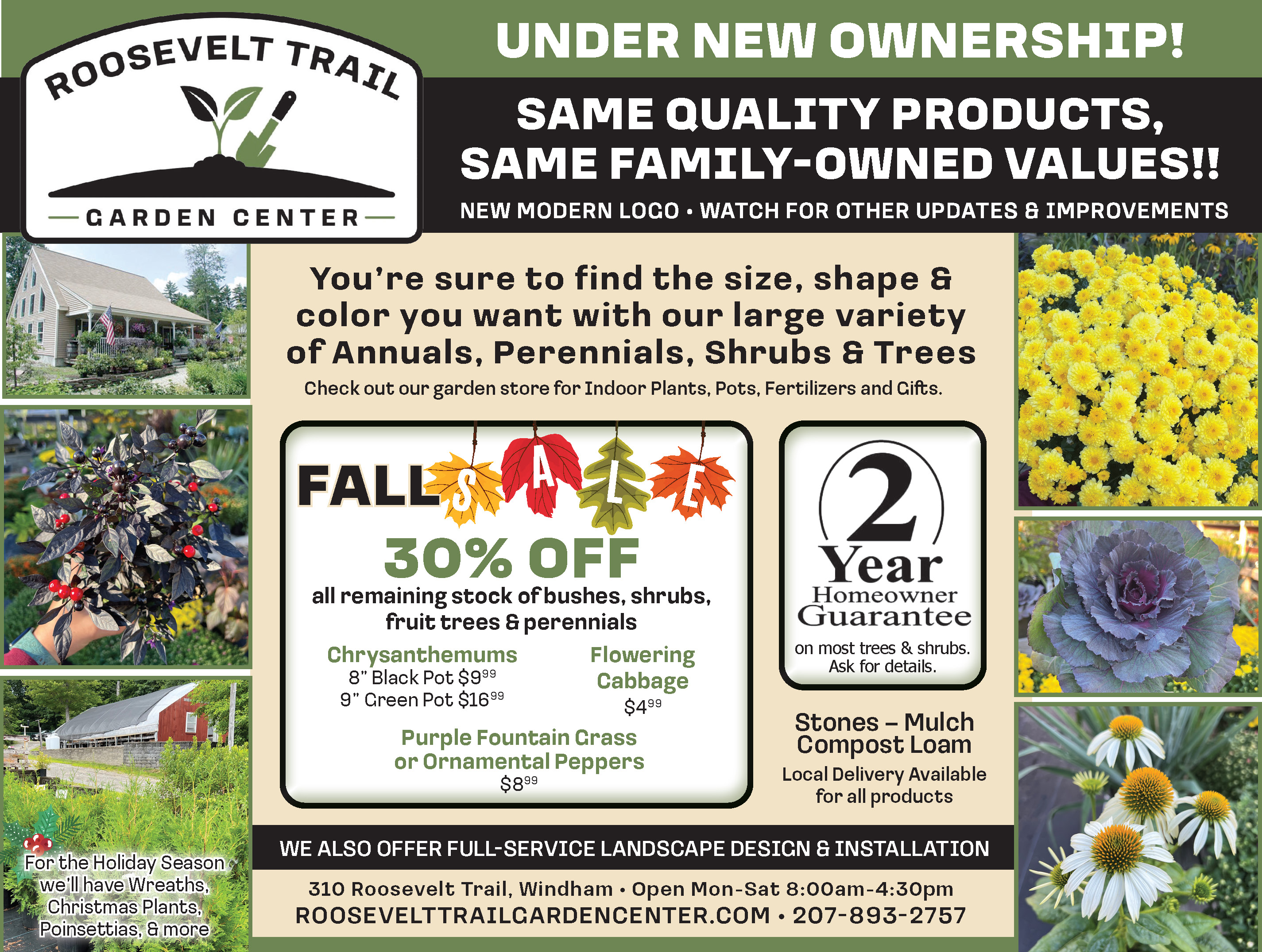 Gagne Landscaping and Excavation, remain committed to offering exceptional customer service, quality products, and the expertise needed to make the business a "one-stop" shop for all your gardening and landscaping needs.
Both divisions are well known in the Lakes Region and want customers to know that despite the ownership change, Roosevelt Trail Garden Center at 310 Roosevelt Trail in Windham is the same great local business offering the same services, expanding other services, offering the same great products, an increased knowledge, increased product inventory, and providing slightly more modern touches and new management.
The garden center itself offers spring, summer and fall annuals, along with all-season perennials, garden seedlings, a retail center featuring flower pots, bagged products, tools, house plants and more. They can teach customers what will grow in their zone, what plants would meet their landscape needs, teach about plant maintenance, how to prune and plant, and how to water and protect from weather.
The business also has a new service of repotting house plants when customers purchase both the plant and the pot from them. They offer tree installations, sod installation, landscape work including walls, planting, and associated groundwork, hardscape and custom landscape design. They do stone laying, brick laying, ground preparation, create lake retaining walls, granite steps and lake-friendly landscaping.
"What distinguishes our business from other companies offering similar services is we provide lake-friendly landscaping, are family owned, the only business that offers retail design and build, the whole package," T.J. Doherty said. "You can have a design created, pick your own plants in house and have your work done, it's a "one stop business."
He said that Roosevelt Trail Garden Center and its division, L.J. Gagne Landscaping and Excavation,
The Doherty Family, from left, are Marina, baby
Theodore, T.J., and Benjamin.
SUBMITTED PHOTO
are a premier landcape business, but hold pricing fair to ensure that they are meeting customer needs while still providing top quality work and products.
"When people think of about landscaping, they are scared of the costs, but it's actually pretty reasonable," Marina Doherty said.
Roosevelt Trail Garden Center has been locally owned and was founded 22 years ago with L.J. Gagne Landscape founded 40 years ago. The Dohertys took over as owners on Aug. 4 and currently employ a staff of 14 across both businesses.
"Our quality is guaranteed with a two-year warranty on select trees and shrubs," T.J. Doherty said. "Customers have shared that they enjoy our eye for detail, the high-quality products, deliveries made in a timely manner, and they enjoy our knowledgeable staff and friendly personalities."
He said that the business intends to become more current on trends under new ownership.
"We are going to increase services and products," he said. "We have increased our social media presence and have updated signs. We go above and beyond such as obtaining permits in advance if any are needed for work. On the landscape side, we focus on quality and safety and for the garden center we emphasize an expanding variety of products, and a high level of expertise. We are also accepting new commercial snowplowing accounts for this season."
Hours of operation for Roosevelt Trail Garden Center are 8 a.m. to 4:30 p.m. Mondays through Saturdays. The garden shop features products by Pharm Solutions and PlantSkydd animal repellents. Pharm Solutions products are safe, effective, organic insecticides, herbicides, fungicides, and animal repellents made from essential oils like rosemary, soybeans, and garlic. PlantSkydd produces the longest lasting, most effective critter repellents on the market.
The garden shop also features a four-step program of 100 percent natural and lake-friendly lawn and garden fertilizers ensuring that customers can have a beautiful green lawn without using expensive chemical fertilizers.
For more information about Roosevelt Trail Garden Center, call 207-893-2757 or visit them online at
www.roosevelttrailgardencenter.com
Find them on Facebook at RooseveltTrailGardenCenter or on Instagram at roosevelttrailgardencenter
Visit L.J. Gagne Landscaping and Excavation on Facebook at
https://www.facebook.com/l.jgagnelandscape
or on Instagram at l.jgagnelandscape <