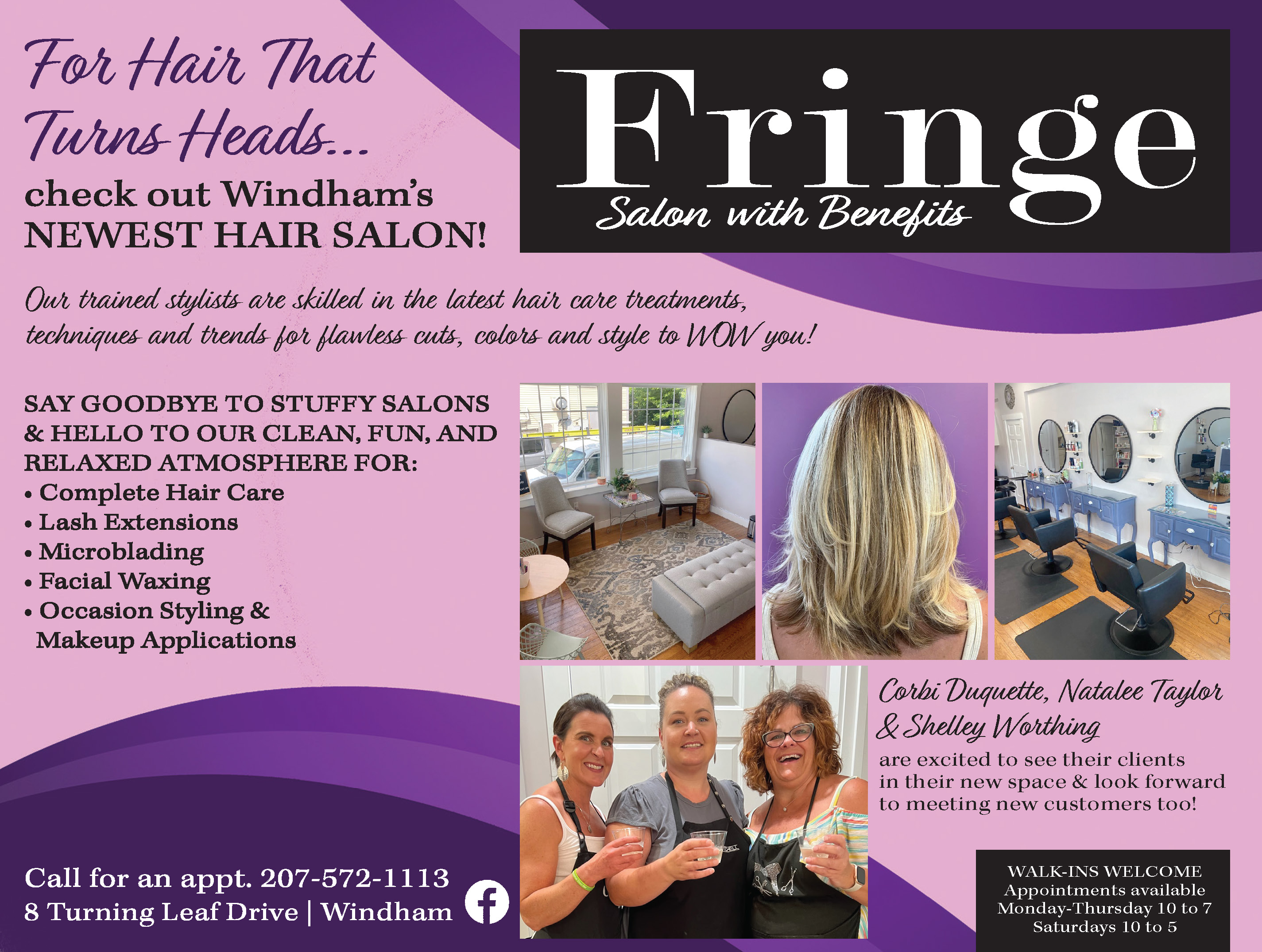 Fringe Salon in Windham is on a mission of helping people feel good about themselves and treating everyone they meet as if they are longtime best friends.
Now open at 8 Turning Leaf Drive at The Shops at Sebago, Fringe bills itself as the "Salon with Benefits," a slogan that makes owner, stylist, and lash artist Natalee Taylor laugh.

"We love what we do and have fun doing it," Taylor said. "The slogan fits us perfectly and every time we think of it, it makes us all smile."

Fringe opened July 6 in a clean and comfortable setting when three stylist friends from the old Roots Salon in Windham had to relocate and decided to open a new facility that focuses on putting people first. Although Fringe is a new salon, the stylist team there has been working together for six years at Roots and they complement each other well, bringing different skill sets and areas of expertise to the business.

"We offer our clients a judgement-free and friendly environment in which you leave feeling and looking better than when you walked in," Taylor said. "We often have clients tell us that they wish they could just hang out with us all day because of the fun we have while working. Our staff has been complimented on the genuine love and respect we have for one another, often by other stylists. We like to make everyone who walks in our door feel like someone. Many of our clients become our friends because of the bonds we build. It's never just about the hair, it's about the whole person."

Fringe Salon offers all hair services, lash extensions, Microblading and facial waxing and its staff has a combined 72 years of experience in the industry.

"We are independently priced, but we are competitive in our area," Taylor said. "We have clients that travel from Massachusetts, North Conway, New Hampshire, DownEast, Southern Maine and right here in Windham."

Customers love how they are treated and the quality of the work and products at Fringe.


Stylists of Fringe include Corbi Duquette,
Natalee Taylor and Shelley Worthing. They
take pride in providing professional hair
care and more in an upbeat atmosphere.
SUBMITTED PHOTO
"I have never had an experience like I had with Natalee this evening... She was absolutely phenomenal! She really took her time to make sure every hair fell in the right place, made me feel comfortable and was very professional while still making me laugh and have a blast....!!! Will definitely be going back for more from Natalee and recommending her to everyone I know!!" Sarah Spiller

"Thank you Corbi! Excellent job and awesome service. It feels really amazing to finally have a hairdresser at home in Maine. Thank you for your warm hospitality and Omar cuddles." Kelly Smith

"Although I have known Shelley for about 15 years, this is my first experience with microblading. My brows were in sad shape after cancer treatment. I have a little piece of myself back and my brows look great now!" Alissa Noble

"My friend recommended Natalee when I needed someone to do my makeup for an event and it was sort of last minute. She took me in and has done my makeup twice already! She is so personable, and she is very talented, I would highly recommend her! She will be there doing makeup for my wedding day! You won't be disappointed!" - Susan Pooler

"The name, Fringe, a salon with benefits, is exactly that! The location and space is very welcoming, bright and comfortable. The stylists there have many years of experience and ensure you feel pampered and beautiful when you walk out! They give their client the time and undivided attention to give the look you want. I highly recommend booking an appointment with them. From the warm welcome you get from the time you walk in, to feeling your best self when you walk out, the experience at Fringe is one you'll keep going back for!" Heather Rose

Taylor says that exceptional customers service and having fun are the cornerstones of Fringe and she wouldn't have it any other way.

"The most important thing to remember about us is that we are people too, we love to laugh and have a good time," she said. "We love to give our clients our all every day. We offer wine, coffee, and water, a warm welcome when you walk in and the very best and the latest and greatest techniques and products to achieve a custom look for our clients. We truly love what we do and love and appreciate our clients."

Taylor does plan to add to the staff soon but will be selective to find just the right fit.

"We are always seeking out additional education and new trends to keep us up to date," she said. "We often learn from each other. We are flexible and accommodating with our time. We try to find the right fit for every client and believe in giving back to the community. We're good at what we do, are friendly and kind and we have a lot of fun here."

To make an appointment for Fringe, call 207-572-1113. Find Fringe on Facebook at https://www.facebook.com/fringesalonwithbenefits or on Instagram @fringe_thesalon <