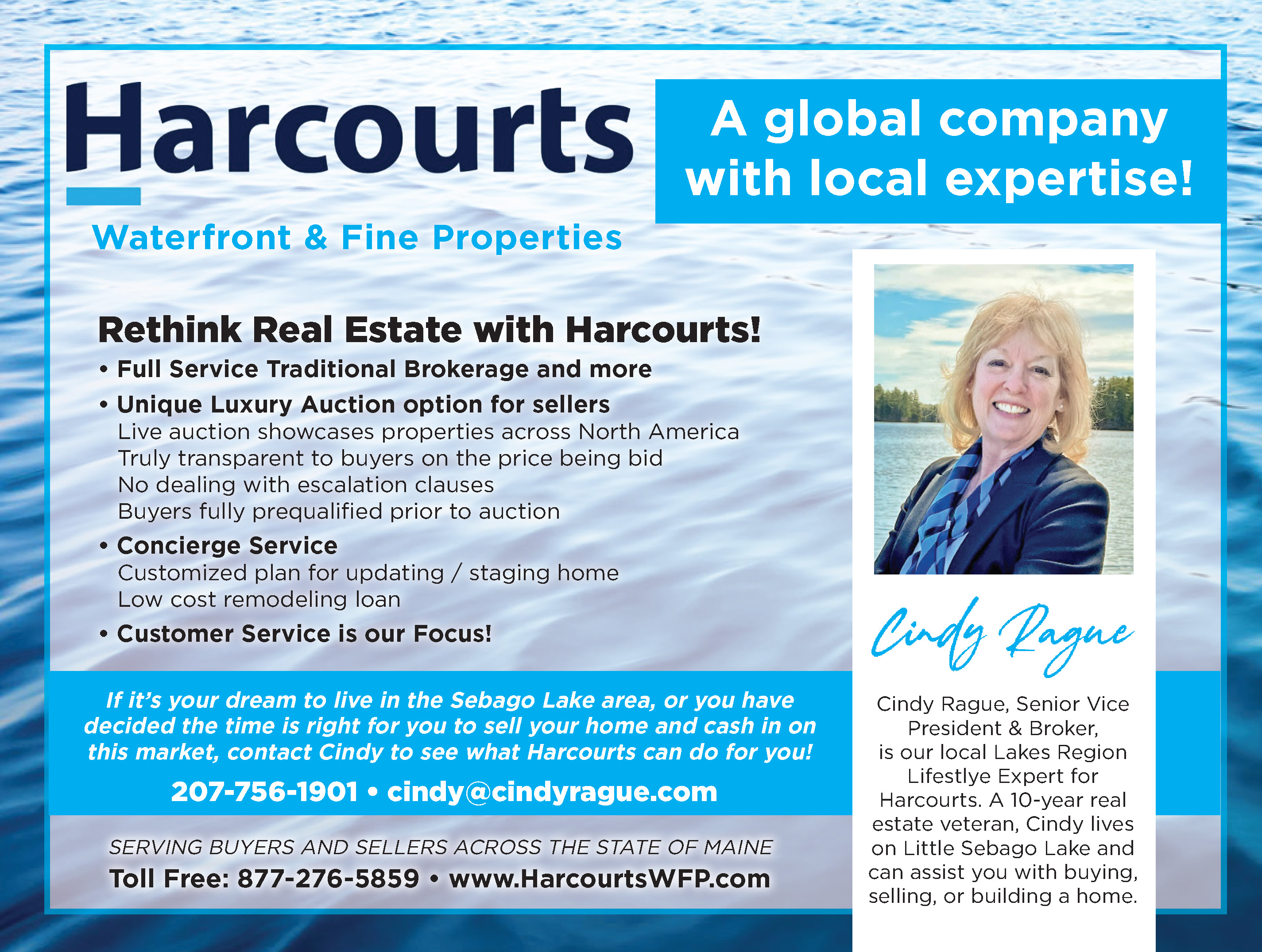 The allure of Maine's picturesque waterfront views and high-end properties will never diminish and now Harcourts Waterfront & Fine Properties, affiliated with one of the oldest and most trusted real estate companies worldwide, stands ready to assist buyers and sellers.
Although new to Maine, the company did more than $50 billion in real estate sales globally last year and features experienced Maine agents with local expertise who know the state and the real estate market inside and out.
Harcourts Waterfront & Fine Properties is headquartered in Augusta and led by Charlene Hamiwka, owner and designated broker. Before being recruited by Harcourts to open their first East Coast office, Ms. Hamiwka was with Legacy Properties, Sotheby's International Realty for 10 years and has been a licensed agent since 2009. Prior to her career in real estate, she was an executive for high tech companies on both the east coast and Silicon Valley, with global responsibility.

One of the company's key real estate areas is found right here in the Lakes Region. Cindy Rague, who is the local agent and lifestyle expert in the Lakes area, has been a licensed agent for 10 years and lives on Little Sebago Lake.

"We work with sellers and buyers of waterfront and fine properties across the state of Maine. For sellers, we offer true international exposure and networking with other Harcourts business owners around the world," Hamiwka said. "Harcourts North America is located in high-net worth communities, such as Beverly Hills, California; Baja, Mexico; Vancouver, British Columbia; and Las Vegas Nevada, which offers great exposure to high net-worth buyers for our sellers. Our company also offers a luxury auction option that is a unique route to market and totally different from a typical U.S. auction. It is more of an open bidding platform that offers complete transparency to the buying and selling process. Although it is a new concept in Maine, Harcourts has been running these types of auctions globally since 1888 in New Zealand, Australia, and other parts of the world."
Charlene Hamiwka is the owner and
designated broker for Harcourts
Waterfront & Fine Properties.
SUBMITTED PHOTO
"To provide the best national and international exposure, we go the extra mile to present our listings. Professional photography, Matterport 3D tours, and drone photography ensure the property is showcased in a professional manner and allows out-of-state buyers to thoroughly view the property prior to visiting – which saves everyone time," she said.
According to Hamiwka, for sellers, the option to incorporate the luxury auction process into the selling process, in addition to networking with other Harcourts business owners around the world is a key service. History has shown that selling a home through auction will increase a seller's chances of getting the absolute top dollar for their home, rather than dealing with multiple offers and escalation clauses.

For buyers, Hamiwka said that Harcourts Waterfront & Fine Properties focuses on finding a property that fits the lifestyle the buyer desires.

"Many of our buyers are out of state, and as such don't really know much about the areas," she said. "It isn't enough to just find a home, it's more important to find a home that will match their lifestyle. We can help a buyer narrow down their search to find the right location that will make them happy. Our agents have sold properties in every county in Maine. No one knows Maine better than we do. Customer service is of the utmost importance, and we strive to make every transaction as smooth as possible."

Harcourts Waterfront & Fine Properties agents cover the Lakes Region, Greater Portland, Southern Maine, Midcoast Maine, Downeast Maine, and Interior Maine including the Rangeley Lakes and Sugarloaf region, Sunday River/Bethel region, Moosehead Lake region, and Central Maine.

Hamiwka said that Harcourts Waterfront & Fine Properties agents are all experienced and full time. As an agency, Harcourts Waterfront & Fine Properties pays attention to the market conditions to better advise its buyer and seller clients on prices, days on market, mortgage rates, and other trends.

"We also have experts we partner with to assist buyers and sellers with decorating trends and remodeling options," Hamiwka said.

The cornerstone of the company is customer satisfaction and ethical agents who understand the differences between properties, locations and lifestyles, and then match their clients up to them.

"Harcourts is a new name in Maine, and this is our first year as a company in the Lakes Region so our focus is to let people know about the unique offerings we have. Our slogan is "Rethink Real Estate" and our auction process, along with a traditional sales approach and other offerings, is a game changer in the industry." Hamiwka said.

FMI about Harcourts Waterfront &Fine Properties, visit www.HarcourtsWFP.com, www.facebook.com/distinctivemaineproperties or www.instagram.com/harcourtswaterfront. Customers can call toll free at 877-276-5859 or reach Cindy Rague at 207-756-1901 or cindy@cindyrague.com. <