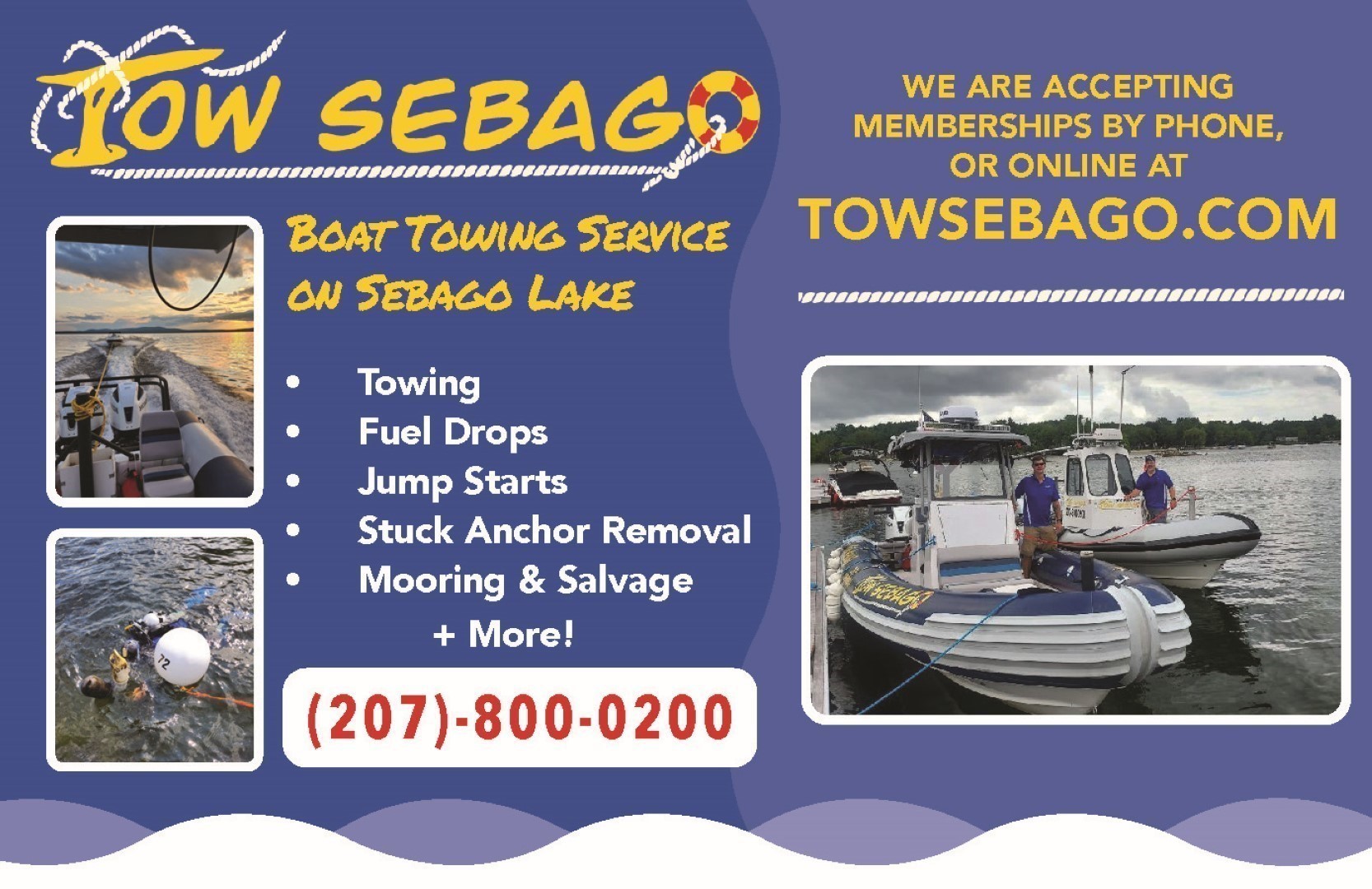 Being stranded on the water with no one to help is the stuff that nightmares are made of, but a new service called Tow Sebago serving Sebago Lake stands ready to provide help and assistance for boaters when it's needed the most.
Tow Sebago crews are prepared for timely responses to boaters' calls for help. They have the knowledge and experience available to get the job done as an on-water towing service.
"Our staff is trained and equipped to handle any situation, provided your vessel is still afloat", said Paul Rogers, Tow Sebago co-owner. "We can tow, provide fuel, and provide jump starts for dead batteries. We have tools and some common boat parts available to try to keep our customers on the water enjoying their time."
Rogers said Tow Sebago covers all of Sebago Lake, to the mouth of tributary rivers, and up the Songo River to the state park boat launch.
Doug Kerr, left, and Paul Rogers launched Tow Sebago in
April, a business which assists boaters on Sebago Lake with
towing and a range of other emergency marine services.
SUBMITTED PHOTO

The greatest misconception people may have is thinking another pleasure boat can safely tow another to port. "The towing stanchions are structural on Tow Sebago" co-owner Doug Kerr said, "designed to handle tens of thousands of pounds of pressure. The cleats and ski posts of most pleasure vessels are only designed to handle hundreds of pounds and could lead to catastrophic failure."




It's a business operated by captains experienced specifically on Sebago Lake and know the hazards and understand trouble can occur anywhere, anytime on the water.

"We are proud of the service we can provide for boaters on Sebago Lake," Kerr said. "It can be challenging responding to a wide variety of vessels in distress in unknown conditions. Every tow is different as conditions on the lake may change very quickly."

According to Rogers, demand for boat towing on the lake is steady.

"There has not been a towing service on Sebago Lake for about five years now." Kerr said. Tow Sebago is independent and owned locally by Rogers and Kerr. Both Doug and Paul live in Raymond and are both on the fire department and active on the department's marine unit. "We are all too aware of the need for a towing service on the lake," said Rogers.

Rogers said that in the short time Tow Sebago has been in business, they have performed with distinction, a fact not lost on those they serve.

"Our customers have all been very grateful for our timely and professional response," Rogers said. "The feedback about what we do has been outstanding."

Towing services can be a one-time job, but the owners offer boaters a $250 annual membership from Tow Sebago, good for three service calls if needed.

"For the peace of mind that our service provides, knowing that your vessel will make it back to port safely, we believe this is a small price to pay in boat ownership," Kerr said.

Along with towing, the business also provides fuel drops, stuck anchor removal, help in becoming unstuck from soft groundings, jump starts for vessels disabled by low or not charged marine batteries, and assisting with pump-outs for vessels taking on water.

Both Rogers and Kerr take great pride in the quick responsiveness of Tow Sebago. Employees respond to calls for assistance and deliver exceptional customer service from start to finish when dealing with boaters seeking their help.

"We love the water and the boating community," Rogers said. "Our goal is to provide service within the hour so you can get back to doing what you love."

The Tow Sebago business was launched at the end of April this year and currently employs a handful of trained captains and deckhands. Their vessel is docked in Jordan Bay at Port Harbor Marina in Raymond.

Captains for Tow Sebago have completed the U.S. Coast Guard's OUPV "6 pack" course and hold towing endorsements, though none of this is required by law on Sebago Lake. "We do this so Tow Sebago will continue to provide the highest level of safety and service," Kerr said.

Rogers says "Our captains are on the water almost every day, weather permitting. We love being on the water, and train frequently for many different types of situations."

To learn more about Tow Sebago and details of their membership, call 207-800-0200, visit their website at Towsebago.com or find them on Facebook at Towsebago. <