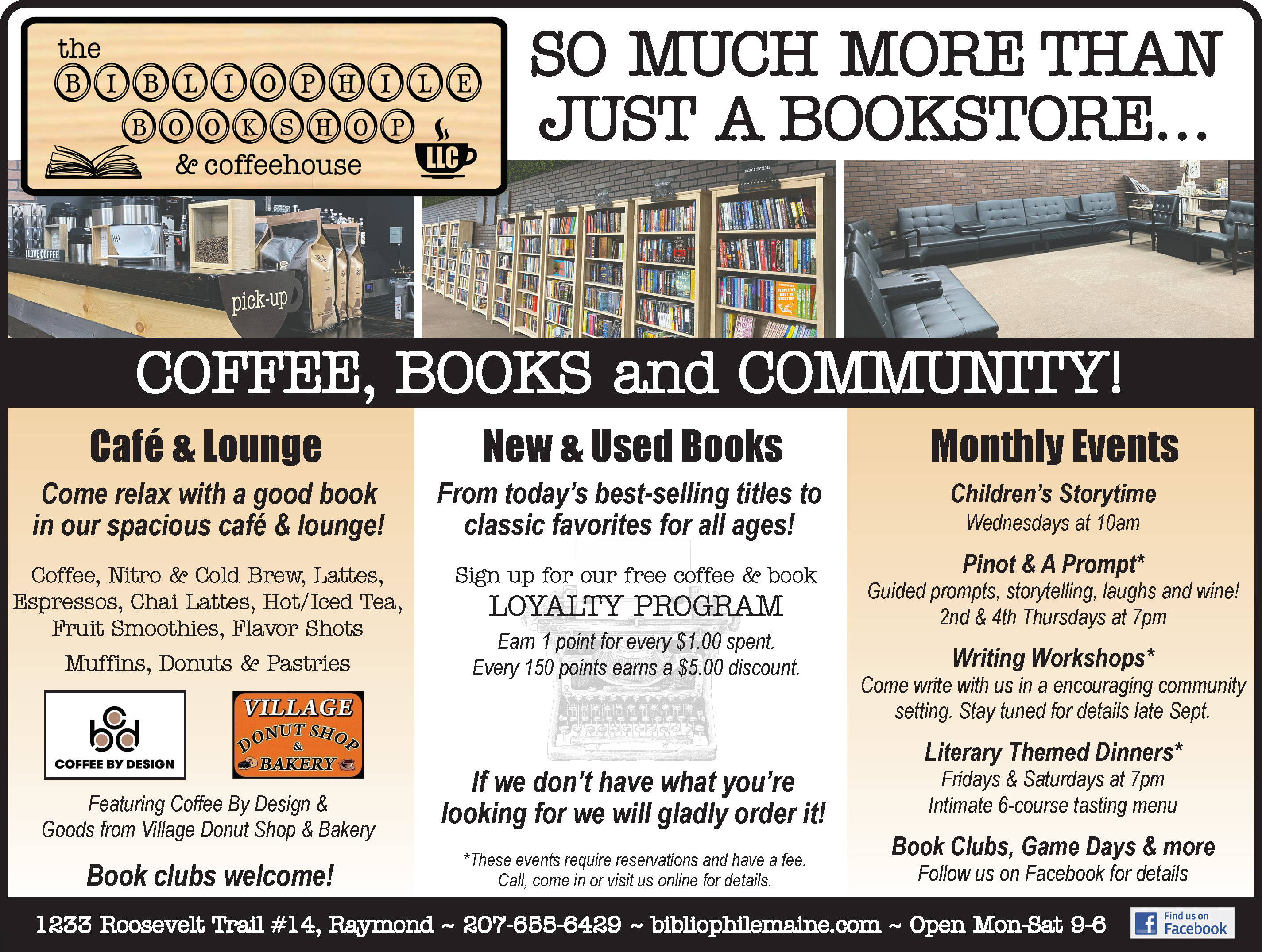 British author David Almond has said that a great bookstore is about more than selling books, rather it's a community gathering spot that makes a difference in people's lives. The Bibliophile Bookshop & Coffeehouse, LLC in Raymond is certainly striving to reach that lofty ambition.
Located at 1233 Roosevelt Trail #14 next to Beacon Pizza in the Raymond Shopping Plaza, The Bibliophile Bookshop & Coffeehouse, LLC is an independent bookstore committed to offering a unique literary experience with new and used books, a full coffeehouse, literary-themed dinners, writing workshops, children's events and more.
Owner Jessica Thompson-McCombs says that what separates The Bibliophile Bookshop & Coffeehouse, LLC from other Maine bookstores is its unique mixture of culture and cuisine.
"We offer the only literary-themed dinners anywhere and a truly unique community-oriented literary experience through our events, staff involvement, storytime, etc.," Thompson-McCombs said. "At the core of our business is building relationships within the community and encouraging literacy."
From the moment customers enter the store, they are greeted with the aroma of freshly brewed coffee from a locally based roaster, along with an array of books carefully selected by The Bibliophile's knowledgeable staff, and the ambiance of a warm and welcoming gathering place.
"The best thing about what we do is we bring the community together and offer a place to get together, have a coffee, and dig through books," Thompson-McCombs said. "It's a unique literary experience for the senses. We buy and sell used books. We want to make it affordable for our customers to keep reading."
She said that the biggest challenge the store has faced in a little more than a month in operation is simply letting people know they are there and open for everyone.
"We are focused on creating, building, and maintaining relationships with each and every customer. We are passionate about the written word and seek to encourage and sustain a community of lifelong readers," Thompson-McCombs said. "We support other local businesses and love to partner with them. Our baked goods are from The Village Donut Shop & Bakery and our coffee is from Coffee by Design. We source as many local ingredients as possible for our literary dinners."
Prices are competitive and they offer an array of discounts ranging from educators, military, senior citizens and more.
"We want everyone to know that we're a local, family-owned bookstore," Thompson-McCombs said. "We do so many unique things here. We're also event-driven with writing groups, book discussions and so much more for everyone, no matter the age. I like to think of it as culture, cuisine and community."
Although they do not have every book that's ever been printed, The Bibilophile Bookstore & Coffeehouse, LLC specializes in finding special orders for customers online and can typically have it in store within five days at the most.
According to Thompson-McCombs, the business sources and seeks out only the highest quality of products to offer to their customers.
"From the coffee they sip, to the books they read, we handpick each and every product," she said. "We thoughtfully chose Coffee By Design because of who they are, what they represent, their involvement with the community and how absolutely delicious every drop of their coffee tastes."
And making a difference through knowing customers is at the heart of everything that employees of The Bibliophile Bookstore & Coffeehouse, LLC is all about.
"We are here to create and build relationships with the community," Thompson-McCombs said. "We really want this to be a place where we know you and we really want to have a relationship with you. We carry a large selection of Maine authors. On our shelves you will find the latest New York Times best sellers and the finest children's books. There's truly something for everyone here."
Customers who have visited the store have become devoted fans.
"I love this bookstore! It is adorable and the owner was very friendly! Definitely recommend to everyone looking to pick up a book," Emma Ward posted on Facebook.
"Best coffee in the whole area, hands down and the owners and staff are super welcoming and friendly," Adam Davis posted on Facebook. "I've been waiting for a place like this for a long time."
For more information about The Bibliophile Bookstore & Coffeehouse, LLC, visit their website at www.bibliophilemaine.com or find them on Facebook at www.facebook.com/bibliophilebookshopmaine. <