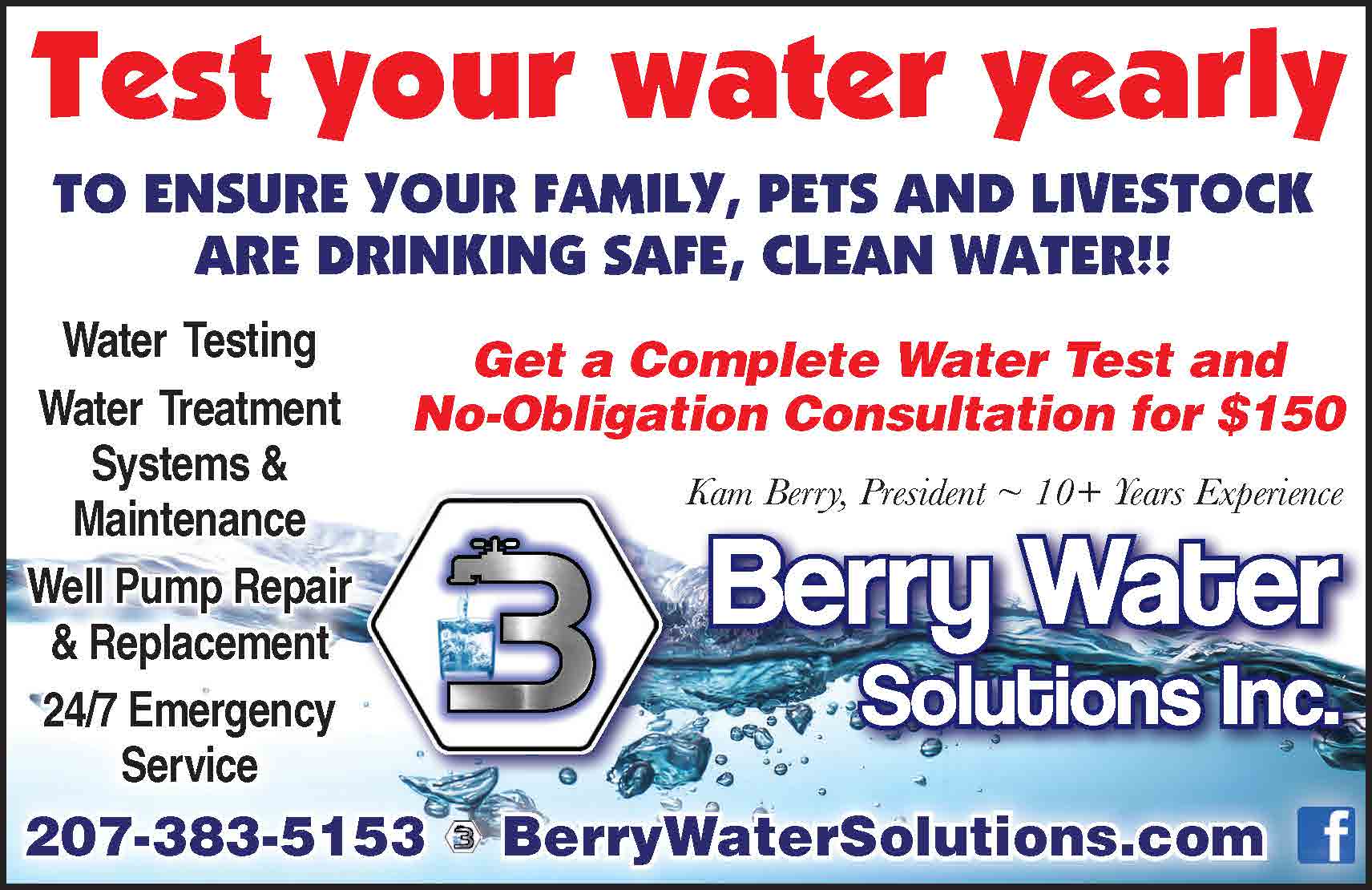 Without an abundant supply of water, human life could not be sustained in Maine and although this necessity is plentiful here, it sometimes isn't always as clean as it could be. Pollutants and unwanted particles may pose problems, but fortunately Berry Water Solutions, Inc. can identify and resolve water issues sensibly.
Raymond residents Kam and Heather Berry launched Berry Water Solutions, Inc. earlier this year and
provide water treatment services, pressure tank replacement, well pump replacement and repair, and water testing for personal knowledge as well as for real estate transactions. The business installs systems to remove dangerous contaminates such as arsenic and uranium, as well as systems to improve the feel, taste and smell of your water.
"The most significant aspect of our business that sets us apart is our desire to treat the customers the same way we would want to be treated. We provide very affordable annual services and the most competitive prices on water testing," Kam Berry said. "Our water treatment installations include a site visit to assure we size, install and plumb water treatment in a way the customer prefers on the day of installation. What distinguishes us from our competitors is the personalized service we provide. I will be present on every job, and you will always speak with Heather or myself when calling in to our office."
As a small business, Berry said that his company prides itself on offering outstanding customer service and affordable options.
"We price our water solutions very competitively and offer package pricing for systems," he said. "All of our systems fixing a health contaminate include a follow-up independent lab test at no additional charge, and our site visits assure we can provide a quote with maximum accuracy to avoid unforeseen expenses due to the location of the system."
According to Berry, c
lean water is essential for health, and working in this field is a responsibility that the company takes very seriously.
Kam Berry is the owner and
operator of Berry Water
Solutions, Inc.
SUBMITTED PHOTO
"It's important that water be tested for your home," he said. "
When we are installing filtration or servicing a well water system, we use only products we can stand behind. We use only the highest quality products we can buy and try to keep our rates highly competitive despite refusing to compromise on product quality."
The relationship that Berry Water Solutions, Inc. has with its vendors, including a number of New England companies, is vital in assuring customers that systems are reliable and affordable.
"They support us in our mission to have products we can stand behind," Berry said. "We also do our very best to use products made in the USA. The feedback we receive has been positive, primarily in regard to annual service and doing our best to provide cost effective solutions."
Berry said that the company's business practices are environmentally friendly, by doing things such as making sure discharge water is properly handled, drains and all plumbing is done to code, and they especially be cautious near lakes.
"We do a lot of filtration for homes on bodies of water, and the importance of proper plumbing and drain discharge is so important in these locations," he said.
Having worked in the industry since 2012, Berry said he stays up to date on the latest trends in water systems and testing to always offer the safest products at the lowest possible prices.
"Current trends are awareness around elevated uranium and arsenic levels," he said. "These are many contaminates that you can't see, taste or feel, yet many wells in Maine are contaminated. You are under no obligation to fix the water if it fails if you are just testing for personal information, which is a question we receive a lot."
He said that even if a customer isn't ready to do full treatment, it's important to know what is in the water and what they are putting in our bodies.
"The best way to assure long term savings in your water system is preventative maintenance," Berry said. "A well system inspection can find things like a failing pressure tank before it destroys a well pump, for example.
We specialize in the installation and repair of filtration systems and to provide rapid response to 'No Water calls."