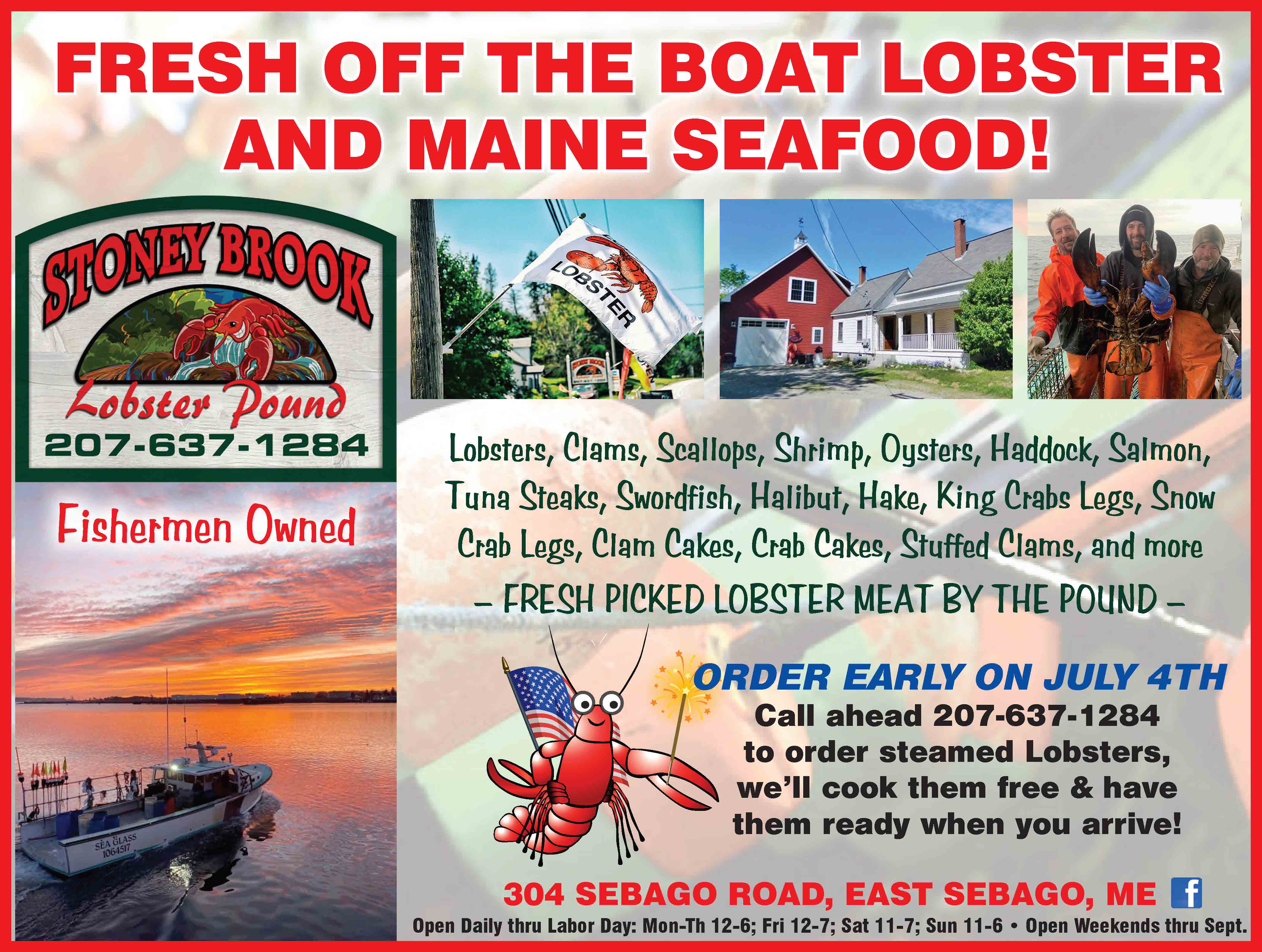 Longtime area residents and first-time visitors to the Lakes Region have discovered that the freshest and largest variety of seafood available locally at the best possible price can be found at Stoney Brook Lobster Pound in Sebago.
Operated by veteran fisherman Jed Spear, Stoney Brook Lobster Pound is open every day through Labor Day and offers a dazzling array of fresh lobsters, crabs, scallops, oysters, halibut, shrimp. clams, hake, salmon, mussels, swordfish, tuna, crab cakes, snow crab legs, king crab legs, haddock, and other seafood at their take-out market. Spear and the Stoney Brook crew are up before dawn every day to fish the Atlantic Ocean and harvest only the finest seafood in Maine for customers.
"As far as price goes, there's nobody that can beat us," Spear said. "There is no middleman to pay. We bring it from the ocean directly to the marketplace."
Spear said when customers shop for seafood at Stoney Brook Lobster Pound, they are following a longstanding tradition in the Lakes Region.
"This business is fisherman-owned," he said. "It's a family-owned operation and a one-of-a-kind experience. When you come in the store to shop, you get to meet the harvesters and learn about where the seafood was harvested and how it was harvested."
Spear has been involved in lobstering for his entire life and the allure of the sea runs in his family.
"My grandfather was a fisherman and my father's a fisherman too," he said. "I learned from them. My brothers are fishermen, my uncles are fishermen and my cousins are fishermen. It's an art that's been passed down for generations in our family. It's in our blood and is something we love doing."
According to Spear, shopping for seafood at Stoney Brook Lobster Pound is a step up in terms of quality from what is traditionally offered at local supermarkets.
Third-generation fisherman
Jed Spear owns and operates
Stoney Brook Lobster Pound in
Sebago. From the ocean to their
market allows them to offer
the freshest lobster and fish at
the best price in Maine.
SUBMITTED PHOTO
Add caption
"We do not ever freeze our fish. It is always fresh," he said. "It comes from here and is never stored. It's absolutely the freshest seafood you can buy anywhere in the Lakes Region."
The hottest trend in seafood these days is being able to know exactly where your fish was harvested and that's something that Stoney Brook Lobster Pound has provided for years.
"People like to get to know their harvester and know from where their seafood on their dining table comes from," Spear said. "They want to know when it was harvested and that it hasn't been stored for weeks after being caught off of Canada."
Stoney Brook customers are not just limited to the Lakes Region.
"We had a guy drive up here from New Jersey to buy from us," Spear said. "We also have a lot of other customers from out of state and many on vacation here from Massachusetts."
He said that the best thing about his business is connecting with the customers and helping them find exactly the type of seafood they are looking for.
"It's nice to work for a business where you can see the faces of your customers," Spear said. "We have a lot of regulars who have special requests and we do our best to find it for them. Even if we don't have a particular seafood item, we know where to find it quickly and people are happy when we call them and tell them to come in and pick it up."
For Spear, the life of being a fisherman is not without its challenges.
"This is certainly a day to day business," he said. "But at Stoney Brook Lobster Pound it's all about our customers and it's truly become their place and they keep coming back year after year because they know everything we sell is the absolute freshest possible and at the least expensive price."
Stoney Brook Lobster Pound is located at 304 Sebago Road in Sebago. It is open from noon to 5 p.m. Mondays through Thursdays, from noon to 6 p.m. Fridays, from 11 a.m. to 5 p.m. Saturdays, and from 11 a.m. to 6 p.m. on Sundays. The store is closed on holidays.
To order ahead and have your lobsters cooked for you free and for today's selection call 207-637-1284 or visit them on Faceboob at www.facebook.com/StoneyBrookLobster.