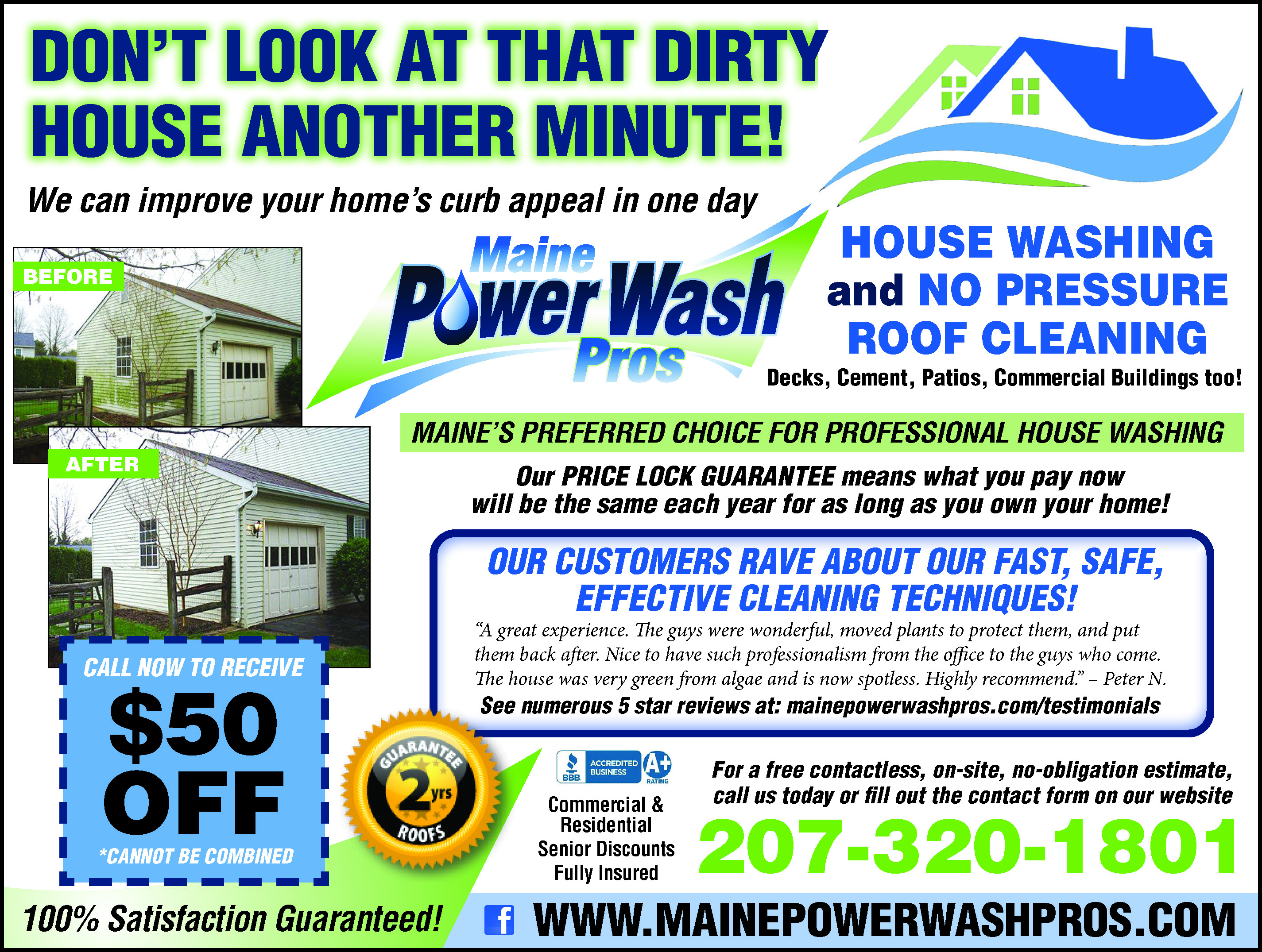 The owners of Maine Power Wash Pros believe that their business can best be defined by seven simple words: dependability, reliability and outstanding service to customers.
Maine Power Wash Pros offers low-pressure house washing, cement cleaning/gum removal, roof cleaning, composite decking cleaning, condo/apartment building washing and commercial building washing in the Windham and Raymond areas and has been in business for more than a decade.
"The best thing about our business is our customers. We have hundreds of repeat customers that come back time and time again. We relate that to clear expectations and incredible results," said Brian Condon, Maine Power Wash Pros co-owner.
"We also think the world of the people we have working with us. They take real pride in their work and work very hard to deliver a great service to our customers."
Using

biodegradable products, the company measures every home to keep its pricing consistent.
"We also offer a price-lock guarantee," Condon said. "Once you get your quote, the price never changes, whether that's 30 days or five years or 10 years. The price never changes once you get a quote."
Maine Power Wash Pros was formed when owners Mike Morin and Brian Condon found a genuine need for this type of business existed in Maine and discovered that the learning curve to perform this service wasn't too bad.
"We put in a lot of time and energy before every wash." Condon said. "We stand behind our work and don't just take our word for it. Look at the hundreds of testimonials from our customers we've posted on our website from the last 10 years."
Condon said each of the five Maine Power Wash Pros employees are determined to go above and beyond to earn the loyalty and continued support of its customers.
"We are all about setting and exceeding expectations," he said. "We're very prepared for what we do and any situation we may encounter be it cleaning homes, business, condos or restaurants."
Through its use of low-pressure house washing and no-pressure roof cleaning, Maine Power Wash Pros thrives on delivering quality and overall service.
"We do what we say we'll do and when we say we'll do it," Condon said. "We're very hands-on and our word is our bond."
He said that customers have found that there is a distinct advantage in calling Maine Power Wash Pros when working on a project.
"Roofs are guaranteed for two years and we offer free estimates," Condon said. "Your satisfaction is guaranteed and senior discounts are available. We are fully insured and professionally trained and certified."
According to Condon, Maine Power Wash Pros provides restored beauty and curb appeal of residential or commercial property with hot water washing available and safe, effective and affordable workmanship.
"You can change your home's appearance in a single day," he said. "Power washing is a safe and effective option for a wide variety of surfaces, including concrete, brick, roofs, wood decking, painted and all types of siding. It removes mold, mildew. dirt and grime for a truly clean wash that's hard to accomplish through others means."
Power washing can help prolong the life of a home's exterior surface and a power wash completed by Maine Power Wash Pros can keep all home surfaces in great shape, Condon said.
"Our main service is cleaning vinyl siding, which is about 95 percent of our business and the rest if painted houses," he said. "Our no-pressure roof cleaning is a great option as well."
Even during the pandemic, Condon says Maine Power Wash Pros offers no-contact estimates and no-contact services to alleviate health concerns.
"We can come out, review the job and email customers an estimate immediately," he said. "They can pay with a credit card for cleaning services and we guarantee it will be spotless when we finish. Everything can be arranged over the phone and we do not have to come into contact with anyone in person when we do this type of work."
To receive an estimate or to receive more information about Maine Power Wash Pros, call 207-320-1801 or visit their website at
www.mainepowerwashpros.com
<