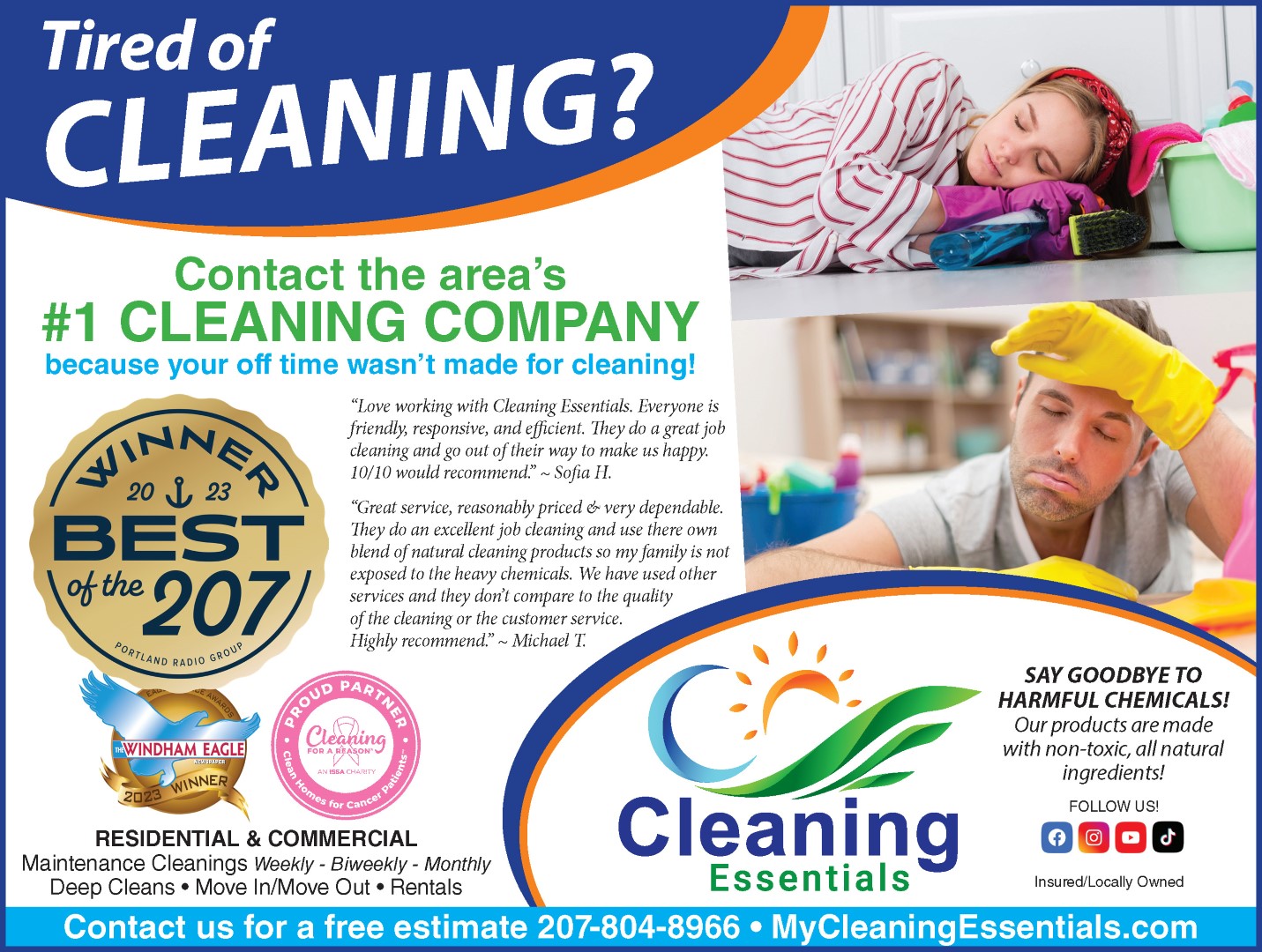 Whether it is time to move, hosting a gathering for friends and family members or simply just wanting to add a new sparkle to your home or business, the Cleaning Essentials team stands ready to help.
Based in Raymond, Cleaning Essentials offers honest and reliable cleaning solutions for almost every situation that may arise. Through the use of environmentally friendly products and employing experienced staff, the business can assist in making any home or office perfectly presentable.
Owned by Regan Burke, Cleaning Essentials goes the extra mile to ensure customer satisfaction.
"The best part of being in this business is certainly our valued customers," Burke said. "Helping them has always been our mission at Cleaning Essentials."
As a REALTOR
®
since 2002, Burke said she launched Cleaning Essentials four years ago when she saw a need existed for this type of business locally.
"A regular thorough cleaning of your home can improve your general well-being and mood," Burke said. "A weekly, bi-weekly or monthly cleaning may make all the difference in the world for you. We are not like the rest. Every regular visit we fit in something extra. You will notice."
According to Burke, Cleaning Essentials provides rigorous and meticulous deep cleaning at competitive prices.
Regan Burke is the owner
of Cleaning Essentials.
COURTESY PHOTO
"Our team of people are fully trained staff can efficiently clean a house in a reasonable period of time at a reasonable cost," she said.
Cleaning Essentials offers special discounts for real estate professionals and homebuilders. Burke said that as a REALTOR
® herself
, she is keenly aware that having a showable property can certainly add value to a listing and make potential buyers feel right at home.
"No matter if it's residential, new construction or foreclosures, we've got you covered," Burke said. "It makes the perfect closing gift."
For those in short-term rental situations, Burke said that the Cleaning Essentials team is well-versed in assisting renters and property owners in making a transition.
"We know what needs to be done and we get it done," she said. "Transition day can be stressful. Included is a report about the condition of your rental so you can best determine any extra charges. No matter what, we make sure your tenants will be happy with the cleanliness that they hoped for, so that they will be return customers."
Burke said that tenants who are moving can be assured when they employ Cleaning Essentials that every nook and cranny of their rental will be exhaustively cleaned to meet required standards.
"We are friendly, reliable and local," Burke said. "We're knowledgeable and environmentally friendly. A clean home is truly the embodiment of the science and holistic cleaning philosophy we maintain at Cleaning Essentials."
She said through the years Cleaning Essentials has been in operation, the company has received testimonials from several satisfied customers which can provided upon request for peace of mind before hiring.
One local customer boasts about their service. "Regan and her crew at Cleaning Essentials are thorough, trustworthy and extremely reliable.

They've been cleaning our camp for three years now and I am always impressed at how the place sparkles after they clean and with their attention to detail. We rent the place year-round and she is confronted with a variety of situations and never complains. Regan uses a line of cleaning products she has created using essential oils which leave the camp smelling like a yoga retreat center.

We use them at our home now, we love them so much. I highly recommend Regan Burke at Cleaning Essentials."
"For peace of mind, our energetic and trained Cleaning Essentials staff members are fully insured and the cleaning products we use on the job are totally safe and effective," Burke said. "We arrive when we say we will arrive and we do what we say we will do."
For more information about Cleaning Essentials services or associated costs, call 207-391-3783 or visit their website at
www.mycleaningessentials.com
or Find them on Facebook at Cleaning Essentials. <