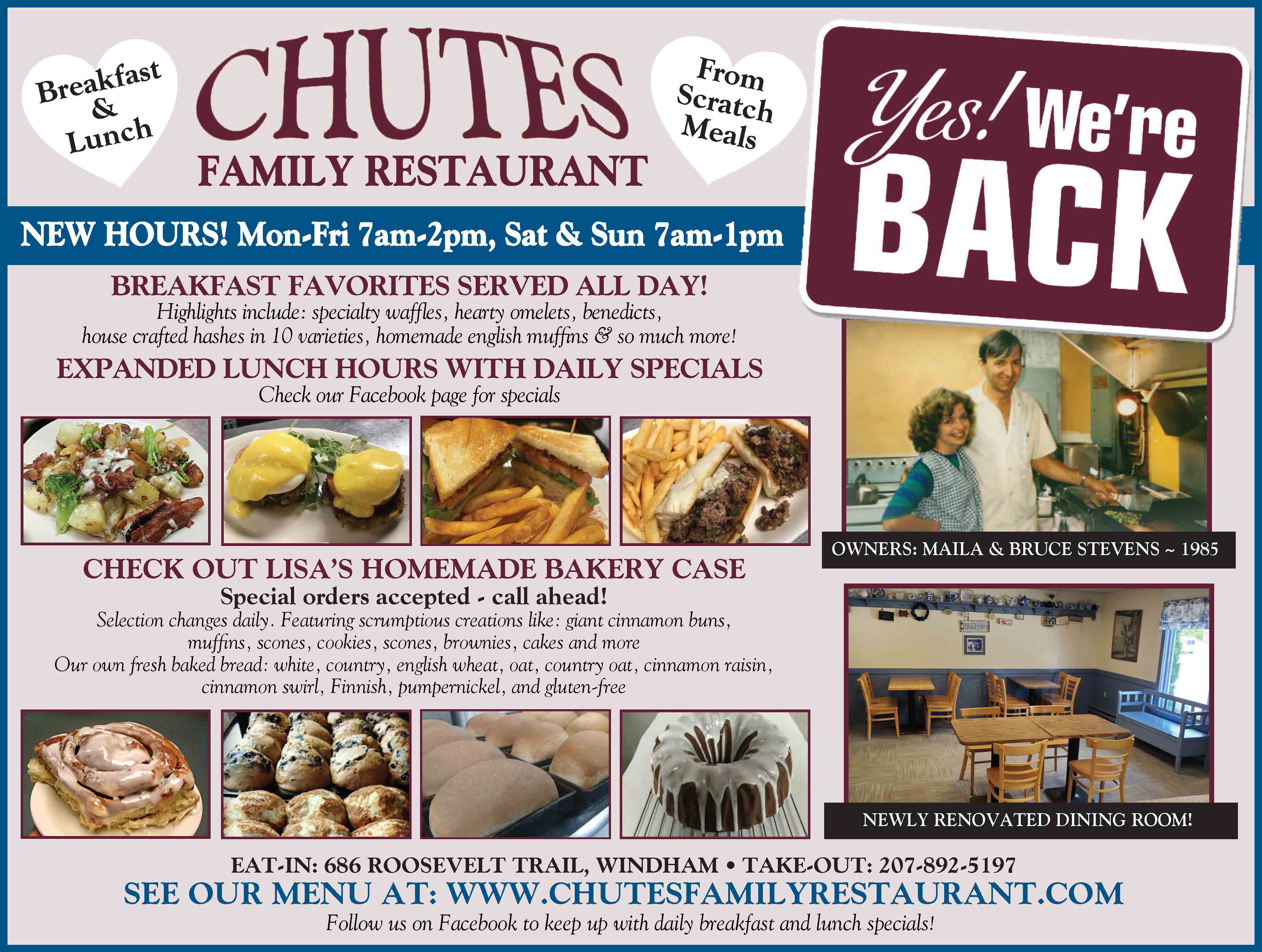 One of Windham's most familiar and popular restaurants is back open to the public once again and expanding its lunch menu and hours to better serve customers. The new hours are 7 a.m. to 2 p.m. Monday through Friday and 7 a.m. to 1 p.m. on Saturday and Sunday, with lunch starting at 11 a.m.
Through the years, Chute's Family Restaurant has become a Lakes Region tradition featuring a folksy and country décor and world-class homemade English muffins, Eggs Benedict and giant cinnamon rolls. The restaurant was closed for nearly 3 ½ months because of COVID-19 restrictions, but owners Bruce and Maila Stevens reopened for business July 1.
Almost all of Chute's Family Restaurant's 22 employees have returned to their jobs and ready to see and greet old and new friends once more.
"So many people have visited the restaurant over the years that they've become like family," Bruce Stevens said. "I can recall several families stopping in for a meal following the birth of their child and now that same child is coming in with their own family. It's so touching to see something like that."
Originally named Chute's Coffee Shop, the restaurant was launched in 1978 by Edward and Gloria Chute of Casco. It was established as a compliment restaurant to Chute's Country Tea Room in Casco, which is now called Chute's Cafe and is independently owned and operated.
At its inception, the Windham location saw a number of members of the Chute Family actively involved in the restaurant's operation. But in 1982, the Chute's daughter, Maila, and her husband, Bruce Stevens moved back to Maine with their family of six and purchased the restaurant in Windham, which they continue to own and operate to this very day.
The restaurant's longstanding reputation as an old-fashioned diner featuring home-cooked meals, cozy and authentic ambiance and friendly staff is richly deserved.
According to Bruce Stevens, the restaurant has become a landmark destination in Windham over the decades because of its quaint family atmosphere, an adherence to the consistency and quality of the meals its serves, and for very generous portions offered to its customers.
"People come here for years and become a part of our family," Bruce Stevens said. "We have such a loyal and consistent following stretching all the way from Bridgton to Portland. And we've had visitors that have stopped in from as far away as Florida, New York and Massachusetts."
He said the most popular item on the Chute's menu in the 38 years that they've owned the restaurant is the "Mini Platter" for breakfast, which includes two eggs, grilled home fries, choice of meat and toast. Veteran Chute's Family Restaurant patrons rave about its tasty home-cooked hash, especially the Swedish hash, lush biscuits, an assortment of freshly baked goods, piping hot coffee and heaping plates of fluffy pancakes.
Savvy diners also rave about Chute's more than ample portions of French toast, sausage biscuits with gravy, a variety of omelet dishes and tea cakes, all prepared exclusively in the restaurant's kitchen. .

Diners will also find various specials of menu items and old favorites on the weekends and g
luten-free bread available for toast and sandwiches.
Since Chute's Family Restaurant reopened, visitors may notice that a few things are different, Bruce Stevens said.
First, the seating capacity for Chute's has been set at a maximum of 50 at a time and we are following state guidance on distancing and sanitation.
"We are really building up the lunch menu," he said. "You'll find a lot more burger selections and fish and chips and a whole lot more here for lunchtime meals."
Takeout meals also are available seven days a week for both breakfast and lunch, Bruce Stevens said.
"We just want everyone to know that we are thankful for our faithful and loyal customers who've stuck with us through the years," Bruce Stevens said. "We also want the community to know that in addition to our great breakfast, we are now expanding our lunch menu too and all of the great service and food that you've come to rely on us for is available at Chute's Family Restaurant again."
Chute Family Restaurant is at 686 Roosevelt Trail #B in Windham.
To place a take-out order, call 207-892-5197.<