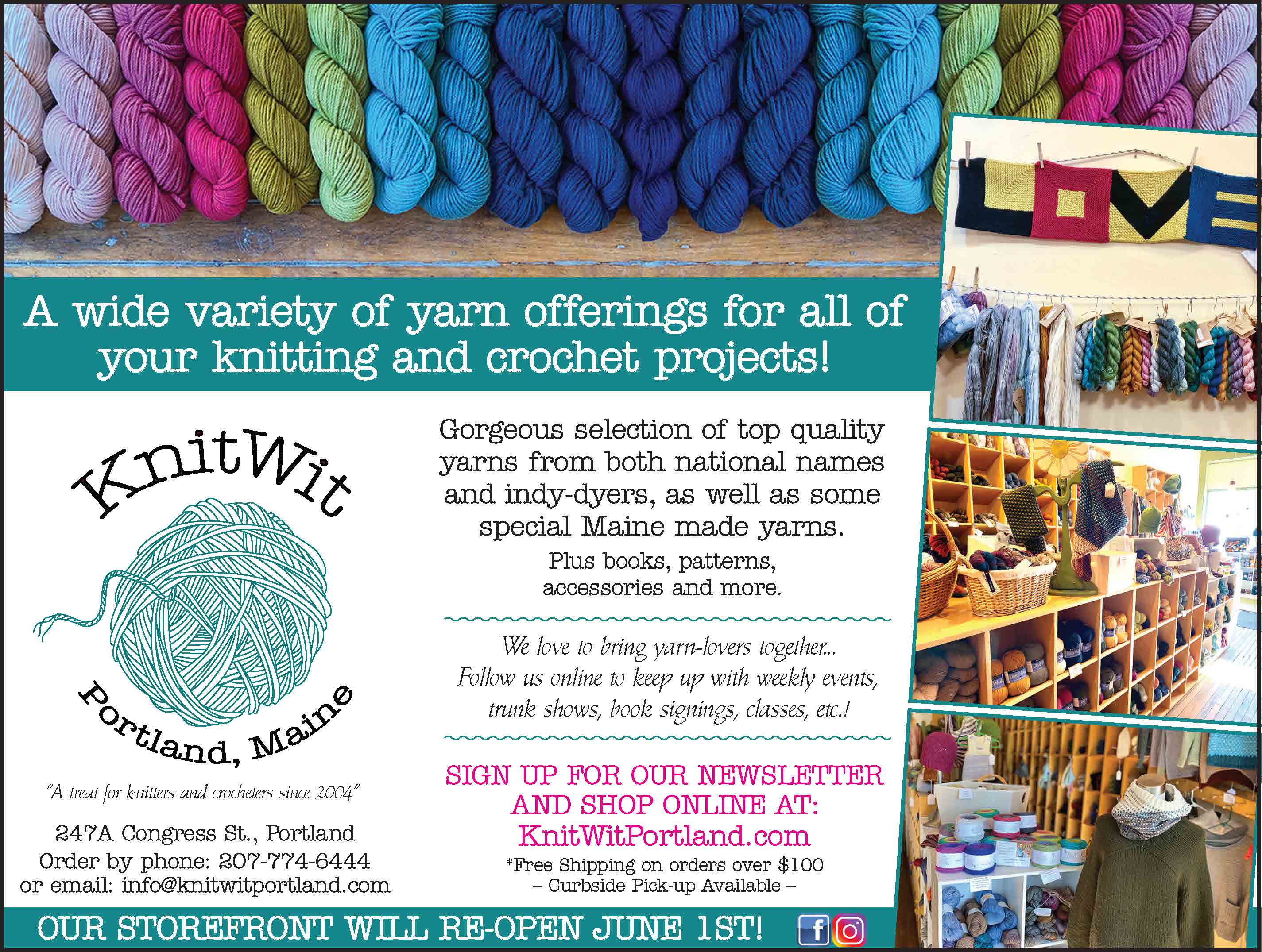 What was once perceived as a craft reserved for grandmothers in rocking chairs has shifted in recent
years. Knitting and crocheting has been on the rise as a popular form of creative outlet among all age groups/genders and the knitting renaissance continues to grow without any indication of having reached its peak. The desire to create, combined with the recent longing for some form of "normal" reality, has only increased the need and want for this contemplative craft.
KnitWit Yarn Shop, a first-rate yarn store since 2004, located at 247A Congress St. in Portland, has recently seen this spike and the desire for high-quality yarns, patterns, books, and kits even in the midst of the present stay-at-home order.
"The timing has been very interesting," said new Owner Jennifer Fleck, about her March 2020 purchase of this popular Portland shop. "We bought KnitWit Yarn Shop on March 9, and unfortunately we had to close the doors just a few days later to be in compliance with the self-distancing measures. Needless to say, we were very nervous about our business purchase due to current circumstances."
It turns out, however, that Jennifer and her husband Chuck, who is the General Manager of the shop, had nothing to worry about. With the surge of knitting popularity along with KnitWit's devoted customers from all over the U.S., it wasn't long until enthusiastic patrons were at their online "doorstep."
"We knew we had to shift our business plan more quickly than anticipated, which included updating the website for easy online and curbside purchases and services," Jennifer said. "But because our customers were not able to make the purchases online and little income was coming in, I set up a GoFundMe® account. Loyal customers from around the country, as well other people, contributed enough donations for us to be able to set up an updated website. I am very happy and honored to provide this craft for so many dedicated knitters. Also, people from everywhere visit Maine and Portland on their vacation and the knitters out there always make sure to stop by our shop when they are here in the summer."
KnitWit Yarn Shop is the original flagship store for the Maine-based fiber company, Quince & Co, and it carries a large offering of their beautiful yarns. We also offer a nice selection of other Maine-based yarns as well as other yarn and supplies from other companies as well.
"We pride ourselves on carrying a wide selection of high-quality yarn offerings for all of our customers' knitting and crocheting projects," Jennifer said. "In addition to Quince & Co, some of our other customer favorite yarns include: Woolfolk, Berroco, Dirty Water Dyeworks, Magpie Fibers, and Malabrigo to name just a few."
To see the products, services and upcoming events KnitWit Yarn Shop has to offer, peruse their website and shop online at KnitWitPortland.com.
"We add something new almost every day to our website, so people should check it often," said Jennifer.
In addition to the various yarn and kit products, Jennifer offers classes.
"I've been meeting with people on Facebook and Zoom and it has been quite popular," she said. "It is not only a place to gather with other knitters, but training is available for those who purchase our products. In the near future, I will invite well-known Maine designers to participate and teach our groups."
Although Jennifer learned how to knit at a young age, her real passion began when she visited a local yarn shop 15 years ago. It was then she decided to take the craft to the next level.
"The owner of the shop was very helpful to me as I relearned the craft," Jennifer said. "With her support and teaching I gained a new level of interest and my excitement about knitting grew."
Jennifer also founded and became the first President of the Lighthouse Knitters' Guild of Maine in 2015. Prior to the social distancing measures, the Guild met in person the first Saturday every month at the Windham Public Library. It quickly outgrew the library space, having to move their gatherings to the Windham/Raymond Adult Education building. The guild currently has over 50 members, many of whom rely on the high-quality fibers at KnitWit Yarn Shop for their supplies.
"It is true that people can purchase yarn at big box stores at a slightly lower-cost, but the final product will clearly show it – the look will be very different," said Jennifer. "Not only that, but when you purchase from a small local Maine store, you receive personal attention, support, and classes."
Whether you are a long-time knitter or thinking about exploring a new artform, visit them online at KnitWitPortland.com or contact Jennifer and Chuck at 774-6444 or info@KnitWitPortland.com.
<