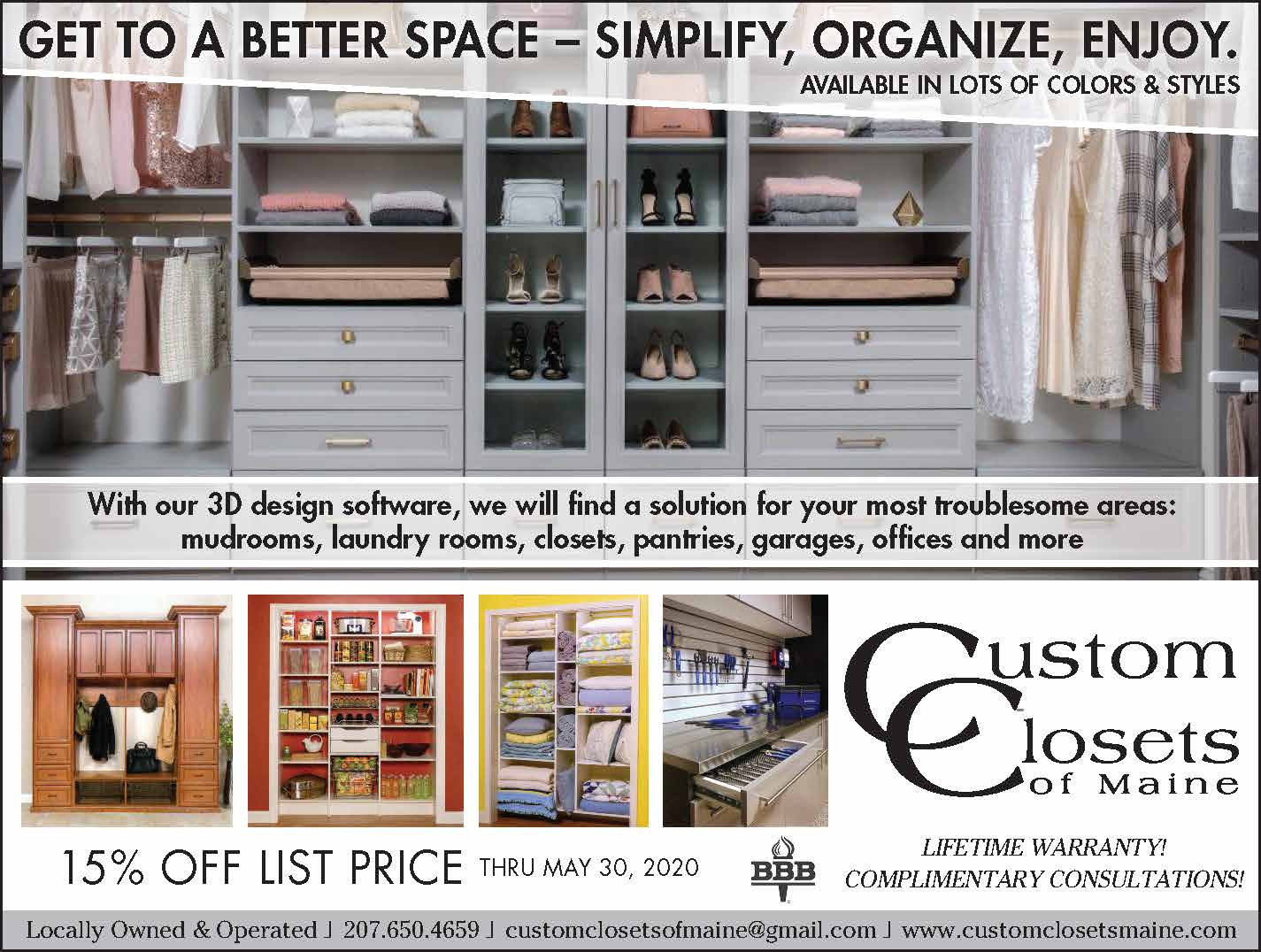 Whether one is making plans to build a newly constructed home, currently lives in an older Victorian house or resides in a small lakeside cottage, storage is one of the biggest challenges many homeowners face. Randy Campbell, owner and designer of Custom Closets of Maine in Windham can work with any size room or location and create the perfect space to meet the unique needs, style and budget of their customers.
"We have designed and constructed many unusual spaces into creative closets, pantries and mudrooms to maximize the unique situations into functional and beautiful rooms and cabinets," stated Randy. He further explained the variety of space challenges they have successfully completed. Custom Closets of Maine has worked in older homes where there were no closet spaces, converting a very small bedroom into a convenient walk-in closet. Also, they have taken small reach-in closets, increasing the storage potential by building in shelves, drawers and more within the tiny space, allowing for added area for shoes, clothing and other accessories.
Custom Closets of Maine, a local and independent business in operation since 2004, also constructs practical storage space in garages, transforms small guest rooms by building stunning wall bed cabinets and converts rooms into functional and comfortable office or workspaces.
From phone call inquiry to finalized product, Randy is there throughout the whole process, providing personalized service he is proud of.

"He first sits down with the customer and determines their exact needs and wishes," Randy explained. "From there, he uses a computer generated 3-D design package that will show the outcome of the space being converted and he discusses various styles of cabinetry that best fits the space and meets their needs and budget."
It is important to note that all cabinetry is custom-designed and constructed on-site. They never hire a contractor to make the cabinets for them. They do it all – every step of the way.
As noted on the Custom Closets of Maine website, all closets are made using the highest-quality products. The cabinet material is a 3/4" cabinet grade with a laminate finish, which resists scratches and stands up to heat, moisture, stains and dirt more effectively than other products. They also offer a full line of high-quality closet accessories in a variety of finishes to keep your belongings clutter free and easily accessible. All cabinet doors and drawers come standard with soft close hinges & full extension soft close slides. They also offer LED lighting for the closets.
– Velveteen jewelry drawer insert with sliding acrylic tray
– Solid birch drawer boxes with full extension soft close slides
– Variety of hardware options-oil bronze, matte-gold, aluminum, nickel, graphite, polished chrome
– The cabinets are offered in 14 different finishes and 7 drawer/door styles
– Crown and base molding available
Whether it is the upscale European elegance or the New England or another style you prefer, you can rest assured that Randy the design professional is a native Maine pro and has you in his best interest – meeting the needs of your storage challenges. If one views Custom Closets of Maine website, (www.customclosetsmaine.com) there are many accolades by previous customers.
"We love our closet," began Lynda. "Randy and his team were efficient, dependable and knowledgeable. The whole process was completely seamless from a quick visit, onsite design in 30 minutes, customized changes on the spot, order in, phone call to setup and onsite build done in a day to perfection. Thank you!"
Lesa offered a more detailed review that will convince anyone considering Custom Closets of Maine to call today. "Mr. Campbell, the owner of the business and his partner came over to look at the site to help us select options and design a plan for two closets. As Mr. Campbell worked on the plan, his partner showed us finishes and options that are available. We selected some and Mr. Campbell incorporated them into the design. He gave us the opportunity to review the design and make changes. We did and the design was updated immediately. The cost was given after the design was completed. We tweaked a few items to fit within previous obligations, On the day of the installation, the crew came in with the system components. We live in a condo with rules about loading times and using the elevator and the crew went along with them without trying to change the process. Actual installation was done professionally, and the crew cleaned up afterward. The system is beautiful and what we wanted. I would recommend using Custom Closets of Maine and plan on doing so with a project for utility room."


If you are thinking about creating more efficient storage space in your home, office or garage stop thinking about it and call Randy today at 207-650-4659. You will receive great customer service and high-quality products at a fair price that include a LIFETIME WARRANTY against any material defects. YOUR SATISFACTION IS OUR COMMITMENT!