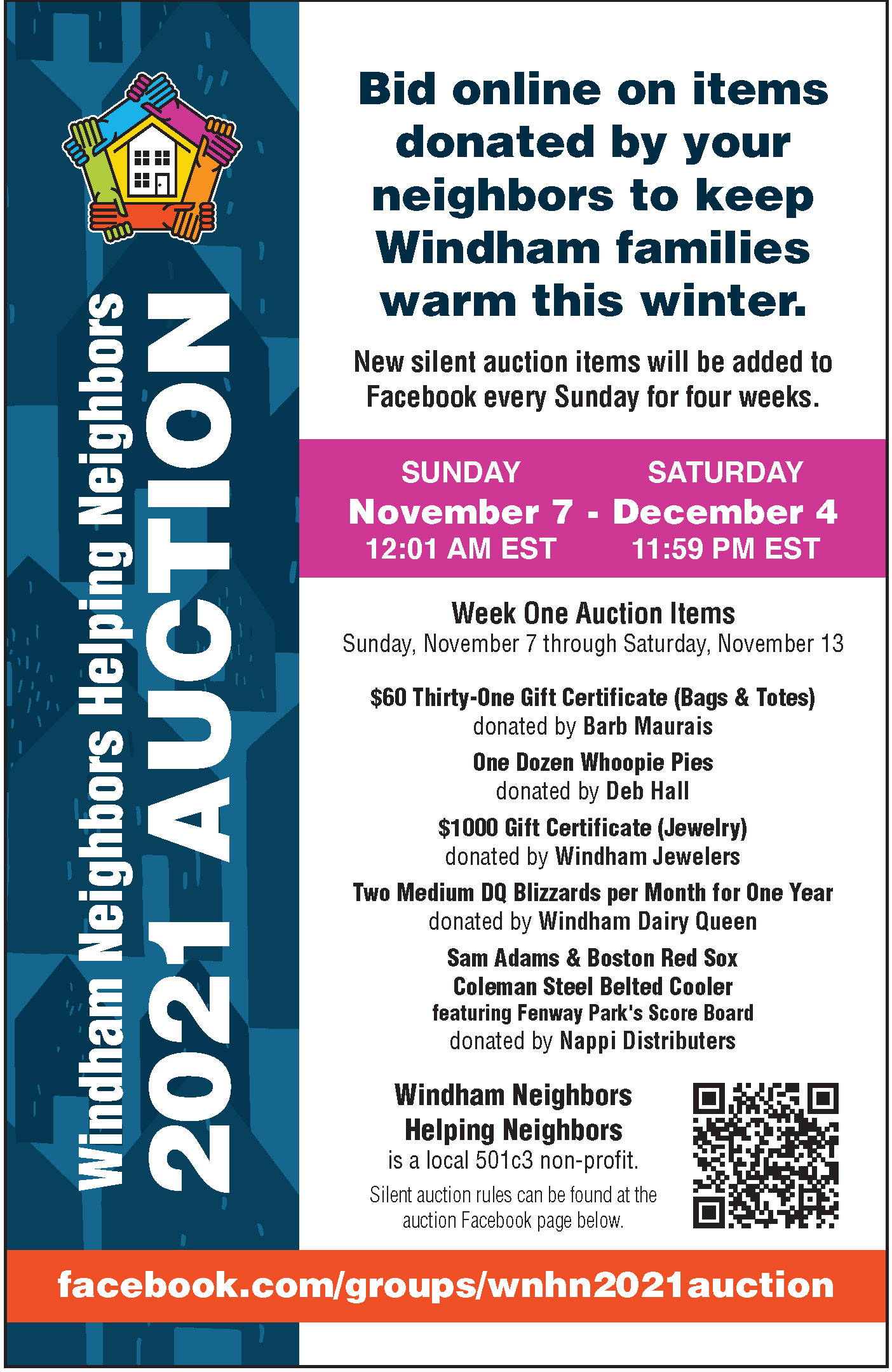 By Lorraine Glowczak
It all began in the fall of 2007. An increase in the cost of fuel had reached $4 per gallon. Compared to the current average heating cost for propane during the 2018-19 season of $2.90 per gallon, the heating prices of twelve years ago were astronomical even by today's standards.
"I started receiving phone calls about the price of heating fuel," explained Senator Bill Diamond. "People were worried, fearing they would not be able to make it through the winter without heat. The more calls I received, I realized there was a real problem and a real need."
It was at that point that Diamond called the State Representatives at that time, Gary Plummer and Mark Bryant, to see if there was a way they could work together to solve the serious issue that many faced. After much discussion, they all agreed to start a group to help raise money for those in need. Windham Neighbors Helping Neighbors (WNHN) began to form.
Although its current mission is "to provide one-time emergency assistance to Windham residents experiencing a critical need for heating fuel, to help direct individuals to appropriate long-term resources and to promote a culture of neighbors helping neighbors", it was a few months before the specific objective was solidified.
"It took us awhile to realize that we wouldn't be able to shovel snow off of every sidewalk and roof, so we narrowed the focus to fuel assistance," explained Diamond. "But there were a few things we got right in the very beginning that I think adds to the success of Windham Neighbors Helping Neighbors."
Officially a non-profit organization in 2008 and into its 11th year, Diamond said that the program specifically focuses on two things. "We made a pledge in the beginning that every dollar we raised would be used for heating assistance and that we would provide for the families that really were in need."
In order to obtain their mission, fundraising efforts ensued. The organization began by hosting a 5K run. Between those who ran and the many individuals and businesses who sponsored the run, approximately $6,000 was raised the first year.
All the funds went directly to heating assistance and not one dime was spent on administrative costs. There were 17 families who received assistance that first year.
However, as with any non-profit organization - there are administrative costs that include, but are not limited to, the legal expenses of becoming a 501c3, advertisement of fundraising events and other incidental supplies. "Those of us on the board would all pitch in our own money for things that all non-profits need to be a successful organization," explained Diamond.
It wasn't until two years later, when the Windham High School graduating class of 2010 spoke with the board of directors. The class learned about the various fundamental financial needs of what it takes to manage a non-profit. Upon learning about all the details, the Class of 2010 donated $1,000 to be used solely for administrative costs. Others eventually followed suit, and it's from that financial line item that basic administrative costs are used. No one is paid, Windham Neighbors Helping Neighbors is a completely volunteer inspired organization.
Currently, the organization now serves as many as 100 families per winter season. "The majority of needs for heating assistance comes from single mothers," stated Diamond. "Once, I got to visit one of the single mothers who made a request and qualified. It had been awhile since fuel delivery was made to their home and they were completely out of heating supply. It was in the middle of winter and she had blankets on the walls in the living area with one electric heater to warm her three children and herself. They ate, lived and slept in that one room."
Although that mother may not have been the one to add a testimonial on the Windham Neighbors Helping Neighbors pamphlet, certainly she would have concurred with this statement: "We had no other place to turn. I don't know how my children and I would have been able to stay warm."
Diamond stated that the elderly is also a demographic in which heating assistance is needed, but they tend to be the last to ask for help.
In order to keep the momentum of Windham Neighbors Helping Neighbors moving forward, a gala that includes dinner and auction is held every year. This year, the gala will be held on Friday, September 27 at the Stone Barn at Saint Joseph's College in Standish to raise funds. "We have to be ready to help as many as 100 families this year from this fundraising event," Diamond stated.
If you belong to an organization or business and wish to be a part of the Windham Neighbors Helping Neighbors gala, contact Diamond at 892-8941.
In order to qualify for heating assistant services, individuals must live in Windham and have exhausted all other state and local agencies that help. To determine if one qualifies, please contact the board of directors at: www.windhamneighbors.com.