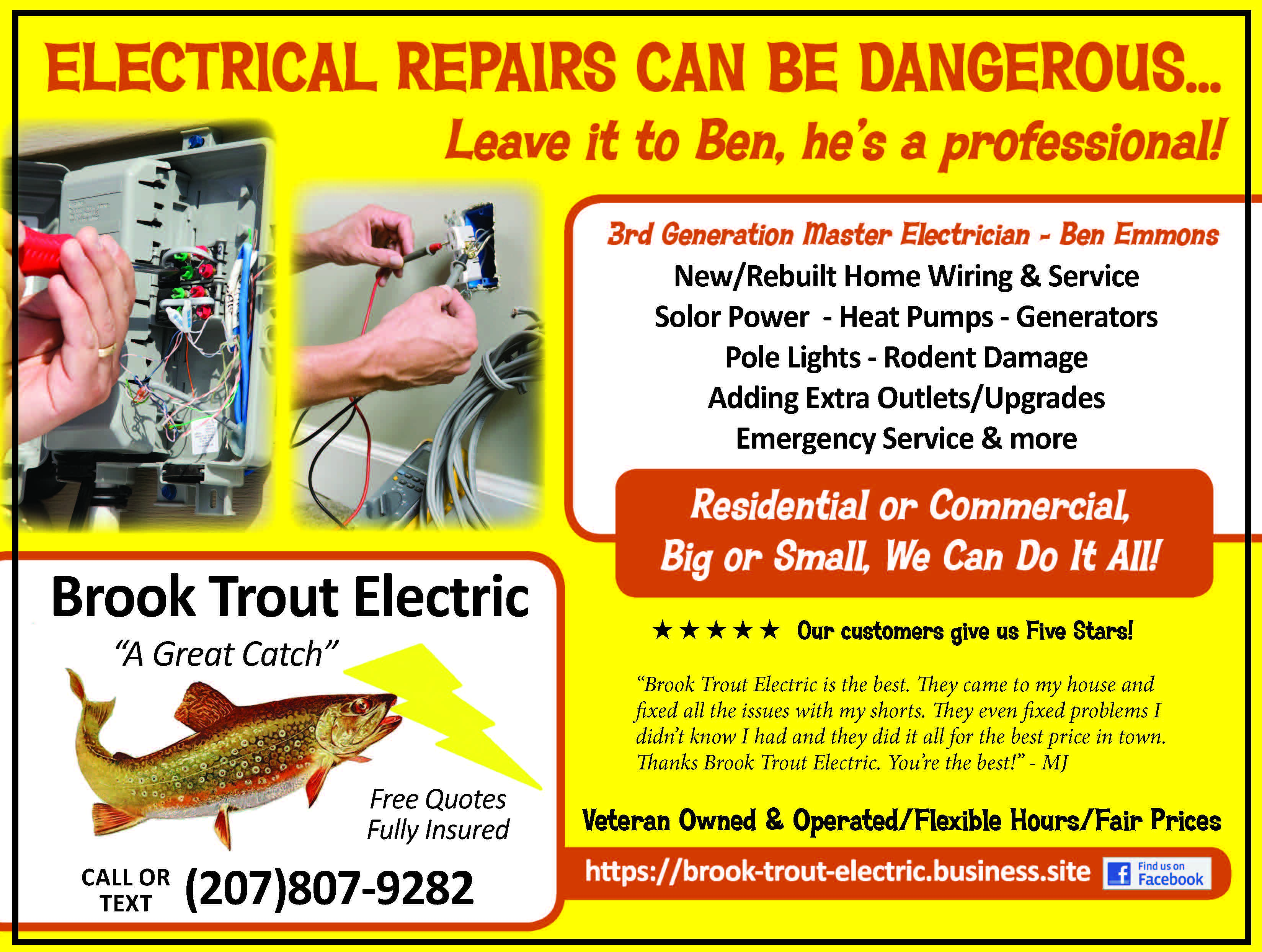 By Lorraine Glowczak
Whether it is as simple as replacing or adding an outlet or a more complicated and time-consuming
project as rebuilding old wiring in your home, working with electricity is dangerous and requires the work of a Master Electrician.
Ben Emmons, co-owner of Brook Trout Electric of Windham, a third generation Master Electrician
who has been working in the field of electricity with his grandfather and father since he was 15 years old, has opened his own shop. "The only time I took a break from working with my family was when I joined the Army in 2003," Ben said.
Ben and his wife, Simone who co-owns the business, also joined the Army and are both 2002 Windham High School graduates. Ironically, it wasn't until Ben returned from tours in Afghanistan and Iraq and who was stationed for a time in
Vicenza
, Italy that the husband and wife team met for the first time at Pat's Pizza in Windham.
Upon his return, the veterans married, and Ben continued working in the electrical business while obtaining his Master License. Four years ago, Ben and Simone, set out into the world of family and locally-owned entrepreneurship, starting Brook Trout Electric to meet the needs of the community and surrounding areas. "There are very few certified electricians out there," explained Ben. "And those who are in the business now will soon be retiring. So, we felt like now was time to follow in my grandfather's and father's footsteps."
Afterall, how many of us can - or want - to do without electricity? Ben is certified and offers the following services:
*New and rebuilt home wiring.
*Repair electrical damage caused by rodents.
*Upgrading electric outlets, etc.
*Installing solar panels.
*Connecting generators.
*Adding pole lights in both residential and commercial properties.
*Connecting heat pumps.
*Install electric car hooks up at home or the office.
*Swapping the house or office over to LED, providing energy audit rebates.
And, this is just the beginning of the many services available which includes going above and beyond what is expected. Learning from his ancestors, Ben knows the importance of giving it your all to the customer. What makes Ben and Brook Trout Electric standout? Besides having the owner of the company enter your home and providing superb quality work with honesty to boot, he gives where most companies do not give. "I do my best to be available at all times of the day," began Ben. "I am flexible with my schedule and my extended hours sets us apart from most companies,"
Simone, who is the office manager extraordinaire, laughed and quickly added, "If you call him while he's fishing on a weekend day and spending a moment with his family, he will be there for you – but he has to reel that big fish in first." Although they both laugh, family is important to them. Simone and Ben have two children – a one-year old son and a three-year old daughter. It is their goal to create a successful and well-trusted business their children will be proud of and who might wish to be owners of Brook Trout Electric someday - thus creating a fourth generation of electrical professionals.
Although only four years into their business as Brook Trout Electric, they have received many accolades. Rick Damon of Windham stated that "Ben is professional, reliable and is reasonable with the cost of his services. Mel Greenier, Commander of American Legion's Field Allen Post 148 in Windham concurred with Damon, stating that "Ben is exceptional and capable of all things electrical.
In his over 20 years of experience, Ben has many stories to share regarding those who believe they can do electrical work on their own. "Safety really should come first," Ben stated. "Many people think there isn't much to doing small electrical repairs or installing a generator safely. But if you are not careful, you could not only cause a house fire or death in your own family – but if one forgets to turn off the main circuit when using a generator, it can back feed and cause the death of a CMP [Central Maine Power] linesman."
Put safety in the hands of Ben, Simone and the locally, veteran-owned Brook Trout Electric where pride in work well-done is first and foremost. To have Ben give you a free quote or for more information about availability and rates on any electrical services, call Ben at 207-807-9282 or email him at emmonspm@yahoo.com. For more information, be sure to peruse their Facebook page and their website at
www.brook-trout-electric.business.site/
.