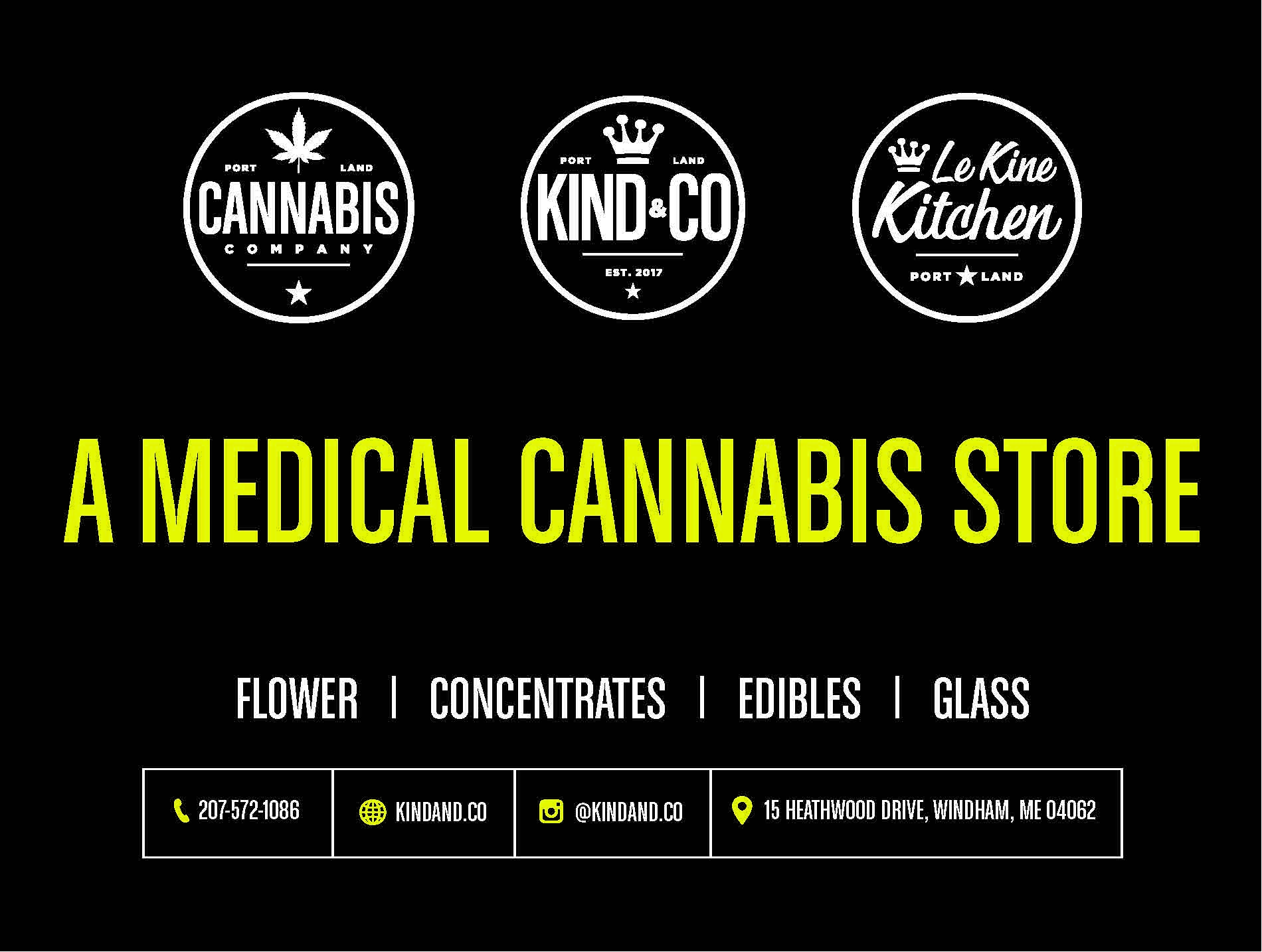 By Craig Bailey
Ben Ferri, Kind & Co's founder, defines his company as "A lifestyle brand for the cannabis enthusiast."
To achieve this mission, Kind & Co. offers cannabis products, cultivated locally in their state-of-the-art facility. They also provide some of the best concentrates in the greater-Portland area, related merchandise such as Maine-blown glass, clothing hand printed in Portland and edibles prepared by chef, Meghan Newport who earned a degree in baking from The Culinary Institute of America.
Upon entering Kind & Co., you'll feel the homey, down-to-earth and welcoming environment.
When asked, what made him interested in launching the business, Ferri responded "the love of the plant. My passion for horticulture started when I began growing cannabis, at nineteen, for personal use. The passion grew on when I started working in a greenhouse, growing produce hydroponically. It was furthered more while working at Oxbow Brewing Company, managing their fruit orchard of sour cherries, raspberries and strawberries." He continued, "I've been a caregiver for over 7 years, just after the medical cannabis laws changed in Maine. During this timeframe, I also achieved a degree in finance at USM.

Starting the business just made sense."
Opening in November of 2018, Ferri acknowledged the local market is becoming saturated with medical cannabis providers. Ferri mentioned, "There are several factors about Kind & Co that contributes to our providing the highest quality cannabis products in the community. This includes using beneficial insects to control pests, instead of spraying harmful chemicals. We are big on quality and have complete oversight of the entire process from start to finish. Further, consistency is huge, as we want our customers to be happy with everything from a gram to an ounce of product."
Ferri stated, "My background in horticulture has helped implement a highly efficient cultivation operation, allowing the flexibility to then do things which, while less efficient (such as hand trimming our flowers), result in a much higher quality product."
Ferri reinforced, "We don't rush the process. Once product is harvested, we don't put it on the shelf for another 4-6 weeks after the appropriate drying and curing time. Doing so ensures the moisture content of the flower evens out, resulting in a better, more consistent burn."
A factor contributing to Ferri's complete control of the enterprise is that he is self-funded and has no outside investors pushing for ever higher efficiencies which can result in lower product quality.
Owner, Ben Ferri
When asked, why the hype around the use of cannabis for medicinal purposes, Ferri began, "I've seen it work on multiple levels, with folks of all ages. Even my mother and grandmother, both non-consumers, are using a topical for muscle soreness with great success." Ferri continues, "Cannabis-based products are known to minimize epileptic seizures and relieve migraine headaches, among many other things. The alternative includes prescription drugs, many of which have harmful side effects. Just listen to the TV ads for such products. They speak more of the harmful aspects than the benefits provided. Cannabis just doesn't have the same negative side effects of many of the traditional western medicines."
One of Ferri's customers, who has rheumatoid arthritis, stated their cannabis-based topical cream was, hands down, the most effective topical she had ever tried.
Ferri stressed, "We are not just trying to get everyone that walks through the door high, or to push the highest possible dosages. We listen to what our customers are saying and looking for. Then, based on their needs and experience, we start them on the appropriate dosage and work from there to find what is most effective for them."
To reinforce the above, Ferri stated, "We don't pressure people into buying anything. As a matter of fact, if a consumer wants to come in just to get educated on the use of cannabis for medicinal purposes, we'd be happy to spend the time necessary to do so. Our goal is to ensure the consumer is comfortable and well educated."
Ferri continued, "We see all walks of life coming into our store. And, we welcome those who are presently opposed to the use of cannabis, so we might have the conversation on how it may benefit them, or someone they love.

We want to break the stigma and stereotypes in our industry."
Kind & Co. is located in Windham, on the corner of 302 and Heathwood Drive. You can learn more by visiting their website at
www.kindand.co
, or calling (207) 572-1086.