F
or 15 years, husband and wife team Carol Larkin and Peter Gartland took care of their aging parents. When their parents all passed within a year of one another, the couple was lost. "It was like reverse empty nest syndrome," said Larkin. It was then they realized their passion for caring for the elderly and the desire to provide "stable, supportive care in their home," she said. "We saw the need and missed working in the elderly population."
They joined with FirstLight Home Care, a national company, to help keep seniors stay in their own homes in the Casco and Windham area. They have been in business for five years and just opened a new office in Windham near Seacoast Adventure Park.
Koda the security dog.


With approximately 50 employees, who are mostly older people with life experience and a calling for this type of work, FirstLight Home Care is able to cover four regions from Portland to Yarmouth, Brunswick to Lisbon Falls, Norway to North Conway, the west side of Sebago Lake including Standish and Gorham and into Windham and Raymond.
"We cover 3,500 square miles," said Gartland. "We help anyone who needs help living at home." Some clients might have brain injuries and some are older and need end of life care. They help those and anyone in between.
The caregivers provide assisted living in the person's own home. They can provide transportation, meal planning and preparation, help with errands, personal care and activities of daily living, case management, appointment management, general household chores as needed.
"We are always looking for people that have the caregiver heart," said Larkin.
The average age of their caregivers is 58. Many have in home care experience. They have CNAs one-on-one experience, nurses, PSS or empty nesters. "They are people looking for something meaningful to do," Gartland said. The company provides the trainings to its employees on everything from Dementia to fire safety. There is a 90 day probationary period for employees.
Gartland is the president of the company and does much of the financial end of the business, while Larkin does more of the marketing, networking and scheduling. Both of them meet every client that the company works with. When someone calls to start care, Gartland and Larkin go to the home to meet the family and client, ask questions and devise a care plan. Some people only need help two hours a week and others need it 24 hours a day help, said Gartland. "It gives us the chance to see the environment and make an assessment on which staff member would be a good match," said Larkin. "We want to make the environment as safe as possible for the caregiver and the client," she added. There are times when they will have a housekeeper go to the house first with Gartland to make the environment safe for all involved.
When a caregiver starts with a new client someone, whether it's Gartland or Larkin or another caregiver who has worked with the client, goes with the new person to help introduce them.
"It's our philosophy to never send a caregiver to a house without an introduction," said Larkin. It's an easy way to get to know the person and the care plan.
There are other companies out there who do the same type of work, however the personal touches and care that FirstLight Home Care implements makes them stand out. They have a 24-7 hotline for caregivers and clients. The phone will be answered by Gartland, Larkin, Jessie Mullen, client care director, or Norma Roberts, who is the senior care giver and administrative assistant.
Being part of a national company helps when it comes to licensing and trainings, Gartland said. Gartland and Larkin's FirstLight Home Care is licensed in New Hampshire, but does not need to be licensed in Maine. All of their employees have had background checks and are insured and bonded.
FirstLight Home Care also has been named to best in home care for the last four years in an independent survey. "Our caregivers are the reason for that," Gartland said.
"When the owner of the company show up, it says we're passionate about the business and care," said Larkin.
FirstLight Home Care works with the VA and Veterans. They also work in managed care facilities around the area as additional helpers for clients. If a family calls from the hospital on Friday and needs care for a parent that day, FirstLight Home Care will work with them until a plan is created.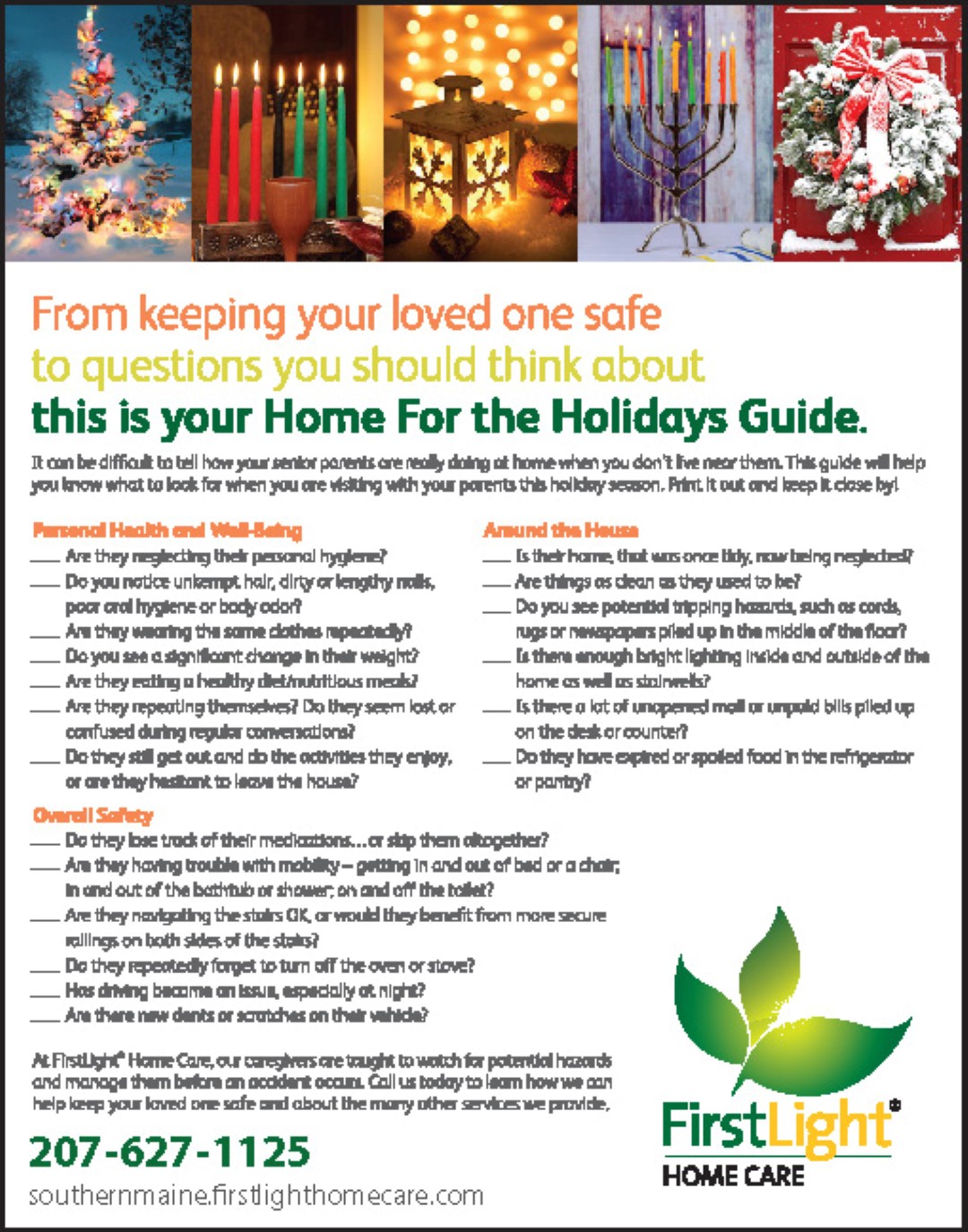 The goal is to keep clients and all seniors living independently. Gartland admits that they are also a resource for the community when it comes to issues seniors face, or placements in nursing homes.