The annual effort to protect your trees and property from harmful insects while safeguarding your health has arrived and everyone could use a knowledgeable ally to assist them. Kevin Prevost of Top Leaf Tree LLC is just that person.
Kevin Prevost of Top Leaf Tree LLC
is an expert in effective insect and
pest control for trees and shrubs.
SUBMITTED PHOTO
Based in Raymond, Prevost has more than two decades of experience in the field and is an expert at taking care of trees and shrubs providing customer training and pesticide management, and effective insect and disease controls for invaders such as mosquitos, ticks, Browntail Moths, poison ivy, Japanese beetles, Fall Webworms, Hemlock Woolly Adelgids, and more.
"I have built this business with one thing in mind, to educate the customer with understanding of how the insects and diseases they carry impact their trees or their personal health," Prevost said. "I never sell something that is not discussed with a customer and with their understanding. I also have equipment to reach over 60 feet in height to control some of the worst insects like Browntail Moths. I love meeting new people and taking care of their trees."
According to Prevost, the most gratifying aspect of his work is when a customer tells them they are experiencing a great summer because they are free from harmful insects after he's treated their property, trees or shrubs.
"It's comforting to know that I've given them the reassurance to be safe in their own yard again," he said.
Prevost launched Top Leaf Tree LLC from the ground up in 2014 and he has been on the front lines of educating the public about the hazards and health risks that ticks, mosquitos, and other invasive pests pose to families and how to resolve problems associated with them.
"I try to get to know my customers and their needs for my services. You can't control everything and with most things in life there are no guarantees. It's a battle with Mother Nature," he said. "By contacting me to come out and evaluate the problem, the customer can feel reassured that they are getting the facts to their pest problems from a knowledgeable professional. If I can't answer the questions, I will look for the answer or direct them to someone who can. I won't ever sell something that is not needed or that I don't know."
Offering exceptional customer service, and the expertise to choose precisely the right and affordable products to treat any pest, Top Leaf Tree LLC also takes great pride in showing up on time to perform work and notifying customers in advance for when they will be visiting them.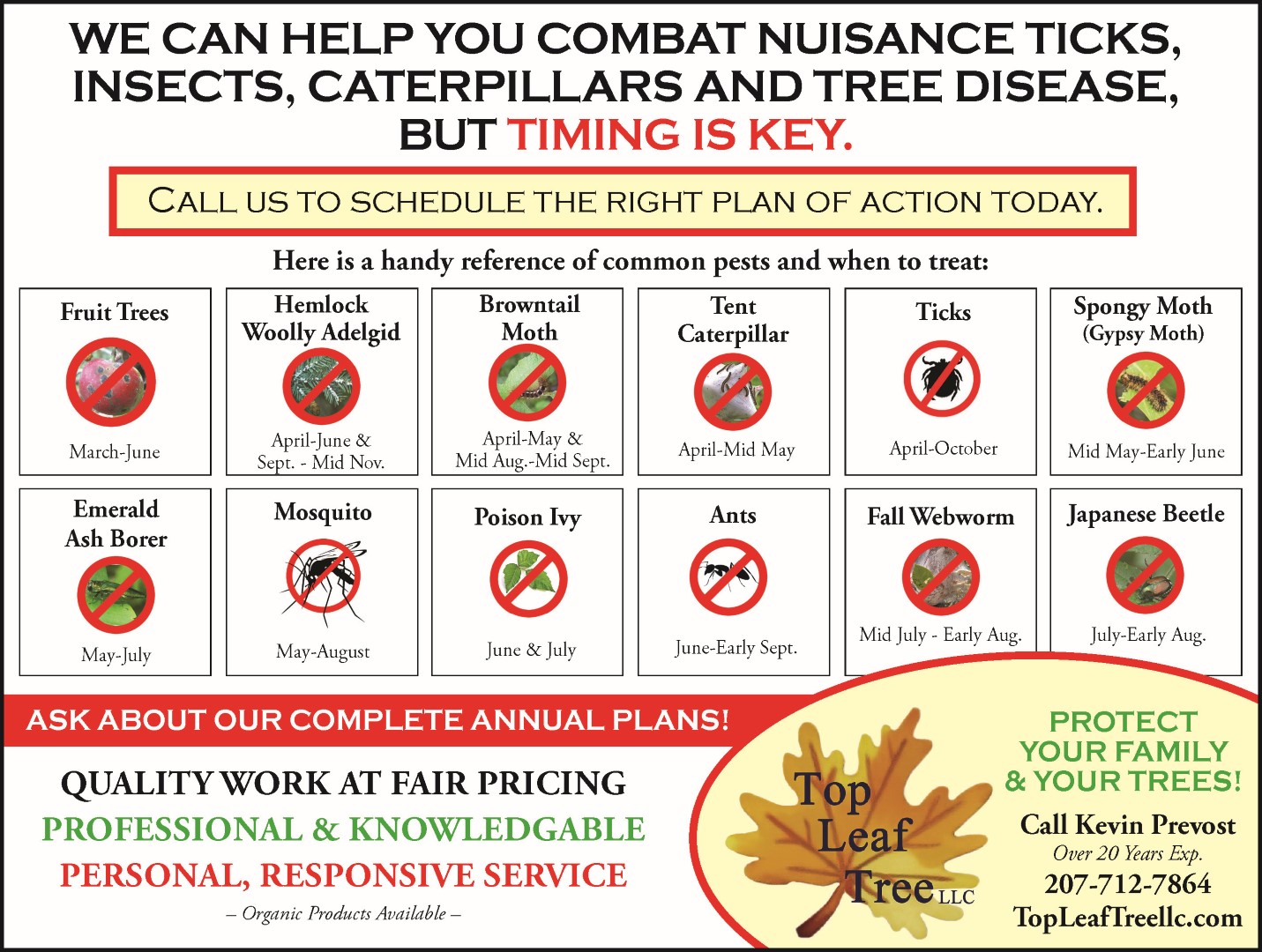 "The feedback I get from my customers is reliability. The customer will understand what to expect from the services I provide," Prevost said. "I always call the day before and also give a window of time when to expect me. I show up when I say I will, and they can count on me to do the job they hired me for."
Top Leaf Tree LLC is licensed to apply pesticides from the State of Maine and is fully insured. Prevost earned an Associate of Science degree in forestry technology from the University of Maine at Fort Kent. He also has held a Commercial Masters' Applicators license in six specific categories since 2007 and a Maine Arborist license in Landscape and Utility categories since 2001.
Prevost constantly stays current in the industry to offer the most up-to-date treatments and applications available.
"Besides books, I continue to learn every year through the University of Maine Cooperative Extension where you learn from professors and other professionals within the industry throughout New England," he said. "The State of Maine Board of Pesticide does a fantastic job of putting discussions and webinars on throughout the year covering many different topics pertaining to my industry. The trend is leaning into organic products, but there is still a lot of hurdles to get over, like costs and their effectiveness and toxicity to the environment and applicator. Browntail Moths and Spongy (Gypsy) Moths are repopulating and starting to spread into the Lakes Region. The advantage of controlling these insects is protecting the trees. Once these insects cause damage to the trees year after year, the owner of the trees finds that the tree regresses or dies. They don't know what happens to a beautiful healthy tree until several years after infestation."
For more information about Top Leaf Tree LLC services or to make an appointment for an evaluation, call 207-712-7864 or visit
www.topleaftreellc.com
<