Around the clock, day or night, during the week or on the weekend, the emergency department staff at Portland Veterinary Emergency and Specialty Care (PVESC) is on duty and stands ready to assist with emergencies when pets experience severe health issues and life-threatening injuries.
PVESC is locally owned and operated, with two convenient locations at 739 Warren Avenue and 2255 Congress Street in Portland. Emergency and critical care is available from PVESC's reliable and compassionate staff members at their Warren Ave location 24 hours per day, 365 days per year. The Warren Avenue location also provides specialty services with board-certified veterinary specialists in Surgery, Internal Medicine, Oncology, Neurology and Cardiology. Ophthalmology and Dermatology services are offered at their Congress Street facility.
"The best thing about what we do is absolutely helping animals and their families," said Dr. Marta Agrodnia, Portland Veterinary Emergency and Specialty Care's owner. "I've been doing this for 26 years and I love assisting animals in recovering and leading healthy lives with their families."
PVESC's emergency service has been providing emergency and critical care for animals every day, serving Maine for more than 30 years, delivering compassionate, expert emergency care for your pet, and offering pet owners peace of mind that their pet is receiving the best possible treatment available.
"We see so many sick animals," Dr. Agrodnia said. "Having to work in a high-stress environment is certainly a challenge, but it's a duty that we embrace and our highly trained and caring staff are truly the best."
Portland Veterinary Emergency and Specialty Care has more than 100 employees, including many board-certified specialists, emergency veterinarians, veterinary technician specialists, licensed veterinary technicians, veterinary assistants and client service representatives who can be counted on to care for your pet when your regular day clinic isn't open, or if critical care or specialty care is needed. Emergency care is prioritized based upon triage determination.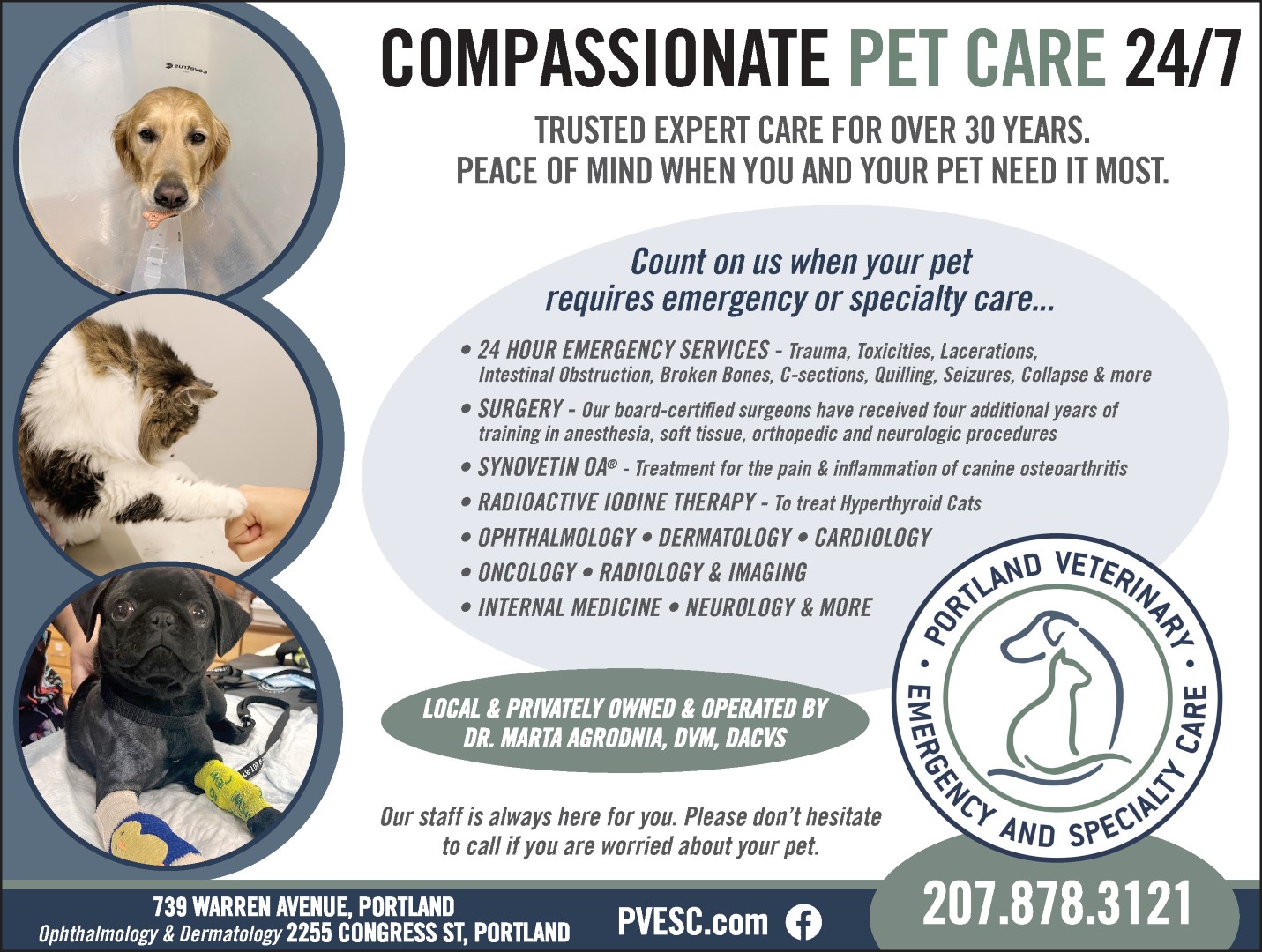 PVESC is the only privately owned multi-specialty and emergency veterinary hospital in the state of Maine and offers most every service that can be found at more distant locations in Boston.
"More than anything, the quality of care that animals receive at PVESC is what I'm most proud of," Dr. Agrodnia said. "We take our responsibility to care for each pet very seriously. We do everything we can to make your pet as comfortable as possible."
Board-certified veterinary specialists at Portland Veterinary Emergency and Specialty Care receive referrals from general practice veterinary hospitals throughout Maine and surrounding areas, and they work in partnership with family veterinarians for the benefit of your pet. PVESC provides advanced diagnostics, sophisticated techniques, and treatment of complex diseases and injuries while working together as a team to provide diagnoses and effective therapies for the most challenging conditions.
"When your family veterinarian refers you to the specialty services at Portland Veterinary Emergency and Specialty Care, it is because they know we will work hand-in-hand with them to ensure the best help for your pet," Dr. Agrodnia said. "We will continue to work with you and your pet throughout the duration of the illness for which you sought our attention."
The PVESC hospitals serve the Greater Portland area and surrounding communities but take clients from across Maine, throughout New England and beyond.
PVESC Warren Avenue offers 24/7/365 emergency and critical care, and the specialty services of surgery, internal medicine, oncology, cardiology, neurology, radioactive iodine therapy for hyperthyroid cats, and Synovetin OA therapy for canine osteoarthritis treatment. PVESC Congress Street offers the specialties of ophthalmology and dermatology.
As a referral center, PVESC beta-tests new veterinary diagnostic equipment and is often involved in research and clinical trials pioneering new diagnostics and treatment options for patients.
"Our staff consists of experienced, kindhearted board-certified veterinary specialists and emergency veterinarians," Dr. Agrodnia said. "We have highly trained veterinary technicians and we seek the best equipment and treatment modalities from around the country and the world. It takes a tremendous level of dedication to accomplish our goal, which is to provide the highest quality medical, surgical, and critical care to our patients, and offer excellent service to our clients."
To learn more about Portland Veterinary Emergency and Specialty Care, call 207-878-3121, or visit them online at
https://www.pvesc.com/
. Find them on Facebook at
https://www.facebook.com/PVSpetvets
<