Are you looking to transform the look and feel of your home or business with a fresh coat of paint? Choosing the right painter is crucial to achieving a high-quality, long-lasting paint job. The job needs to be done right — and that takes experience, expertise, trustworthiness, and reliability. Nappi's Painting offers all of that and more.
Sam Nappi, owner/operator of
Nappi's Painting, knows the
importance of quality work and
is ready to give your home or
office a perfect finish.
SUBMITTED PHOTO
Locally owned and operated by Raymond resident Sam Nappi, Nappi's Painting is a company that has established a stellar reputation for its exceptional work and outstanding customer service. Sam has built his business on a foundation of integrity, professionalism, and a commitment to excellence in every project he undertakes. With a keen eye for detail, he takes great pride in his work, ensuring that every project is completed to the highest standards.
As Sam puts it, "I will not leave a job unless the quality is 100 percent, and the customer is 100 percent satisfied." He always goes the extra mile on quality and precision to ensure that his clients are happy with the results.
Sam's commitment to excellence has earned him high praise from contractors and realtors who have called his work "the best paint job they've ever seen." But for Sam, it's not about boosting his ego - it's about completing each project with the highest of standards and earning trust.
While the business itself is two years old, Nappi has been working as a painter on and off since the age of 13. Over the years, he has gained thousands of hours of experience, which has helped him develop precise skill in applying products properly for various projects, from outdoor homes and decks to interior walls and basement floors. He has also learned the most effective ways to complete tasks within the given timeframe without sacrificing quality workmanship.
Sam understands that painting is an investment which is why he knows the importance of starting with a high-quality product. For this, Sam has a distinct preference. "I only use Sherwin Williams products because they offer top-of-the-line paints." He adds, "Using the same products for every project guarantees that we can produce quality results every time."
According to Nappi, he's flexible in scheduling and tries to work with customers as much as possible. He understands that everyone has a unique schedule and works hard to accommodate that. "I want to make the process easy and stress-free for my customers," he emphasized. "If a customer has something come up and wants me to come back the day after tomorrow, I do it, no questions asked. We are totally customer focused and that's important."
His prices are in line with current market rates, but what sets Nappi's Painting apart is his honesty, transparency, excellent customer service, and meticulous attention to detail. "My customers are spending their hard-earned money into my work, and they expect it to be done correctly and efficiently," Nappi stated. "I have high standards, and I always strive to meet or exceed them."
"The best thing about what I do is being able to provide a skilled service for someone," Sam said. "I derive a great deal of satisfaction in customer engagement. I enjoy seeing the results of a project as much as they do. People want their home or office to be a place where they're comfortable and fresh paint changes people's moods in positive ways."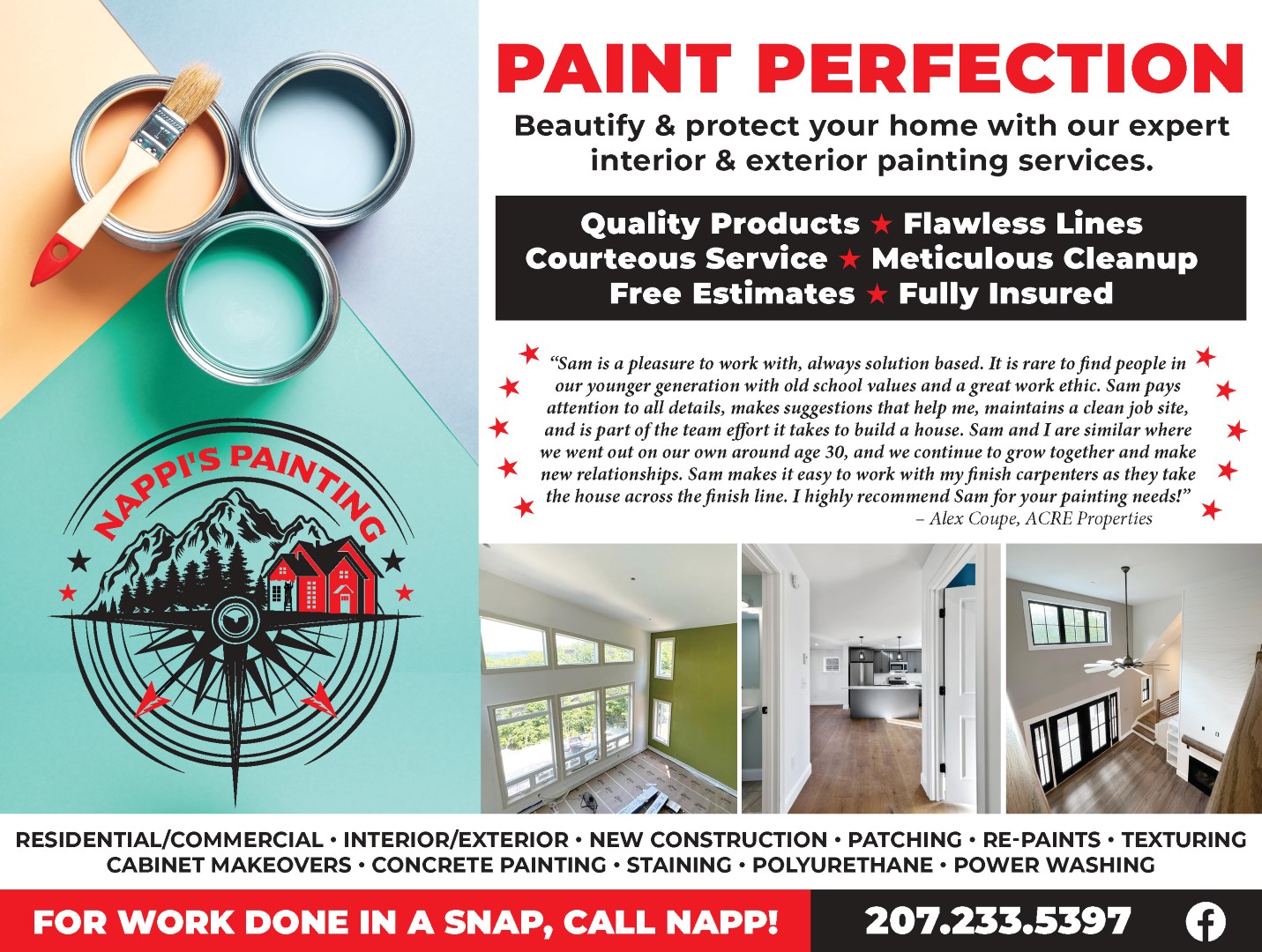 Equipped to handle painting projects of all sizes, whether big or small — Nappi's primary service area is the Lakes Region and Southern Maine, but he is always open to travel upon request. He serves residential and commercial customers in all aspects of painting and staining from new construction to renovations.
He strives to stay up to date on current industry trends for the benefit of his customers. "I would say one of the more popular options in painting right now would be cabinets. It's a slightly cheaper option than replacing them but provides the finish and appearance of new cabinets," Sam said. "General repaints of interior rooms are also something to consider since studies show room color can help set mood and even enhance productivity."
A true professional in his field, if you're looking for unparalleled quality and professionalism in the painting industry— Nappi's Painting is the clear choice.
For more information about Nappi's Painting, please call 207-233-5397 or check out Nappi's Painting on Facebook, Instagram, or Google.<