Commercial, industrial, and residential customers in Southern Maine appreciate and value the honesty, integrity, expertise, experience, and quality products offered by Northern Lights Mechanical of Windham, a company that takes pride in the work it performs.
Chris and Maureen LaSalle,
owners of Northern Lights
Mechanical, look forward to
helping with all your heating,
cooling and electrical projects.
SUBMITTED PHOTO
Owned by Chris and Maureen LaSalle, Northern Lights Mechanical has been in business for the past six years and provides heating, ventilation, air conditioning, refrigeration, and electrical services for primarily commercial customers but also handles some residential work.
"We are a one stop shop and this means we can streamline the installation process without relying on other subcontractors," said Chris LaSalle. "We pride ourselves on being a company that focuses on the needs of the customer at a fair price. We never sell you something you don't need."
Northern Lights Mechanical has five employees, all of whom are licensed in their respective fields and is based at 483 Gray Road in Windham and is dedicated to offering highly affordable and energy-efficient solutions for heating, cooling and electrical needs.
Chris LaSalle is a military veteran with more than 25 years of experience working with nearly every fuel source and says the best aspect of his work is using his expertise to help his customers.
"We are fair, honest, and transparent," he said. "Other companies look at the problem, we look at the whole facility. We establish short-term and long-term plans to provide cost savings to the customer. Preventative maintenance goes a long way. Something as simple as getting your boiler or furnace cleaned on a yearly basis helps save you money in the long run."
Maureen LaSalle said that the company's commitment to quality at a fair price is part of the ongoing success story for Northern Lights Mechanical.
"In the six years that we have been in business, we have never had to advertise, simply due to our reputation," she said. "Word of mouth is how people find us. We stand by our work. If a customer isn't happy or we haven't lived up to their expectations, we figure out how to fix it. We never, ever want someone to feel like they did not receive what we promised. Our core customers have been the same since we started the business, and they are happy with the work we do and the service we provide."
She said that the company consistently looks for ways to help everyone they work with to save money and does so because it cares about its customers and if they're happy, they will tell others.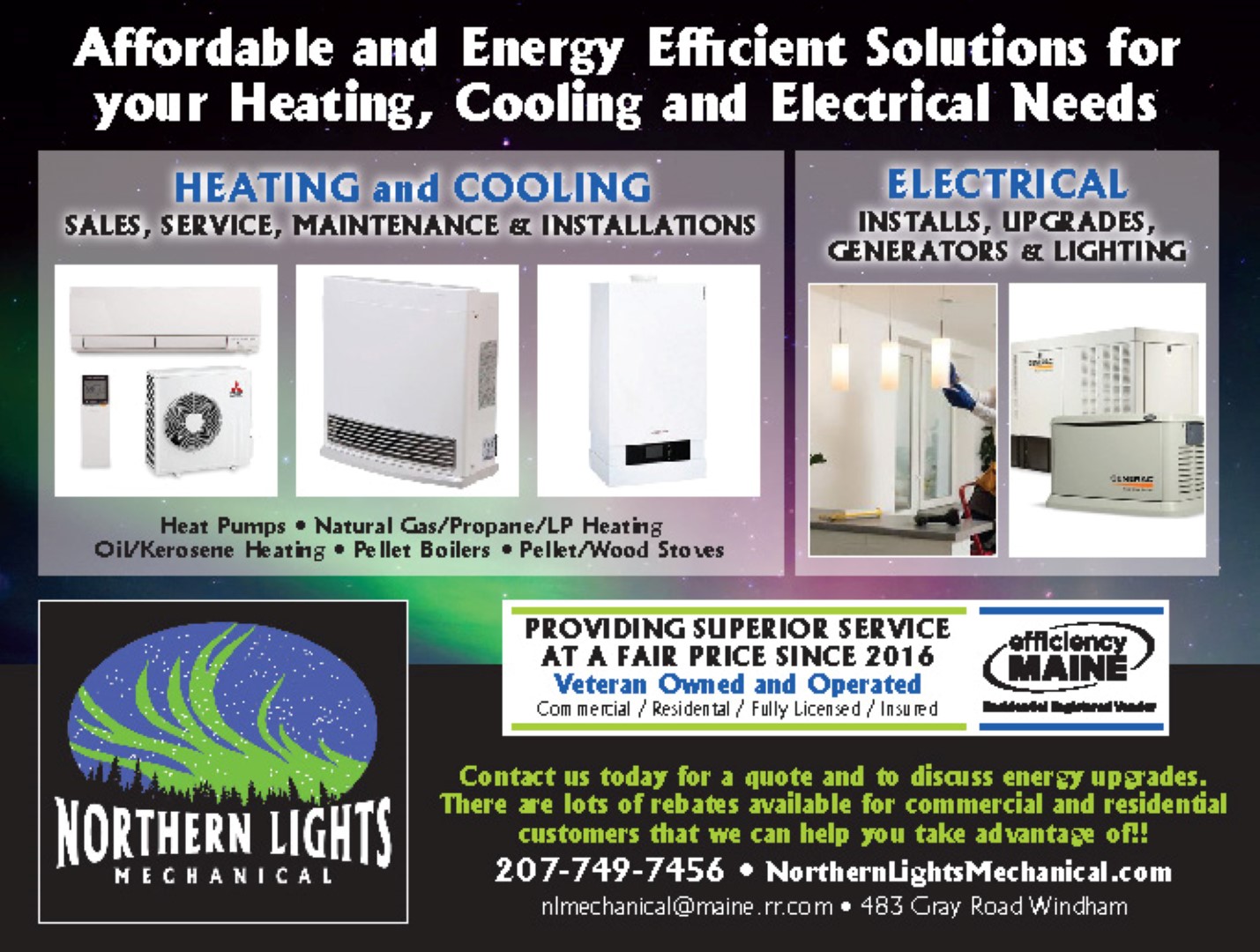 "Heat pumps are a hot trend right now and we install these all the time," Maureen LaSalle said. "Customers should be aware that currently there are a lot of rebates being offered by Efficiency Maine to upgrade your heating and cooling systems and also for your lighting."
Efficiency Maine was created to offer programs to improve the efficiency of energy use and reduce greenhouse gases in Maine. It provides a wealth of consumer information, discounts, rebates, loans and investments for high-efficiency, clean energy equipment and strategies to manage energy demand throughout the state.
Northern Lights Mechanical installs all the equipment that it sells and never sells customers products and services that are not necessary and designed simply to drive up costs.
According to Chris LaSalle, the team of experts at Northern Lights Mechanical stands ready to help, no matter what the circumstance.
"Heat pumps? We do that. Natural Gas installs? We do that," he said. "Generators? We do that. In fact, we do everything HVAC and electrical-related. And we do it well. Let us know what you need. "We help people consistently and that's being a part of the community. We want people to say, 'Hey who installed that?' because we take great pride in our work and our products."
To reach Northern Lights Mechanical, call 207-749-7456, or visit its website at
www.northernlightsmechanical.com
Find them on Facebook at
https://www.facebook.com/northernlightsmechanical
<