For anyone searching for a fun place to go for great food, great drinks, and a great atmosphere, take heart, your search is over the moment you step into the new Outpost Bar and Grill in Standish.
Kate and Nate Cates are the owners of The Outpost Bar and
Grill in Standish. SUBMITTED PHOTO
Located at 380 Pequawket Trail in Standish near the intersection of Route 25 and Route 113, the Outpost Bar and Grill offers a pub dining experience right on Watchic Lake that's perfect for both families and those looking for a comfortable evening out.
"The best thing about the Outpost Bar and Grill is being able to build a place to bring families to come in and relax and offer an experience that other places can't," said Kate Cates, who co-owns the restaurant with her husband, Nate Cates. "Everyone is welcome. We have something for everyone, from live music Thursdays, trivia Fridays, cornhole tournaments, a mug club, a game room, and specials all week. We strive for customer satisfaction and try to provide a place where anyone can come and unwind after a long day."
Cates said the Outpost offers many different specials and happy hour throughout the week and is conveniently situated right on the ATS trails so all 4-wheelers, side by sides, and snowmobiles are able to access the restaurant right from their machines.
"We also are located on Watchic Lake, so boats have access to pull right up, tie off and come in," she said. "We have a game room and huge back lawn for fires, live music and cornhole tournaments."
According to Cates, the emphasis for the Outpost Bar and Grill is making sure that all guests have a great experience.
"We have a game room with arcade games, a pool table, cornhole and putt putt golf," she said. "We just started offering mug club to customers where they can purchase a mug and get discounts on draft beer and cocktails, a free app on their birthday, and mug club member only specials throughout the week."
The menu also includes an array of gluten-free and dairy-free options, which is important for anyone who suffers from food allergies and food sensitivities. Take-out is available too.
Food and drinks are highly affordable, and the menu includes everything from pizza to fried chicken sandwiches, cheesy fajita steak tacos, fried veggies, ziti and meatballs, fried pickles, chicken salads, burgers and more. There's also a children's menu and the Outpost's drink selection is vast.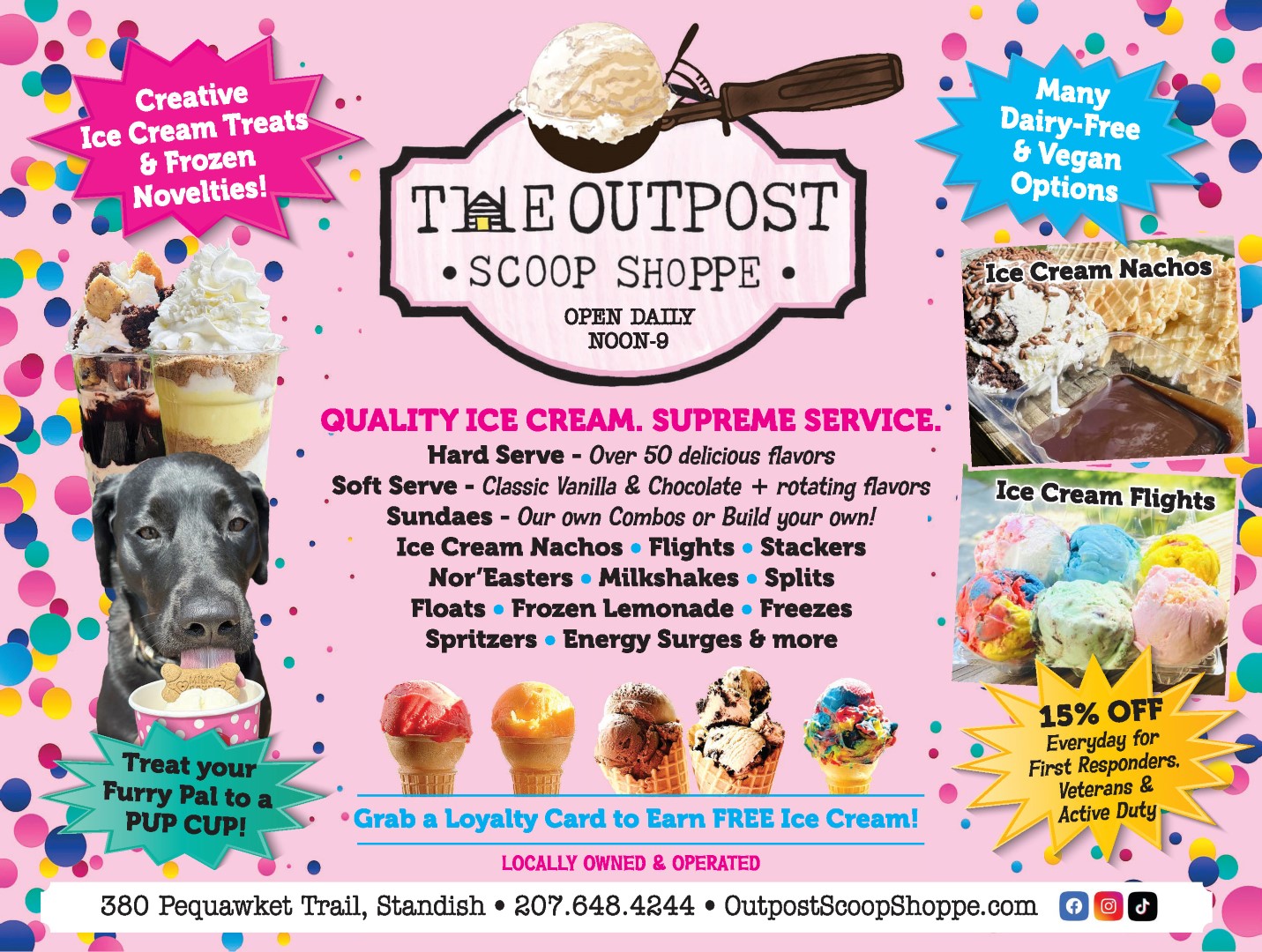 "We have received great feedback about the wide beer selection we have, with 20 beers on draft, both craft and domestic," Cates said. "We hear great things about the selection of liquor to choose from and the quality of our drinks."
Meals are available for dining in, with outside seating and convenient curbside pickup for take-out available.
Having only been open since July, the Outpost Bar and Grill is building a loyal following based upon exceptional customer service, tasty meals, awesome drinks, and an overall fantastic experience.
"It has been an amazing time so far, and we are planning on being a year-round business," Cates said. "We have 11 employees, so we are all very close and feel more like a family than coworkers."
She said each employee is devoted to making the Outpost Bar and Grill a place where people can come and hang out, make new friends, or enjoy time spent with family and old friends.
"Customers love that we have a wide variety of gluten-free options and dairy-free options," Cates said. "We know that finding a place that offers those options is hard, so customers seem to love being able to have fried food and know that it is 100 percent gluten-free. Customers seem to love the quality of our food. We offer a homemade feel with every meal. We take pride in prepping and preparing meals for our patrons."
The Outpost Bar and Grill is open from 4 to 10 p.m. Wednesdays, Thursdays, and Fridays, and from 1 to 10 p.m. Saturdays and from 1 to 8 p.m. Sundays. They are closed on Mondays and Tuesdays.
For more information, call the Outpost Bar and Grill at 207-648-4168. Find them on Facebook at The_Outpost_bar_and_grill and on Instagram page at outpost_bar_and_grill_. <