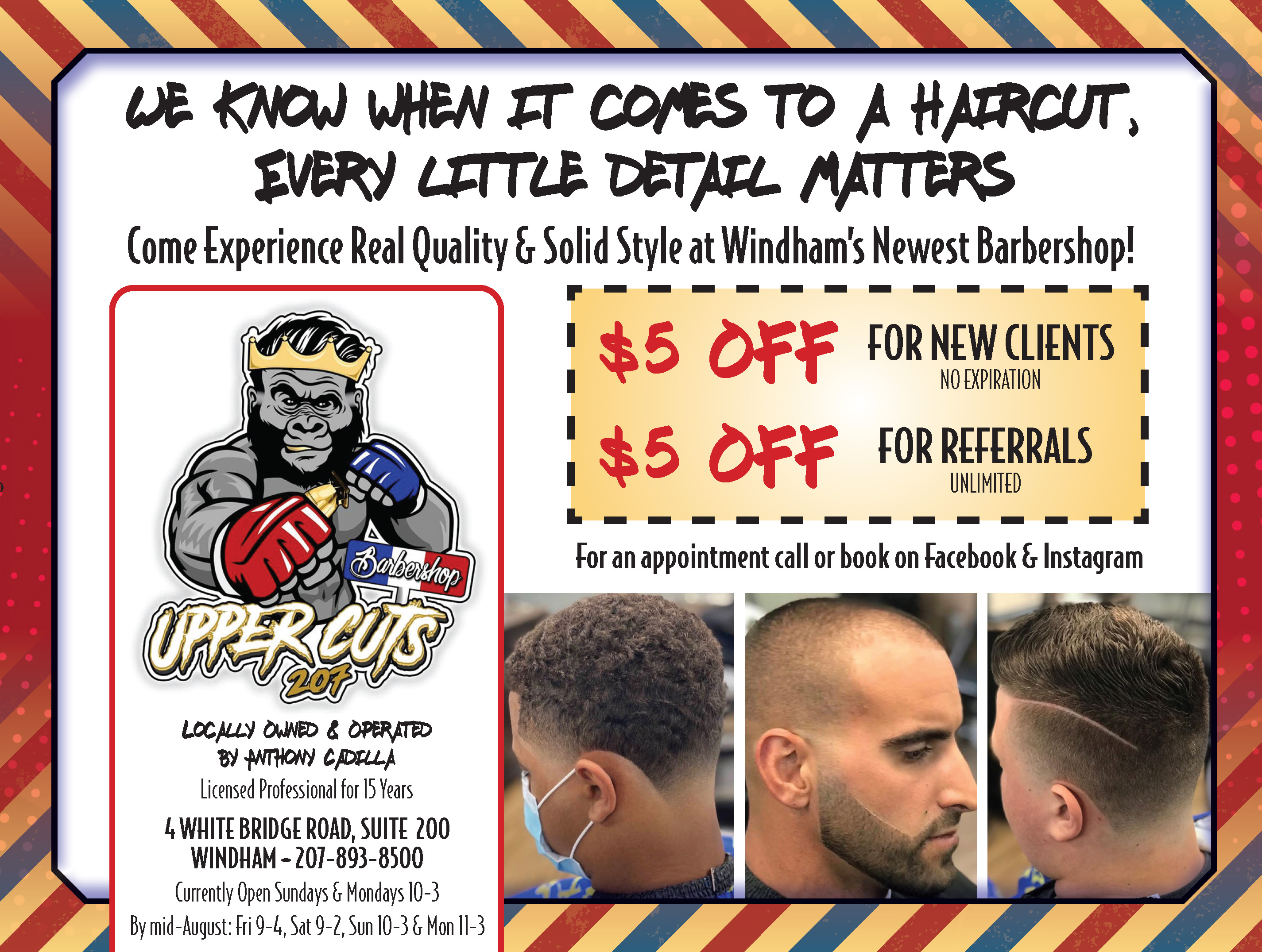 There are no gimmicks or schemes when it comes to getting a great haircut and for Anthony Cadilla, owner of the new Upper Cuts 207, the shop stands out from the competition because of its workmanship and devotion to listening to customers.
Located at 4 Whites Bridge Road, Suite 200, in Windham, the new barber shop is a throwback to old-fashioned barbering because of its high-quality barber service and its attention to detail and precision line work which make their finished product stand out from competitors.
"Our main focus is to give the client what they're looking for and want," Cadilla said. "What I want the client to know is that our main focus is on what the client needs."
Barbering runs in his family and his great-grandfather, Major Lessard was a barber in Biddeford. Cadilla has worked as a barber in Southern Maine himself for 15 years and saw the need for a shop in Windham that is worth visiting.
"I noticed how busy Windham is and that it lacked a real true high-end barber shop," he said.
Upper Cuts 207 offers all men's services, including shears and clippers and according to Cadilla, that's essential when it comes to delivering a great haircut for men.
"A lot of barbers are not skilled in using shears. I can do both," he said. "I specialize in the hard cuts, anything from a men's regular to the hardest urban cuts, and razor work creating sharp lines."
The most challenging aspect of barbering for Cadilla is a consultation where he discusses specifics with customers before cutting their hair.
Upper Cuts 207 in Windham offers all men's
barbering services, including shears and clippers
and that's essential to delivering a great haircut.
COURTESY PHOTO
"Sometimes people think they know what they want but have a hard time verbally expressing how they want it to look," Cadilla said. "I take the time to ask questions and listen to them to make sure we're on the same page."

The end product, Cadilla says, is that a customer pays their hard-earned money for his expertise and deserves a perfect haircut every time.

"Here at Upper Cuts 207, it's always about quality over quantity," he said. The price of haircuts has gone up and I see a lot of people pay top dollar for a haircut that's not quite perfect. The best thing about what I do is just seeing people happy when I'm done. It makes me feel good when I'm done and they believe I've given them the style they want."

Featuring highly competitive prices and staying up to date with current styling trends, Upper Cuts 207 specializes in all hair types, including ethnic hair.

The shop itself is ultra clean and Cadilla said part of his daily routine is to be mindful of sanitation and safety, to mitigate risks and to closely follow all local health department regulations while keeping the client area free of germs and other health risks.

"We provide the client the best we can give them. every little detail matters," Cadilla said. "We make sure we get things right because that's what makes a solid haircut. Every haircut here is performed with precision and style and we promise you've never experienced better service. For us it's about delivering super high quality in the sense that we cater to the client."

He said that many believe barbers only work on short hair, but he wants to dispel that idea.

"We work on all lengths and all types of hair and are trained to handle every type of style," Cadilla said. "We are available, deliver a solid service, are consistent and provide exceptional customer service. We offer transformation with quality."

Upper Cuts 207 is offering all new clients $5 off any "Premium service" (over $30) and that includes college students and $5 off for first-time visitors to the barber shop.

To make an appointment with Upper Cuts 207, call them at 207-893-8500. The barber shop is on Instagram and Facebook listed as "Upper Cuts 207." <