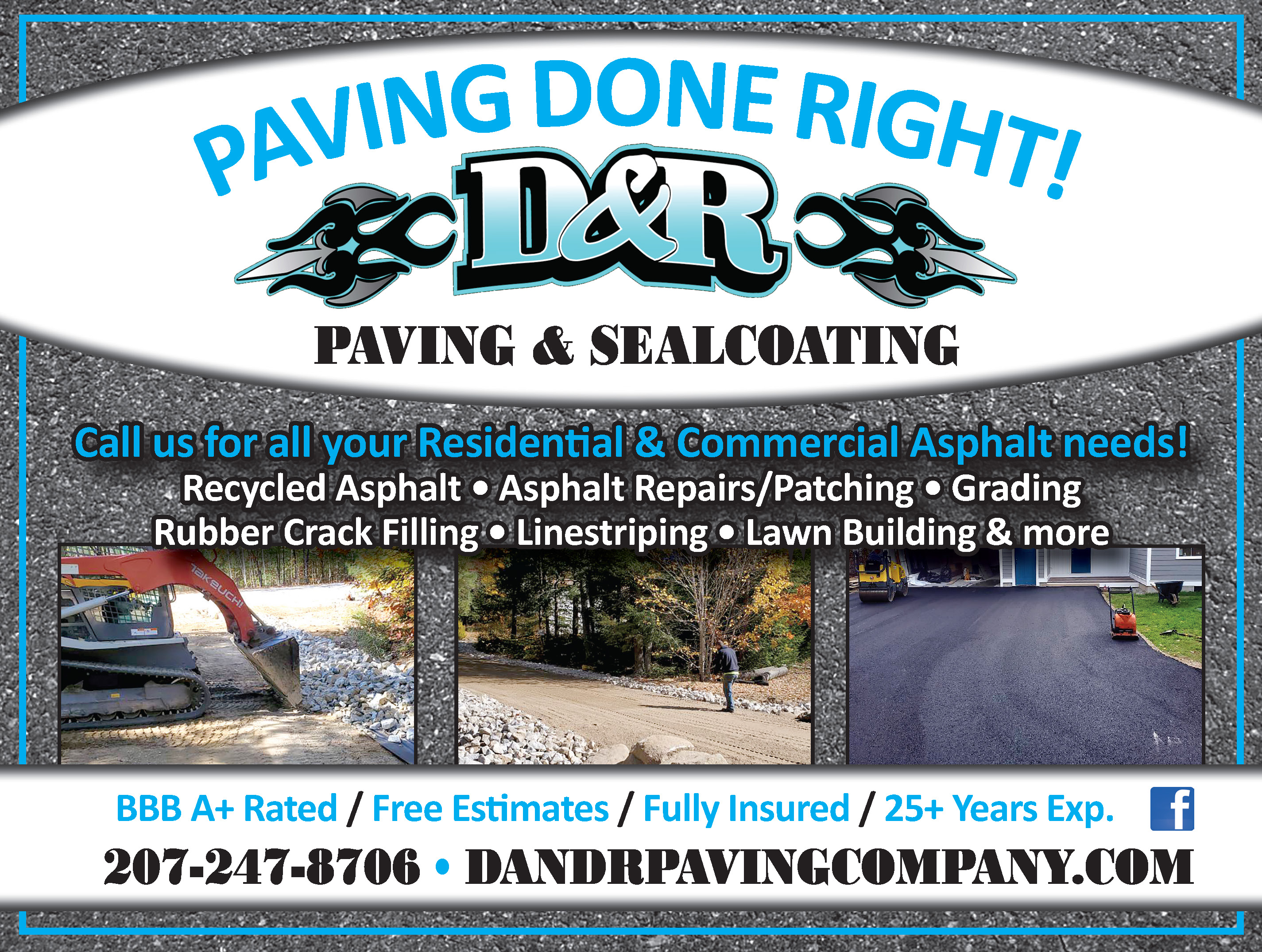 If you're looking for a locally owned paving company that can provide you with a full array of paving services in both residential and commercial capacities, look no further than D&R Paving and Sealcoating.
Established in 1995, owner Dana Brown has decades of experience with jobs both large and small. He has built a reputation for delivering superior workmanship and customer service for all asphalt and paving needs. From the groundwork to the finish sealcoating, his dedicated crew of 10 performs quality work at a very competitive price.

"What distinguishes us from our competitors is our attention to detail," Dana said. "We go the extra mile and pay close attention to our work."

D&R Paving and Sealcoating knows that paving is a big investment and takes thorough steps to ensure that investment will withstand tough Maine seasons for years and years to come. Their attention to detail is unsurpassed.

Some of these details are proper drainage, straight edges, smooth finishes, adequate thickness, and flush transitions. This is important to ensure a durable finish and superior curb appeal. They are upfront and honest about the scope of a project so there are no hidden surprises. From the groundwork to completion, they have all the best equipment to get the job done right the first time and on budget.

If you already have a paved surface, it is important to perform proper ongoing maintenance to significantly extend its life. D&R Paving and Sealcoating can help with that too. They use top of the line seal coat to not only provide a protective barrier on the surface but to also enhance the appearance with a flawless, smooth, jet-black sheen.
D&R Paving and Sealcoating stresses the importance of sealing up cracks in your asphalt surfaces as well. Even small cracks allow water to seep down underneath the surface of your pavement which will weaken it over time.
Seasonal temperatures can cause asphalt to expand and contract creating more and more cracks which can then turn to potholes. For this reason, crack sealing is recommended as the most cost-effective preventative pavement maintenance procedure and should not be put off.
If your driveway or lot is more than a decade old, it may be time for periodic milling. Asphalt milling is an affordable solution to restore the surface. Rather than a complete demolition, milling grinds up the old asphalt surface and replaces it with a new, smooth overlay.
Whatever the surface problem, D&R Paving can assist you with routine maintenance of your driveway or parking lot to ensure that your asphalt surfaces last.
D&R Paving and Sealcoating also offers recycled asphalt which can be a great lower cost alternative to traditional pavement. Reclaimed asphalt is recycled asphalt that has been torn up from a previous project.

The asphalt is crushed and mixed with gravel making the surface perform like a gravel road, but with easier maintenance and plowing. It is still far more superior to a dirt or gravel road because it keeps your surface completely solid and free of mud. Once reclaim is laid it will also be simpler down the road to upgrade to traditional asphalt if desired.

For commercial and industrial parking lots, D&R Paving and Sealcoating does striping and marking. Whether you are installing a new parking lot, resurfacing an old one, changing its layout, or simply having existing stripes repainted, D&R will get the job done precisely. They are also very well-versed with ADA guidelines for handicapped access and will provide the knowledge to comply with every regulation.

Working with an independent, family-owned company means you will work with the owner directly and every job is personally guaranteed by Dana himself. Keeping his word, job after job, year after year and doing quality work every time is how they have earned a BBB accredited A+ rating. Their excellent workmanship has earned the trust and loyalty of thousands of satisfied, repeat customers and they are excited to add you to that growing list.

Every job is different, and Dana Brown will bring his more than 25 years of experience in paving to every project. He can advise you on all the options and discuss what is right for your situation and budget. You will get experience combined with personal attention to make sure you are satisfied with your project all the way through.

Prices are based on square footage with groundwork also taken into consideration. Call D&R Paving and Sealcoating for a free estimate now and beat the end-of-summer rush at 207-247-8706 or 207-281-2224. You may also email: drpaving@roadrunner.com. Visit them on Facebook or go to their website: dandrpavingcompany.com to see a complete description of services, portfolio and read their reviews. <