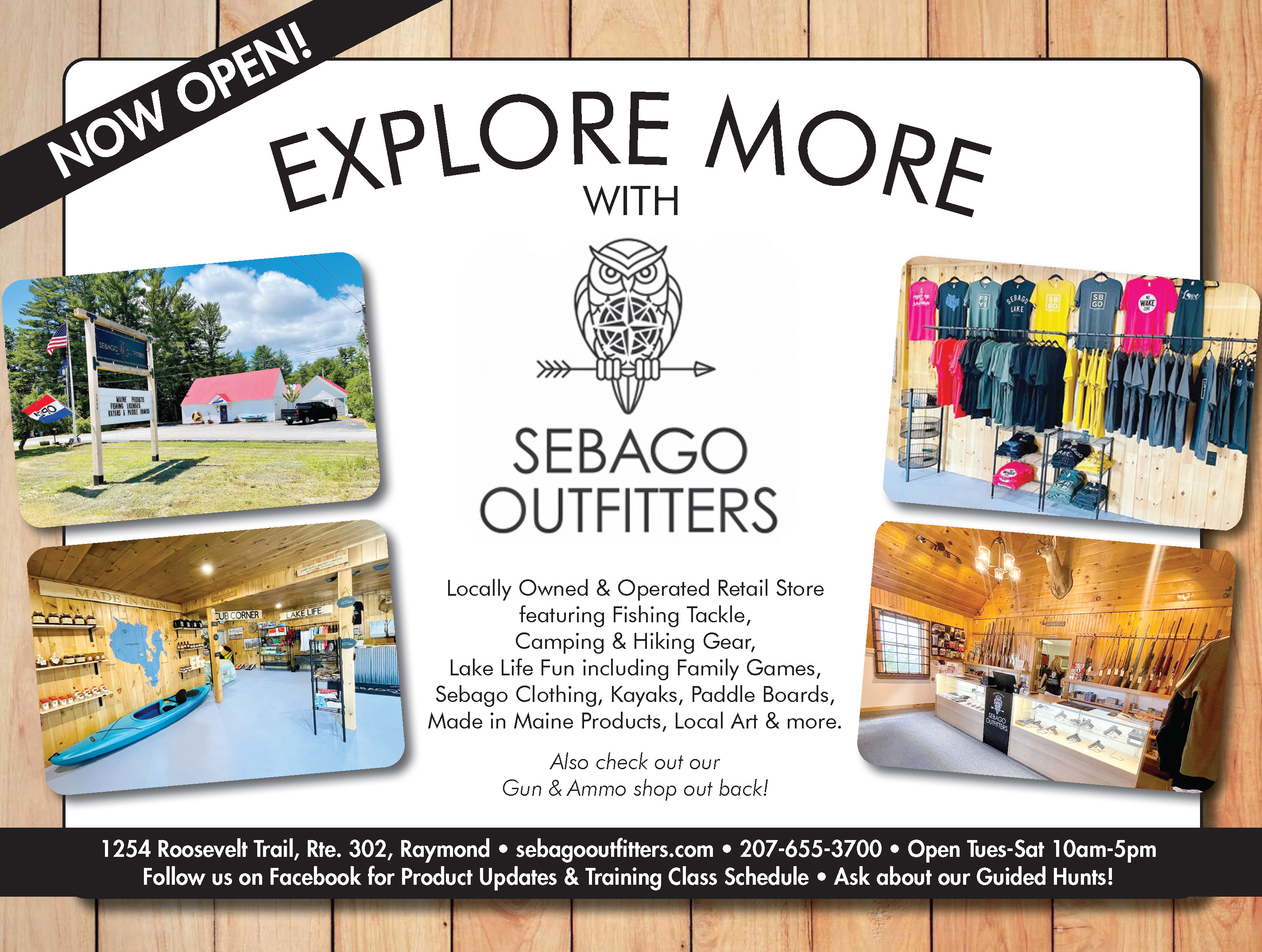 From hiking to kayaking to hunting and fishing, the Lakes Region of Maine offers plenty of opportunities for individuals to get outside and experience an active life. And now a new store, Sebago Outfitters in Raymond, provides the gear to explore the outdoors like never before.
Located at 1254 Roosevelt Trail next to the Aromas Joes in Raymond, Sebago Outfitters opened last fall and is a 2,000-square-foot retail shop providing an array of equipment to enjoy outdoor activities, guided tours by Maine Registered Guides, state fishing and hunting licenses, and FFL firearm transfers.

Owned and operated by Leah Drinkwater, Sebago Outfitters aims to get residents and visitors to explore more of the finest outdoor activities Maine and the Lakes Region has to offer.

"We have something for most anyone. We have the retail outfitter store for families, lake life, kids' games, fishing, camping, hiking, and local Maine products," Drinkwater said. "We also have an attached gun shop for the outdoor sportsman or woman."

She said that the Lakes Region provides a diverse kind of atmosphere with gear that is perfect for family excursions and creating lasting memories for a lifetime while encountering nature at its best.
"We're local female-owned and operated," Drinkwater said. "We focus on education, training and purchasing outdoor gear and whatever you need in a comfortable environment. We are a location where you can find something to do."
Featuring exceptional customer service, invaluable expertise, a diverse selection of gear and equipment required for all types of outdoor adventures, trained and experience guides familiar with the Lakes Region, and a convenient location to shop close to home, Sebago Outfitters has rapidly become a local favorite in Raymond.
Emphasizing "Old School Maine Culture" while leading a transformation and renovation of the facility into the first female-owned outdoors sporting goods store in the Lakes Region is a significant accomplishment that Drinkwater says that she's proud of.

She said that as a local family-owned business that supports other local businesses, Sebago Outfitters strives to be a location where area residents and families can feel right at home.

"Everything from the sign out front and the build out for the renovations of the store were done by local contractors," she said. "We feature 'Made in Maine Products' in particular. Most of our inventory has been supplied by local businesses."

Drinkwater said Sebago Outfitters is a place where women can learn what they need to know about hunting, fishing or anything related to the outdoors.

"We have had great feedback on our women's-based hunting and firearms classes last fall led by Maine Guide Emily Parker," she said. "Across America hunting and fishing are becoming more popular activities for women and that's evident here in the Lakes Region as well. We can help them do that."

Surveys show that women are the fastest growing demographic in hunting and fishing nationally and are taking up outdoor activities in record numbers since the onset of the pandemic, reflecting an appreciation for nature and being outdoors, along with a passion for wildlife and public lands.

Drinkwater said families and children are always welcome, and that Sebago Outfitters offers "Wildlife in a box" classes over breaks from school for children that are fun and educational.

"The feedback we get from doing that is great and we'll continue to offer upcoming classes for the summer and fall," Drinkwater said.

Opening and renovating the store has been a vision come true for Drinkwater.

"I have my Federal Firearms License and I have personally been training with firearms for over a decade and encourage everyone to practice training, safety, and education," she said. "You can always expand your knowledge. Our Maine Registered Guides that provide classes and tours must pass the state exam. Fishing and hunting licenses are provided by the state where we are a kiosk location. Everything outdoors has increased in popularity since the pandemic, and we look to help people explore more of the outdoors. Our goal is to have something for everyone. We want everyone to grab a fishing pole and explore more."

Sebago Outfitters is open from 10 a.m. to 5 p.m. Tuesdays through Saturdays.

For more information about Sebago Outfitters, call 207-655-3700 or visit Sebagooufitters.com or find them on Facebook and Instagram at Sebagooutfitters <