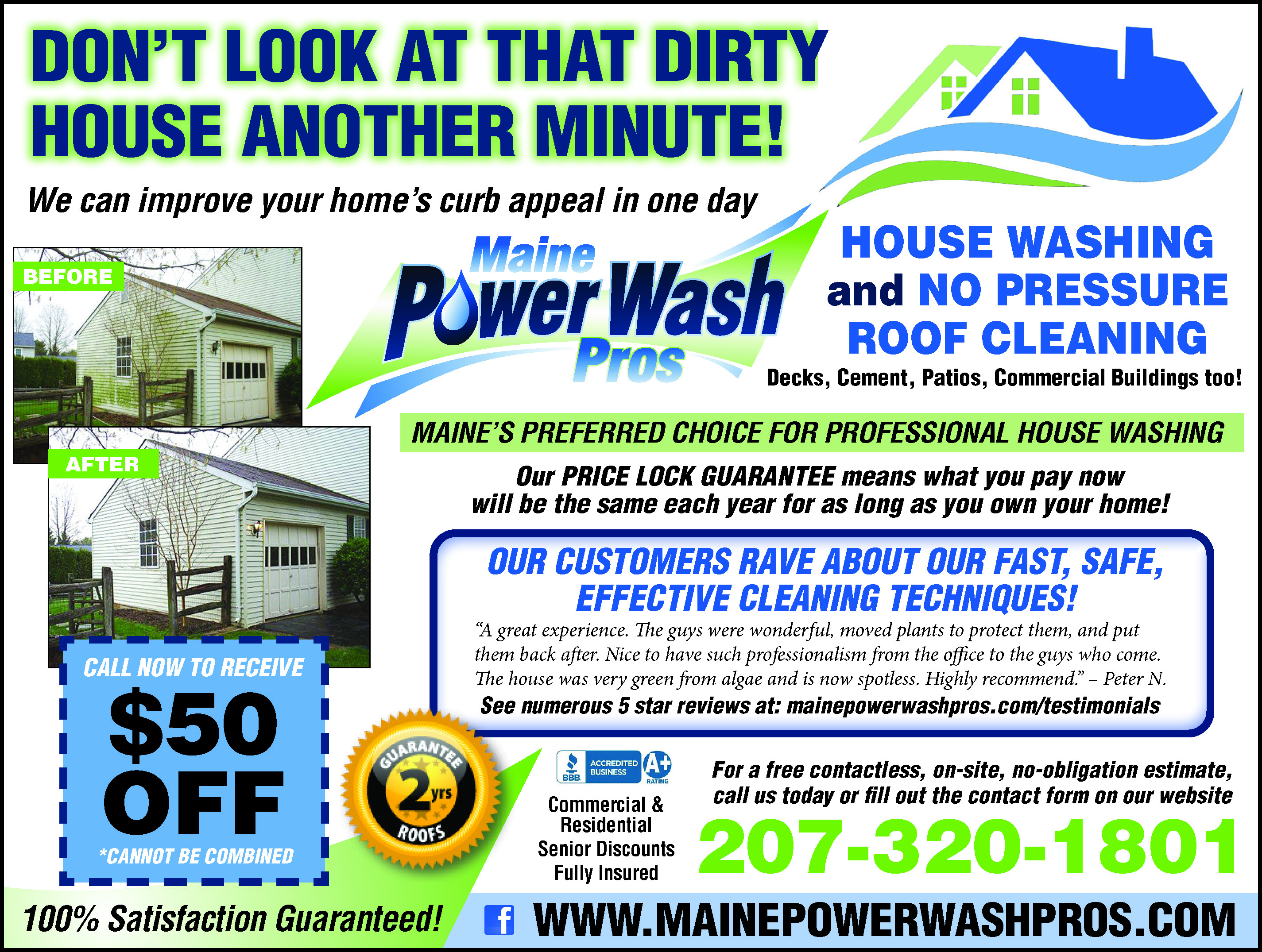 The arrival of warmer weather is when Mainers can carefully look over what has happened to the exterior of their homes over the past year. Moss growing up the sides, black soot and lichen on the roof and an overall dull look to houses demand attention. After only a few hours, Maine Power Wash Pros can transform a home's exterior, roof, and decks back to something a homeowner can be proud of.
Brian Condon and Mike Morin opened Maine Power Wash Pros in 2011 and since they have continuously grown every year thanks in part to their professionalism, knowledge, excellent customer service and dedication to satisfaction. They continue to take classes and seminars to improve their skills and keep up with the trends.

The business is seasonal from April to October, and in that time, they will clean around 1,000 homes and 200 to 300 roofs in Central, Southern and Mid-Coast Maine. With six employees working in teams of two, they cover a lot of ground to service Maine. Maine Power Wash Pros work on residential homes and commercial properties, including condominium complexes.

"Some people are do-it-yourselfers. Power washing homes is a dangerous venture for homeowners to take on themselves," said Condon, who once saw a homeowner fall off a ladder, while power washing his home and the man broke his back. "We don't stand on ladders to wash homes," he confirmed.
The services offered by Maine Power Wash Pros starts with washing houses. Using a bleach solution, they clean vinyl and wood siding, eliminating it of mold, mildew, and dirt. They also do a low-pressure roof cleaning that uses less pressure than a garden hose to clean shingles. "We go by the National Roofers Association guidelines," said Condon. "It's a different process. Pressure washing is not for roofs."

They also wash decks, full surrounds, cement and more. They refresh and sanitize pool decks, sidewalks, and other cement surfaces, efficiently removing gunk, organic stains, deep-set oil and grease, rust stains and more. "We are very careful of the homeowner's home. We leave the property in better shape than when we arrive," said Condon. They are careful not to disturb flowers and shrubs as they are working.

The employees are referred to as co-workers and most come back season after season. All are well trained and insured.

"Every job has its challenges. There's nothing the guys haven't seen before," said Condon. Part of their jobs is educating the homeowners that if there's moss, lichen or algae on a roof, a simple roof treatment can take care of the issue. They don't have to put on a new roof, he said. "We're very particular. Whatever we see – we take care of."

"There are challenges that some people face, but we don't have those problems. We have the equipment to be prepared. We're ready for it, ready for anything," Condon said.

Most jobs will take between one and two hours to complete, unlike when it might take a homeowner a whole weekend. Don't spend valuable time doing this job, have Maine Power Wash Pros professionally take care of the power washing and leave your house with a restored beauty and curb appeal. They can easily make your home and surrounding surfaces look years newer and brighter.

The team at Maine Power Wash Pros are honest, trusted, efficient and fast – just ask one of their many repeat customers or check out their website to read their numerous five-star reviews like this one from Michael F. of South Portland: "I hired Mike and the crew at Maine Power Wash Pros to clean the outside of my home. His professionalism began with his prompt arrival the day he came to give me an estimate, which he provided (Printed out! In his car!) on the spot. Mike's crew was clean, uniformed, professional and personable. They did an amazing job from start to finish, and I am very, very happy with the results. The price was more than fair and the whole process was simple and pleasant. I cannot recommend Maine Power Wash Pros highly enough. Mike and his crew are outstanding and deserve the highest recommendation."

They are also accredited through the Better Business Bureau. Maine Power Wash Pros offer free estimates, and they accept Visa and Mastercard.
To contact the company, visit them at www.MainePowerWashPros.com or call 207-320-1801. You can also find them on Facebook. When you call don't forget to mention their $50 off coupon and ask about their senior discounts. <