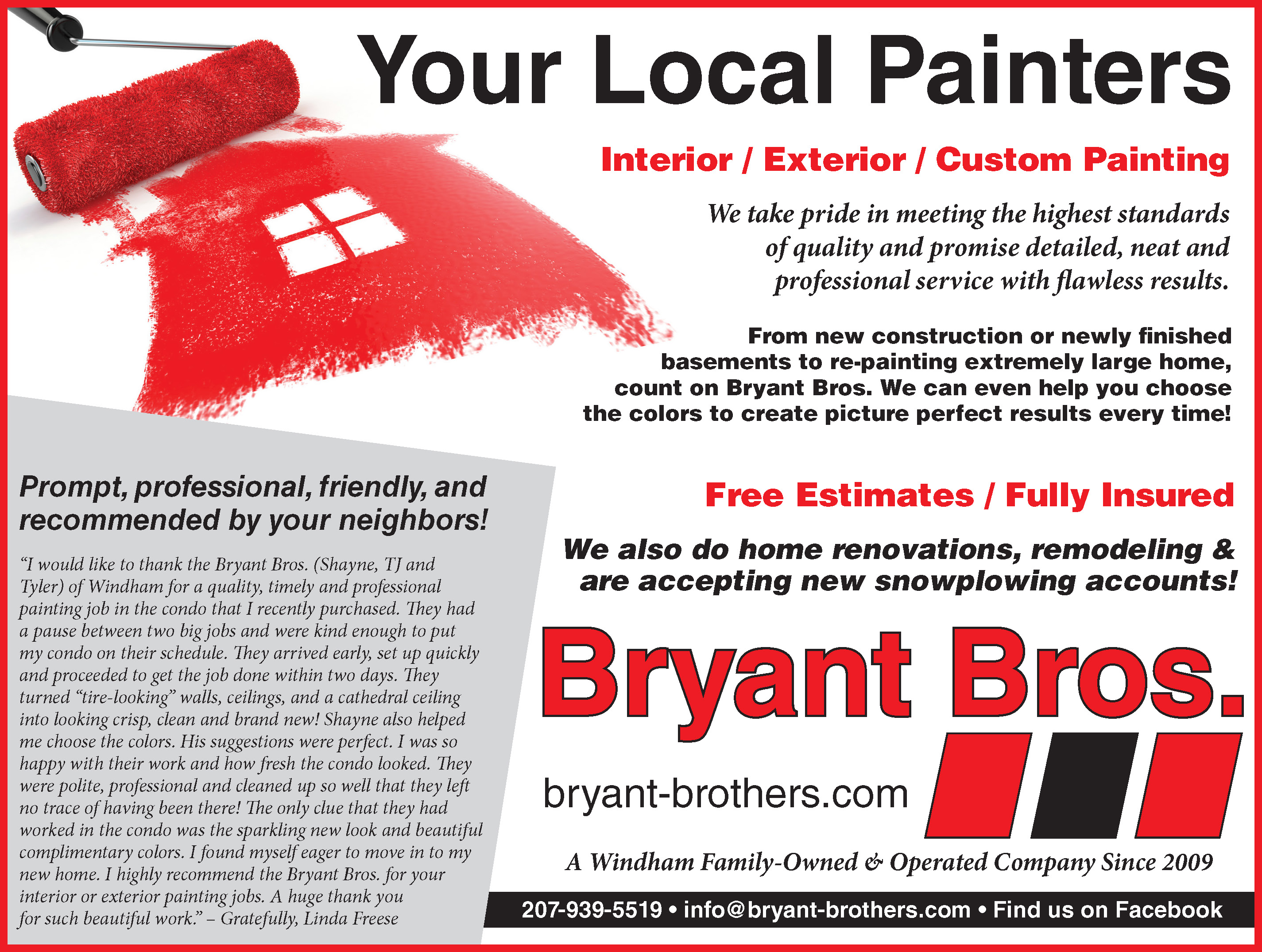 For the past few years, homeowners have been taking a long look at their residences and finding a variety of ways to improve them. While many proposed renovations are attached to expensive estimates, perhaps the easiest and best way to transform a home is through painting.
Based in Windham, Bryant Brothers Painting has been in business since 2009 and has become a trusted resource for homeowners and contractors in the Lakes Region. They're family owned and operated and have an exceptional reputation for quality workmanship, expertise and attention to detail.

Bryant Brothers Painting provides high-end and custom paint jobs and interior and exterior painting.​

"We're known for excellent quality, efficiency, interpersonal skills with customers and other contractors," said Shayne Bryant. "We almost always meet our deadlines, cleanliness, educated, and family owned."

He said the company aims for a different sort of experience than what is typically associated when working with painters.

"We want to create a different environment than what is expected," Bryant said. "We create this with skills, cleanliness, friendliness and personality."

According to Bryant, ensuring customer satisfaction is paramount to Bryant Brothers Painting because word-of-mouth in a small town is everything to the success of their small business.
Bryant Bros. Painting is owned and operated by three
Windham brothers. For over 13 years they have been
providing quality interior and exterior painting and have
a growing list of repeat customers due to their high
level of customer satisfaction. SUBMITTED PHOTO
"We are not your generic paint company and do not fit the typical stereotype," Bryant said. "We are family-based company with great communication skills that provide an exceptional final product and outstanding service. We are a 7 a.m. to 3:30 p.m. company Monday to Friday. We enjoy spending time with our families just like everyone else.​​"

He said people may have a misconception that painting is a task that most everyone can do.

"Many think that anyone can do it and that anyone can paint, no schooling is required," Bryant said. "What we've found though that putting out a high-level product takes experience, skill and paying extraordinary attention to detail."

Bryant Brothers Painting is lead certified and keeps their liability insurance up to date with the required amounts by the state.

"We do keep up to date with new products and trends as this helps us communicate with customers but in the end the customer needs to choose what they want to be completely happy," Bryant said.

The toughest part of their work is finding enough time, including meeting all deadlines, and getting to work when promised to be there.

"Some might say we are high priced, and others think we are fair," Bryant said. "We tend to work for contractors and customers that are willing to pay for high quality and great service regardless of the price. Feedback is 99.9 percent positive, no matter if it is our own customer or a general contractor. Comments such as 'if they say they are going to show, then they show up,'" and 'you guys do unbelievable work,' and 'We love the Bryant Bros,' are what we receive. I could go on and on."

One Windham customer, Linda Freese, said "They had a pause between two big jobs and were kind enough to put my condo on their schedule. They arrive early, set up quickly and proceeded to get the job done within two days. Shayne also helped me choose the colors. His suggestions were perfect. I was so happy with their work and how fresh the condo looked. They were polite, professional and cleaned up so well that they left no trace of having been there. The only clue that they had worked in the condo was the sparkling new look and beautiful complimentary colors. They turned tired looking walls, ceilings, and a cathedral ceiling into looking clean, crisp, and brand new! I highly recommend Bryant Brothers for your interior or exterior painting jobs."

For more information about Bryant Brothers Painting, call 207-939-5519 or visit their website at www.bryant-brothers.com <