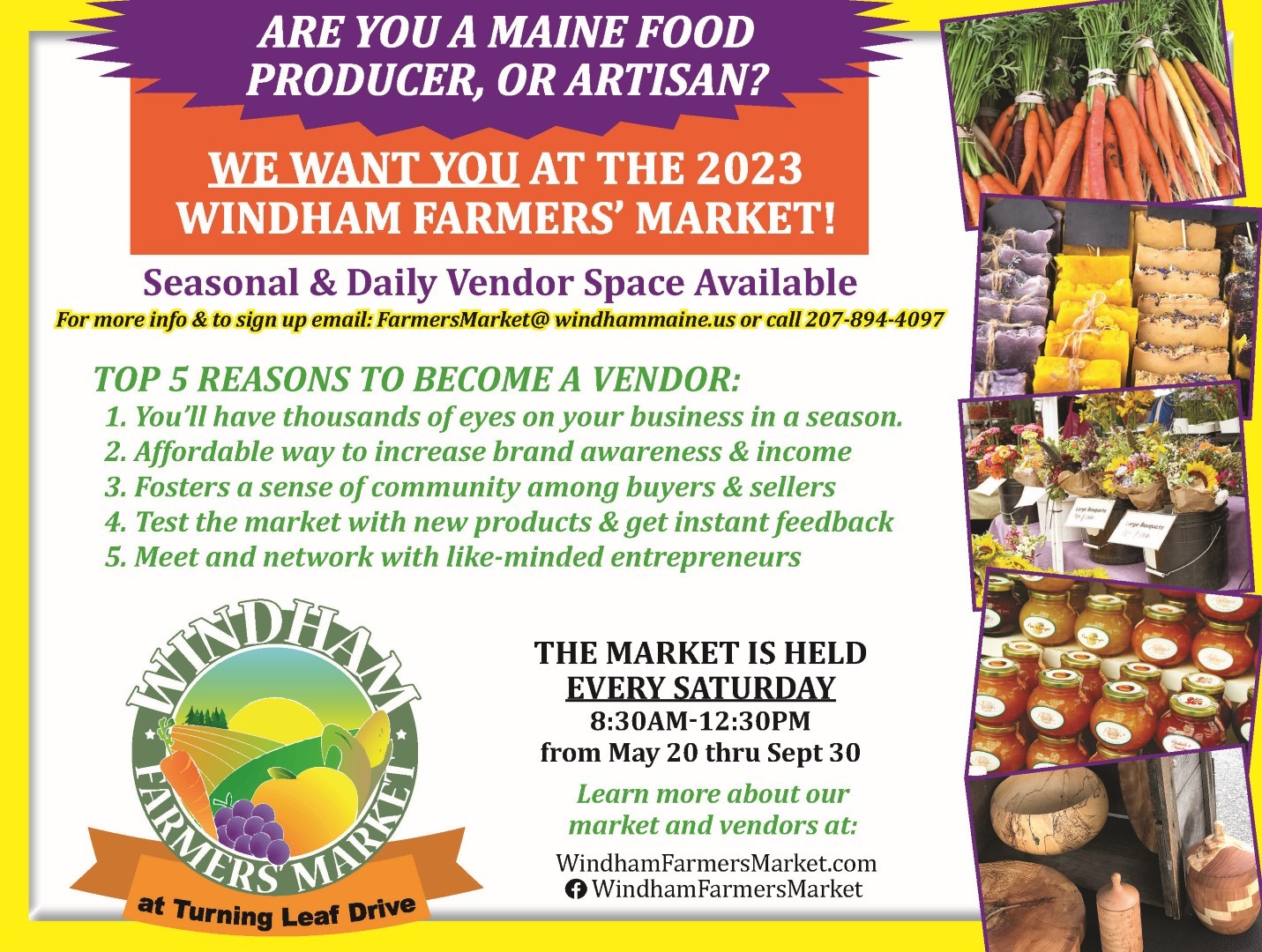 The Windham Farmers' Market is a terrific way to start the weekend. Located on Turning Leaf Drive in North Windham, it is open every Saturday from 8:30 a.m. to 12:30 p.m. from May 21 until Oct. 1.
According to Lisa Fisher, Windham Farmers' Market coordinator, the two goals of the market are to support our farmers, food producers and artisans by providing a venue where they can sell their product and to be a vehicle for improved community access to fresh, healthy and affordable local foods.
"We add fun for kids, some entertainment, special events and then offer it up in a happy, stress-free place for our customers to spend the morning," Fisher said. "This will be our fifth year with that philosophy. We have developed a really nice market community, so it seems to be working."
She said that Windham Farmers' Market vendors live and work in Maine and most of them are from the Lakes Region.
"Some are with us every Saturday, and others are visiting vendors who come for a few Saturdays," Fisher said.
Farmers bring eggs, freshly cut flowers, seedlings, potted herbs, berries, melons, apples and vegetables in standard varieties as well as organics, like rainbow carrots, striped zucchini and blue potatoes to sell at the market. Customers will also find an assortment of locally raised meats: beef, chicken, pork, lamb and rabbit which are great for grilling.
There's also honey, maple syrup, jams and pickles to round out tasty possibilities for your table and a generous assortment of sweet treats including freshly baked whoopie pies, cookies, cheesecake, bars and fudge.
Fisher said artisan vendors featured at the market craft seasonal and everyday items for person and home.
"If you like to entertain, we have wooden charcuterie boards, bowls, coasters, and balancing wine bottle holders and wine butlers," Fisher said.
The Windham Farmers' Market opens for the season at 8:30
a.m. Saturday, May 21 and continues each Saturday through
Oct. 1 featuring goods and products from local farmers.
SUBMITTED PHOTO.

"Want to brighten your home and garden space? There are decorative solar lights, custom signs, photos, and framed art prints, fused and stained glass, table runners and bird houses."

Quilts, cloth bags, table toppers, aprons and gifts for baby are available in an array of colors and prints and Fisher said that the selection changes weekly and many of the vendors accept special orders.

"The best thing about working for the Windham Farmers' Market is being there every Saturday morning seeing people enjoy themselves and knowing that the market has created such a positive impact on the community," Fisher said.

"The support and well-being of our community is important to everyone associated with the Windham Farmers' Market", she said.

"The market is authorized to accept SNAP and we provide Maine Harvest Bucks with all SNAP purchases," Fisher said. "Throughout the summer we invite civic organizations into the market for their public outreach. Our schedule of market guests and events is always changing. This allows us to take advantage of opportunities as they arise and to enrich our market environment."

Jen Kenneally, Celeste Kennedy and Fisher staff the market and the welcome booth and do the set-up and tear-down of market equipment.

"Jen and Celeste volunteer their time and wonderful energy to help guide market activities each week," Fisher said. "I am endlessly impressed by them.

"When we originally conceived this market, we wanted it to be easy for the vendors to do business and our vendors are lovely people," she said, "giving of their time, experience and suggestions to help us be better."

Other factors helping the market be the success that it is include the Baker Brook Farm Creamery which generously allows the use of their property as the market site and the Windham Economic Development Corporation which supports its media platforms, administrative and marketing efforts. "Several Town of Windham departments also participate in supporting market events.

"Our customers are the biggest reason for our success," Fisher said. "They come back every week and support all of our vendors. It shows that when you're nice to people, they respond."

The Windham Farmers' Market wants to welcome everyone back this year, whether you are a veteran customer or if it will be the first that you're visiting.

For more information, visit www.WindhamFarmersMarket.com and find them on Facebook at WindhamFarmersMarket. Their email address is farmersmarket@windhammaine.us or call 207-894-4097. <