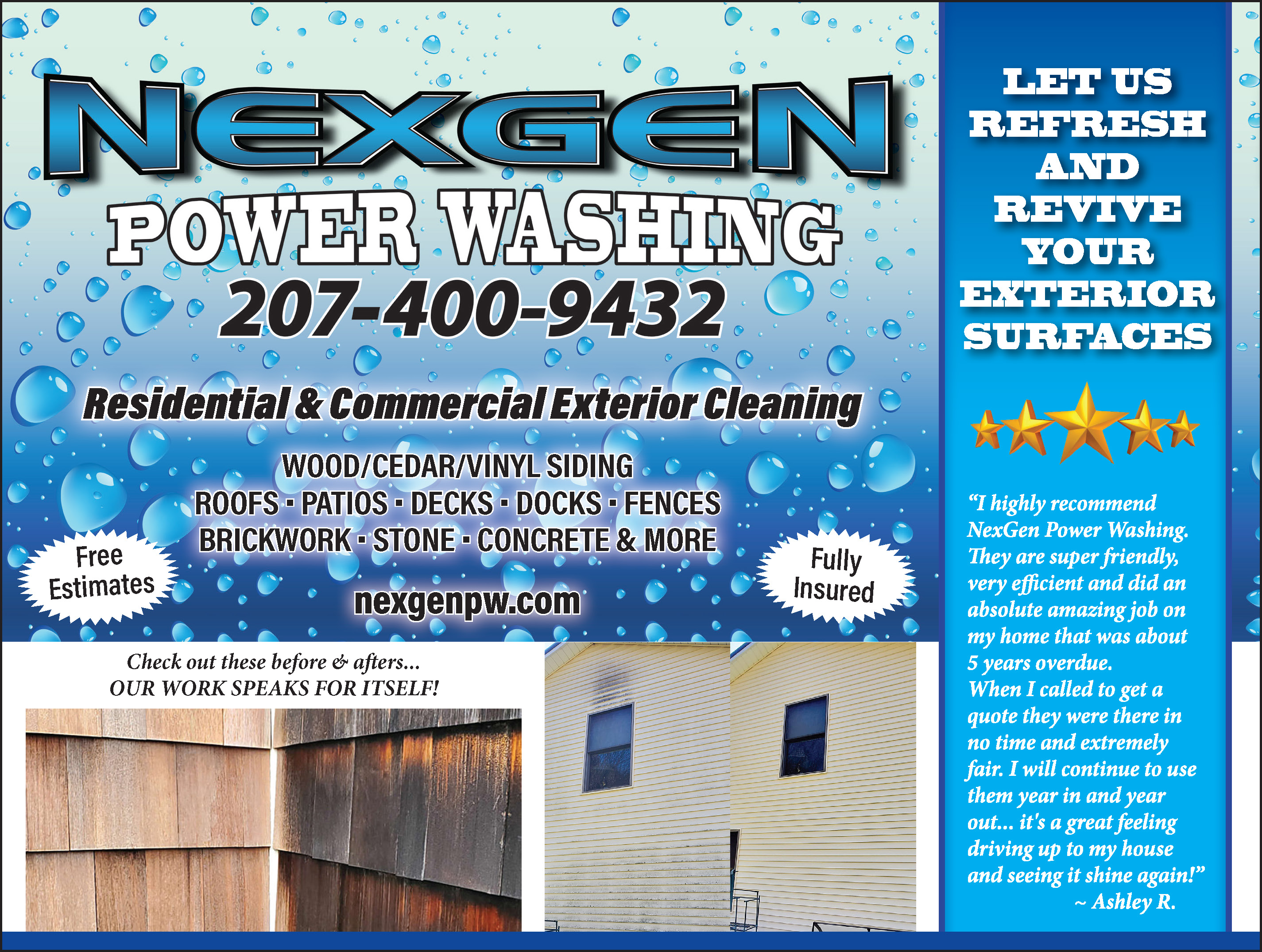 With each job that Nexgen Power Washing performs, the company's owner hears from her customers about how much they value her attention to detail and exceptional customer service and those are some of the main reasons that the company is held in such high esteem throughout the Lakes Region and beyond in Maine.
Nexgen Power Washing is based in Gorham and owned by Michele Plourde, who says she loves her work and does her utmost every day to make sure each customer is happy with the results.
The company has been in business for about a year and washes exterior building surfaces, significantly transforming commercial and residential structures with vinyl, wood or metal siding. Nexgen also washes brickwork and concrete, including walkways, steps, foundations, and pool aprons and cleans roofs, patios, decks, boats, docks and fences.
"The best thing for me about what I do is the instant gratification I see from this work," Plourde said. "I spent years in the corporate world where sometimes projects would drag on for months. Here, I get to go in and can see the results from powerwashing a surface immediately. It's been a great experience for me, but it's even better for my customers because they end up with a sparkling clean home."
A before and after photo shows how cleaning services from
Nexgen Power Washing can help to bring an exterior surface
back to life for area homes and businesses.
SUBMITTED PHOTO
Covering all areas of southern Maine, Plourde takes great pride in providing a quality service and for being a female owned and operated small, local business.
"I use a softwash system that will not cause damage," she said. "Keeping your house clean will not only improve a home's curb appeal, it prolongs the life of your siding, roof or outside surfaces."
Plourde attributes much of the success of her Nexgen Power Washing business to a variety of many different factors.

"To do a good job in this line of work, you must listen to customers, pay attention to detail, reliability and complete the job to the customer's satisfaction," Plourde said. "Effective communication with the customer is essential. You have to tell them when you're going to be there and then arrive on time or let them know you're running a bit behind and when you'll be there if delayed. You must be reliable and do exactly, precisely what you say that you're going to do for the customers."
Drawing upon her four years of experience powerwashing with her father's company and the expertise and skill that she has developed performing powerwashing herself, Plourde's business continues to grow, and customer feedback and positive reviews she has received have been outstanding.
From the Nexgen Power Washing website: Positive: Professionalism, Quality, Responsiveness, Value. I highly recommend Nexgen Power Washing. They are super friendly, very efficient and did an absolute amazing job on my home that was about five years overdue. When I called to get a quote, they were there in no time and extremely fair. I will continue to use them year in and year out... it's a great feeling driving up to my house and seeing it shine again!
Text from customer: Thank you again for Powerwashing my place in Old Orchard Beach. It looks amazing! I drove by today. Like brand new! -Eva
By offering highly competitive pricing for services and being responsive to customers are some of the other reasons Nexgen Power Washing is quickly becoming a preferred company that people entrust with their projects. She answers every phone call or message she receives and doesn't leave customers hanging on waiting for days for a response.
"Even with the rising cost of gas and products, I have kept my prices affordable," Plourde said. "I am local and experienced and take pride in my work."
Of all the homes and commercial properties that she's powerwashed since launching Nexgen Power Washing, Plourde says that one fact stands out above all the rest.
"Powerwashing is much less expensive than having to install new siding on your home or business or having to get an all-new deck," she said. "If it can be cleaned, its more affordable than having to replace it."
For more information or to receive an estimate for services, call Nexgen Power Washing at 207-400-9432 or visit nexgenpw.com Find them on Facebook at https://www.facebook.com/nexgen powerwashing/