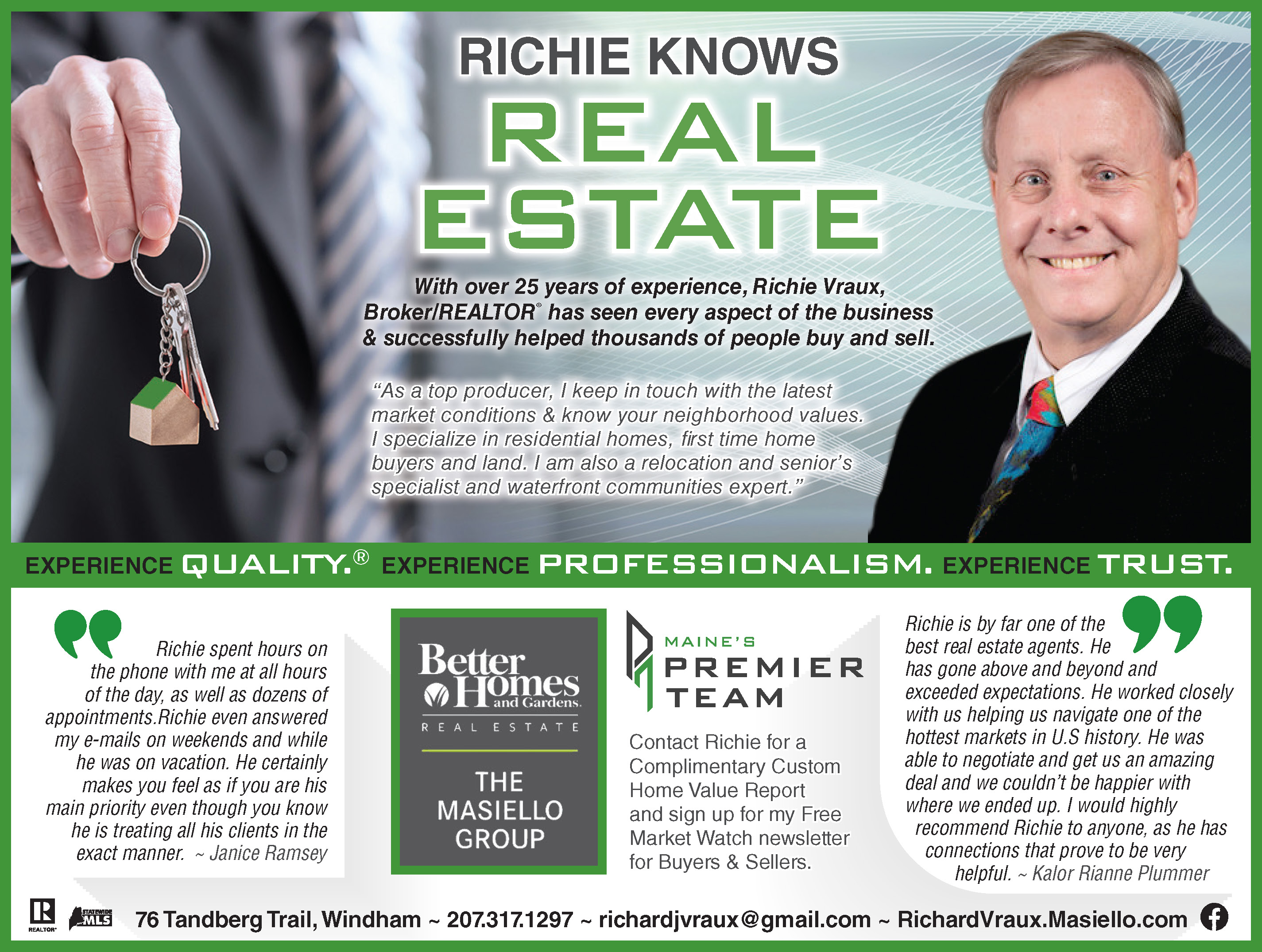 When it comes to buying and selling a home in the Lakes Region, generations have come to rely on the expertise and personalized service of Richie Vraux of Better Homes and Gardens, The Masiello Group, Maine's Premier Team.
Vraux, a Broker and a REALTOR®, knows exactly what needs to be done for his clients and believes that working tirelessly for those who seek his help is the primary factor for his long-term success.
"I am a fulltime broker with 25 years of experience," Vraux said. "I help navigate every deal for my clients, either buyers or sellers."
According to Vraux, his diligence and willingness to put in the extra effort sometimes required distinguish him from the competition.
"Lots of companies work Monday through Friday are encouraged to take the weekend off," he said. "I work weekends and more when buyers and sellers are off. I am available when they need me to be."
He's proud of his work and Vraux says the secret to being effective in his job is listening and communicating.
"It's all about satisfying people - both sellers and buyers," he said. "In the years I've been doing this I've never had a bad review and have maintained a high level of professionalism."
Working throughout Southern Maine but mostly in the Lakes Region, Vraux is an independent working for Better Homes and Gardens, The Masiello Group, out of their office located at 76 Tandberg Trail in Windham.
"I offer my clients, whether it be buyers or sellers, the best advice I can," he said. "I offer advice to help sellers obtain the highest and best use for selling their property. For buyers I listen to their needs and wants and their price range, help them to become qualified and negotiate in their best interest."
Vraux's extensive knowledge of the real estate business, what properties are available, and his ability to help clients clearly grasp and understand all of the specifics and details of transactions, also are invaluable tools to those he serves.
"Communication is truly the key to building and sustaining a successful business," Vraux said. "I make it a point to touch base with past clients for their recommendations. I've been successful in building a family of people who've bought and sold with me over the years. They have been the recipients of the personalized service I offer to all my clients."
Vraux said he often tells his clients when a deal closes that it doesn't end there. "I say to them that they're not done with me; I ask them to tell their family and friends to see Richie Vraux when they need help with real estate," he said.
The greatest misconception people may have about real estate are held by homeowners, who feel that they know the value of their home before they decide to sell, Vraux said.
"Sellers do think their properties are worth more than they actually are sometimes," he said. "I do a thorough comparative market analysis so that they can understand the competition out there."
The pricing for his services is fair and reasonable. "Most REALTORS® follow a set commission of 6 percent," Vraux said. "I am flexible depending on each property and conditions. I am in line with most REALTORS®."
He's also one of the first real estate agents in this area to offer cutting edge technology through Hommati Dynamic Visual Content, a service that features 3-D interactive tours, aerial videos, virtual staging and HD photography for prospective buyers and sellers.
Vraux said that his greatest accomplishment is putting a smile on the faces of first-time home buyers as they move into their newly purchased residence.
A recent client gave him a five-star review saying, "Richie is by far one of the best real estate agents I have ever met. He has gone above and beyond and exceeded expectations. While this is our first home buying experience he worked closely with us helping us navigate one of the hottest markets in U.S history. He was able to get us into showings where we thought for sure they would be booked up. While we missed out on some houses due to better offers Richie stayed positive and continued to support us throughout the entire process. I would highly recommend Richie to anyone who is looking to buy or sell a property as he has connections in the real estate world that prove to be very helpful."
To learn more about Richie Vraux and experience his exceptional services, call him at 207-317-1297 or email: richardvraux@masiello.com. You can also view his website at: richardvraux.masiello.com, where you will find many educational articles, see more testimonials and to sign up for Market Watch which will keep you in the know and up to date on the housing market and trends in your area. Also find him on Facebook at www.facebook.com/richardvraux <