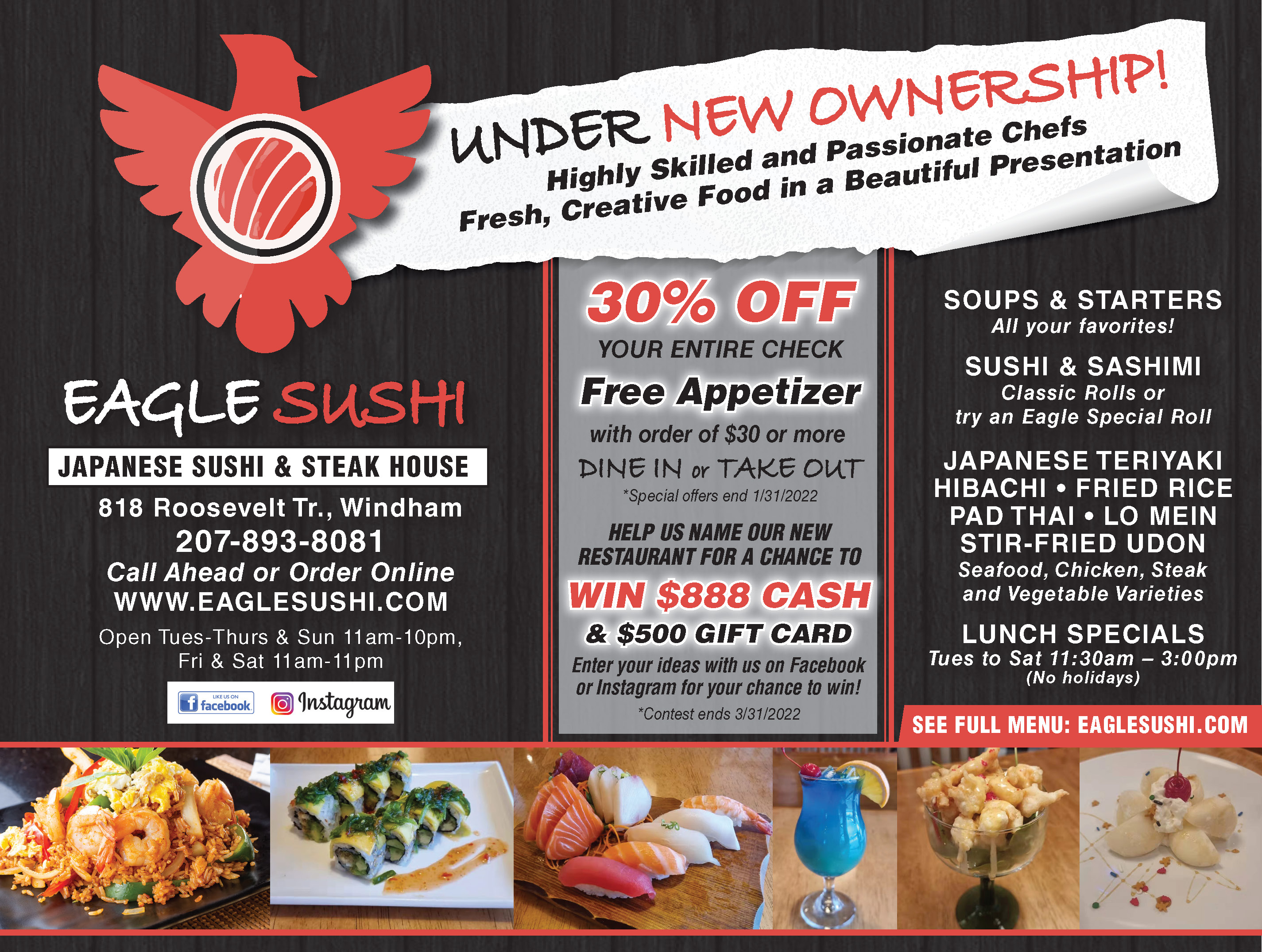 Windham may be a world away from Japan, but for anyone looking to put their taste buds to the test, the new owner of Eagle Japanese Sushi & Steak House promises a dining experience second to none no matter if you're dining in or taking out.
Tao Zheng recently purchased the popular restaurant at 818 Roosevelt Trail and immediately set out to win the hearts and minds of diners by upgrading quality of the authentic Japanese sushi and hibachi dishes served at Eagle Japanese Sushi & Steak House, but also by focusing on providing attentive and courteous customer service to everyone who visits the restaurant.
"We pay more attention to the freshness of the food, the quality of the food, and the taste of the food itself, and strive to bring good food to everyone," Zheng said. "We also focus on service."
Open for two months under Zheng's direction, Eagle Japanese Sushi & Steak House has six employees and has upgraded many meals offered on the menu by using higher quality products and fish.
"I can bring you food that I think is better," Zheng said. "When I first took over this restaurant, I made a lot of changes compared to the previous owner, such as the menu, the quality of the food, and canceled some of the previous food, which caused many people to not accept it."
He said that currently patrons have identified Crab Rangoons, Vegetable Spring Rolls, Ayoza, Rock Shrimp, Sushi and Sashimi, and Japanese Teriyaki as among some of the most popular meals that the restaurant prepares.
"We have made a lot of changes whether it was the food itself or the environment at the restaurant, we are all different," Zheng said. "I will often hear people say that the food in our restaurant is better than before. It will be a little more expensive than before, but everyone thinks it is worth it because we use the best fish to do sushi."
Customers that have visited recently have nothing but positive things to say. One customer wrote a google review which said, "Amazing staff, delicious food! The quality of the food is second to none. Extremely friendly service, and fast preparation of items. The ingredients are fresh and made to order. Would absolutely recommend this place. A hidden gem!"

Another patron raved about the food and service saying, "This fried rice is perfect, this ice cream is also beautiful, what's more, the service is awesome. I will be back!"
According to Zheng, the restaurant's menu features classic rolls which include six pieces per order and mouth-watering delicacies such as Super White Tuna; Spicy Crunchy Crab; Yellowtail Scallion; Eel Avocado; Shrimp Cucumber and many more.
Sushi Bar starters offer Blackened Tuna; Spicy Tartar Tower; Beef Tataki; Fugi Mountain; Yellowtail Jalapeno; Seafood Ceviche; Crunchy White Tuna; Sunomono; Star Wishes; Sushi Appetizer; Sasimi Appetizer; and Crazy Buffet with four pieces of jalapeno, cheese tuna or salmon deep fried with tobiko, scallions or crunchy.
Classic Japanese Teriyaki dishes are also available at Eagle Japanese Sushi & Steak House served in chicken; shrimp; salmon; scallop; steak; filet mignon; and twin lobster tail meals or in 20 different teriyaki combinations.
All Hibachi dishes at Eagle Japanese Sushi & Steak House are served with hibachi fried rice with vegetable and two pieces of hibachi shrimp, green salad, and clear soup. Hibachi single-item meals are available in Vegetable; Tofu; Chicken; Calamari; Shrimp; Swordfish; Salmon; Scallop; Steak; Filet Mignon; and Twin Lobster Tail and in 26 different types of combinations. Hibachi portions for children under 12 are also served.
Eagle Japanese Sushi & Steak House is open from 11 a.m. to 10 p.m. Sundays, 11 a.m. to 10 p.m. Tuesdays and Thursdays; and from 11 a.m. to 11 p.m. on Fridays and Saturdays. The restaurant is closed on Mondays.
Lunch specials are available and online or phone ordering for pick-up is offered.
"We are doing a discount now and we welcome everyone to come in and try it," Zheng said. "We will be changing our name in two months to let everyone know we have a new owner. Everyone is welcome to participate in helping us come up with a new name and there will be rich rewards for winning. We have improved the quality of our food and want to bring the best to everyone."
Visit Eagle Japanese Sushi & Steak House online at www.eaglesushi.com or call to place an order at 207-893-8081 or 207-893-8658. You can also follow them on Facebook and Instagram to keep up with specials and events and to submit your ideas for a new restaurant name. <