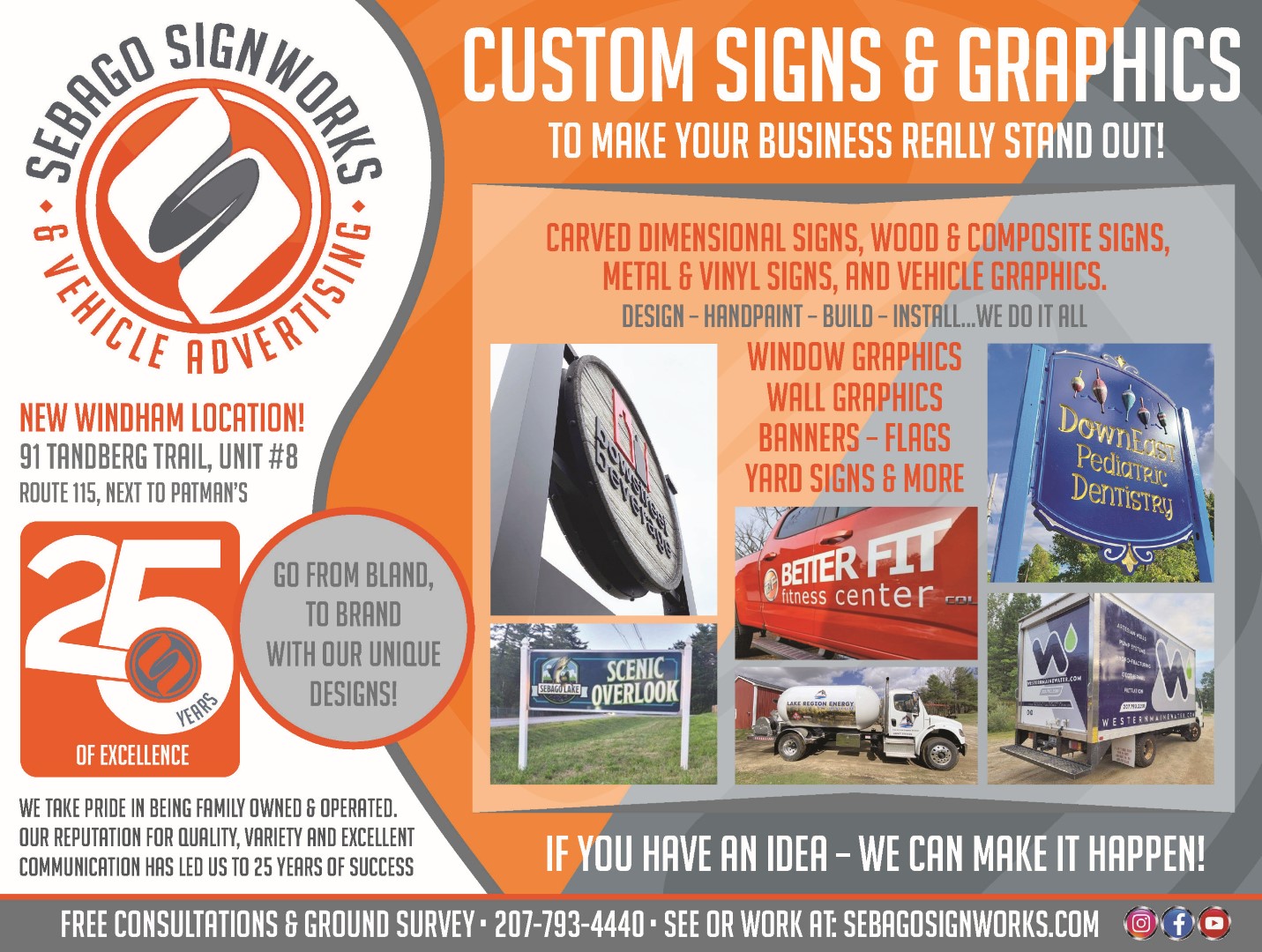 Among the oldest forms of art known to man is stone carving or turning a rock or something natural into a thing of beauty or to convey a message. And now thanks to the marvels of modern technology and the talented artistic designers at Sebago Stoneworks & Stone Engraving, all kinds of this form of unique artwork is obtainable right here in Maine.
Owned and operated by Devin Fahie, Sebago Stoneworks & Stone Engraving at 206 Ossippee Trail (Route 25) in Limington, the business produces some of the most captivating engraving to meet individualized specifications of property owners and the public.
Their attention-grabbing products can engrave an address or large house numbers on boulders or create an everlasting pet memorial or art for the garden. They can carve a company name onto a granite sign for a business entrance or transform a stone's surface into carrying personal messages or images.
Whether it be a personalized wedding memento and keepsake, remembering a remarkable athletic achievement, putting names on brick pavers or a genuine and simple expression of love for a departed family member, Sebago Stoneworks & Stone Engraving can masterfully craft a treasured work of art to fit the individual situation.
Devin Fahie, the owner of Sebago Signworks
and Sebago Stoneworks & Stone Engraving,
joins his wife and children. He is a second-
generation signmaker and operates the
family business in Limington.
COURTESY PHOTO
"We are local, we serve New England," Fahie said. "When you engrave, it's a forever impression. Our mission is to provide long lasting relationships with our customers and serve the community the best we can."
According to Fahie, Sebago Stoneworks & Stone Engraving is completely mobile, and their designs can be carved at the shop in Limington on smaller rocks, or they can come out and engrave larger projects at a customer's location.
"We are happy to come to wherever you are located to meet all of your stone engraving needs," he said. "We engrave stones, both onsite and at the shop. We can do memorials, pet memorials, veteran's tributes, names and addresses, Mancave style."
The graphic artists at Sebago Stoneworks & Stone Engraving can take a customer's basic idea and develop it into an everlasting tribute or a work of art or to simply add letters, a date or a message to an existing stone memorial. Their customed-designed, sandblasted, and etched products are stunningly detailed and are made to stand the test of time, no matter what the season or the type of weather.
The advantages of working with Sebago Stoneworks & Stone Engraving are multifold, including knowing that you are supporting a local, Maine-owned family business and giving an affordable and a one-of-a-kind unique gift typically not found at a big box store that will last forever.
"These make great gifts to complement a hobby, house, garden, car or motorcycle," Fahie said. "They're customer-designed just for you and no two are exactly alike."
Fahie said because of recent advances in engraving technology available from Sebago Stoneworks & Stone Engraving, rocks selected for projects do not necessarily require a perfectly flat surface.
"We will work with the surface of the stone you have," he said. "And if you don't have a suitable rock, we can provide rocks for you of all different sizes to suit the project."
In business for more than 15 years, Sebago Stoneworks & Stone Engraving is a division of Sebago Signworks of Limington, which has grown through the years to now employ a staff of seven workers.
"We are strong at design with our signage background," Fahie said. "Starting in November, our Sebago Stoneworks & Stone Engraving website will give you an option to design your own rock. If you envision it, we can carve it!"
For more detailed information about Sebago Stoneworks & Stone Engraving, call 207-793-4440 or visit their website at sebagostoneworks.com or find them on Facebook at https://www.facebook.com/sebagostoneworks <