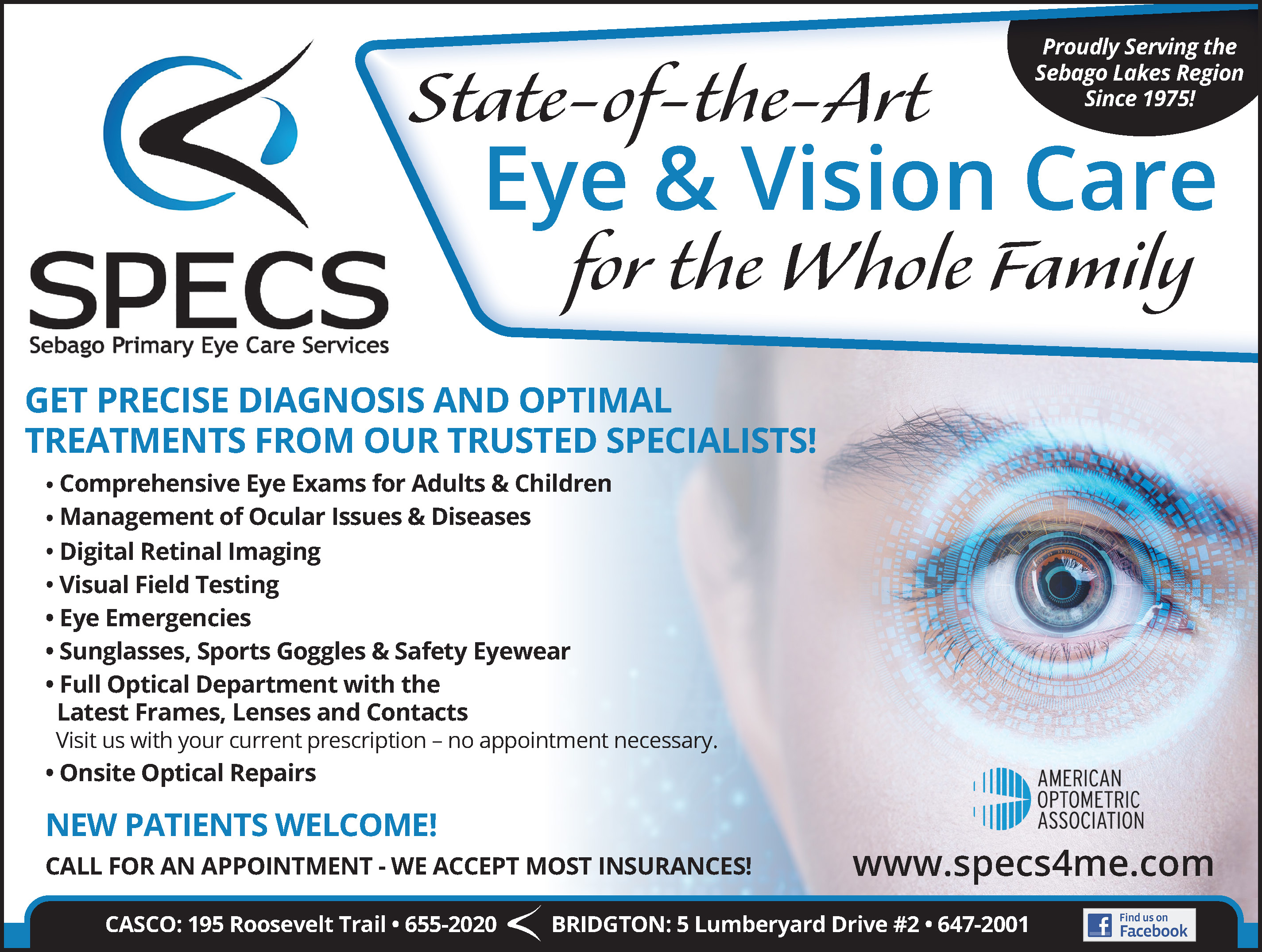 Sebago Primary Eye Care Services (SPECS), located in the heart of Maine's beautiful Sebago Lakes Region, has been making your vision and eye care health their passion since 1975. Their dedicated team of professionals offer complete optical services in two locations, one in Casco at 195 Roosevelt Trail and the other in Bridgton at 5 Lumberyard Drive in the plaza next to McDonalds.
SPECS has become a leading choice for superior vision care for patients all over the region, not only for their personal service, but because their optometric experts stay up to date with the latest advances in medicine and technology to ensure precise diagnoses and optimal treatments for patients of all ages.
"The best thing about what we do is working with people," said Dr. Thomas Gordon, owner of SPECS. "Everyone is different, and everyone has a different story. Even if their eyes are exactly the same, finding out what exactly works best for them is what we do the best here."
In August, SPECS welcomed Brenna Gerchman, O.D. to the practice. "She provides a great blend of top-notch clinical education and knowledge with a strong passion for providing community-based care. I also expect that she will be an active member of the community and that will be evident over the course of the months and years to come," said Dr. Gordon.
The doctors at SPECS specialize in examining, diagnosing, treating, and managing eye-related disorders, diseases, complications and injuries. Patients from ages 3 months to 100 can count on SPECS, PA to be their primary care doctors for their eyes.
They offer early detection of vision problems and can determine the best course of action for eye concerns, such as whether an individual needs to wear eyeglasses, or update an existing eye prescription. Preventing blindness and counteracting eye diseases and disorders is a significant responsibility, but it's a mission that Dr. Gordon, Dr. Gerchman, and the staff at SPECS are passionate about.
"We work very hard to maintain the best possible care for our patients, working with our patients to maintain a high level of satisfaction," Gordon said. "We can't fix everything, but we work very hard at it. Primary eye care is like being a gatekeeper for an individual's health and if we can't resolve an issue, we can get them the resources for those who can help them."
SPECS offers annual eye examinations for those with diabetes to prevent destructive eye damage and can refer patients to an ophthalmologist for more significant cases and treatment requirements such as surgery. They can also help with issues such as dry eye, red, pink or sore eyes and specialize in pediatric eye exams. Early identification of vision problems and overall eye health is crucial. It is recommended that you have your kids' eyes checked before entering first grade, unless you have a suspicion of issues before that.
"An exciting part of our profession is the continually evolving technology used in eye care," Gordon said. "There are always new things to learn in order to stay current. Eye strain from computer use, and associated symptoms from overuse has been increasing."
The team of 12 at SPECS strives to make everyone feel welcome at their practice. "Our key principle for a successful business is to treat everyone who walks in through our doors the way I myself would want to be treated," Dr. Gordon said. "We try hard to do that with each and every patient and it's an essential element for all of us in this business."
SPECS is devoted to quality care, attentive service and the latest in products at highly competitive prices. The optical department rotates a variety of deals and packages, and with over 800-plus frames between both offices along with a wide range of contact lenses, you are sure to find the perfect fit for your your needs. Anyone can visit SPECS optical department with a current prescription without an appointment or to take advantage of their onsite optical repairs.
Even if you don't think you have vision problems, it is still a good idea to have frequent eye exams. The eye provides a clear view of blood vessels which can tell a lot about your general health. New patients are welcome and they accept most insurances, so call today for an appointment to ensure your eye health. Call 207-655-2020 for Casco or 207-647-5936 for Bridgton. Also visit www.specs4me.com for more information. <