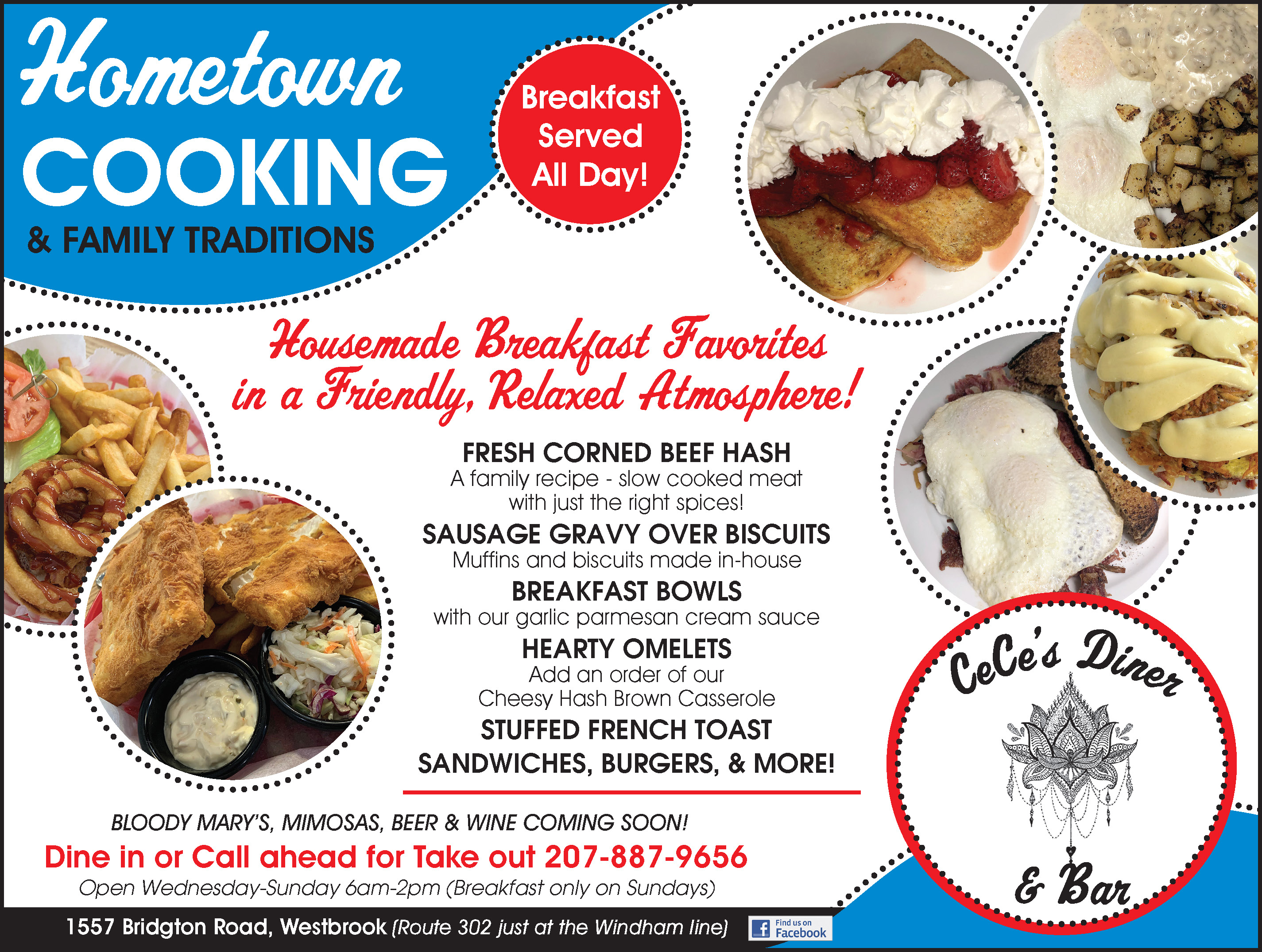 In a way, visiting the new CeCe's Diner on the town line between Windham and Westbrook on Route 302 is sort of like a homecoming of sorts. The family restaurant has officially opened on the site of the old Charlie's Diner and is owned by longtime Charlie's waitress Deanna Gaudreau.

CeCe's is open from 6 a.m. to 2 p.m. Wednesday thru Sunday and serves breakfast and lunch Wednesday thru Saturday with breakfast only on Sunday.
Gaudreau says some of the top menu items are their tasty breakfast bowls, sausage gravy and biscuits, and Eggs Benedicts.
"In my opinion the specialty items are our breakfast bowls, our fresh no antibiotic-ever chicken sandwiches that can be grilled or fried, our hand-cut red skinned potatoes, our fresh USDA certified burgers and homemade corned beef hash," she said.
According to Gaudreau, the new CeCe's Diner has a wonderful staff and offers a family friendly environment where smiles, our customers and fun are of utmost importance in everything that they do.
"We promise to provide the freshest, best quality food that we possibly can with the best service we can provide," she said.
Opening the restaurant is the culmination of a dream for Gaudreau and her family.
"I have worked in restaurants since I was 14 and there is nothing that I would rather be doing. Waitressing and bartending runs through my veins and I have a major passion for it," she said. "We have a large family, and our customers may see a few too many of them at any given time. We want our diner/bar to be the local Cheers that everyone wants to come to and when they do, they feel like family and friends. We have an amazing staff on hand and each one of us are thrilled to be working together to see this dream come true."

Deanna Gaudreau and her family own and operate
the new CeCe's Diner and Bar LLC at the site of
the old Charlie's Diner on the Westbrook and
Windham town line. SUBMITTED PHOTO
Offering competitive pricing, Gaudreau said she rates the quality of the food at CeCe's as excellent.
"The standards we set for ourselves are above and beyond what even our customers expect from us I believe. We have a certain presentation that we even expect our plates to come out looking like," she said. "So far, the feedback that we have received has been awesome and we are very grateful. Even though we strive not to, I'm sure we'll run into some snags along the way, but that's how we learn to better ourselves."
But above all else, Gaudreau and the CeCe's staff consider courteous and friendly service to be paramount.
"The best thing about operating a restaurant is certainly our customers," Gaudreau said. "They are everything and if they are happy, enjoy some good quality food we serve, and they feel like they are family, they'll want to come back."
The CeCe's staff numbers about 10 including Gaudreau's children and many of them are family members, which enhances the family aspect of the business.
Gaudreau said plans for the restaurant include offering liquor as soon as they get cleared for their license, which is in the works.
"Customers can come in and enjoy a Mimosa, Bloody Mary, or beer with their breakfast or a beer or other adult beverages with their lunch. We have discussed opening Mondays and possibly adding in some dinner hours on Fridays and Saturdays or Saturdays and Sundays, all of which are still in discussion at this point and not set in stone," she said. "We have to work out staffing and some rearranging of our space to make it all work. When we set some new times and changes, we will be sure to let our customers know. We are also planning on not stopping with just one location, we would like to see at least a second location happen, maybe more of a bar style with lunch and dinner and breakfast offered only on the weekends. The future is wide open with endless possibilities."
For convenience, CeCe's Diner and Bar does offer takeout meals or individuals may even enjoy coming in and grabbing takeout and sitting outside at the couple of picnic tables they've provided while the weather is nice for the fall months. The phone number for takeout is 207-887-9656.
Located at 1557 Bridgton Road in Westbrook, find CeCe's Diner and Bar LLC on Facebook page or call them at 207-887-9656. <