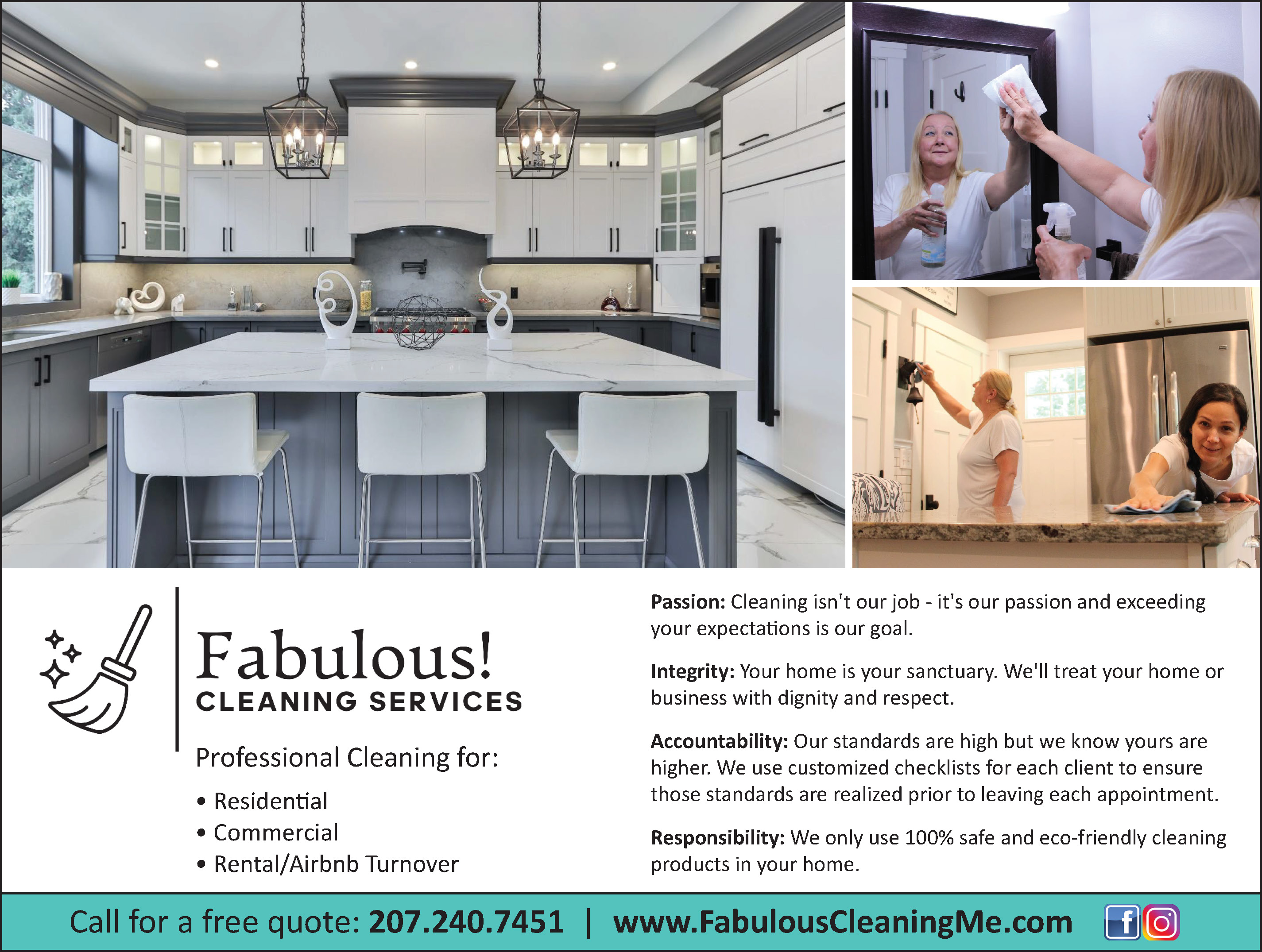 When you get right down to it, the purpose of cleaning is not just to make a room spotless, but also to experience the happiness that comes from being in that environment. Fabulous! Cleaning Services knows how much that feeling means with every job they take on and delivers exceptional results that exceed expectations.

Based in Casco, Fabulous! Cleaning Services provides commercial, rental/Airbnb and residential cleaning for its customers and offers customizable services to best match the client's needs.

"Our company works with local businesses and homeowners to provide customized solutions to their cleaning requirements, and it all starts with relationships," said Melissa Teer, Fabulous! Cleaning Services owner. "We look forward to meeting with our clients in person, to walk through their properties, ask questions and provide consultation on how we can best meet their cleaning needs. The time we spend meeting one on one with our clients demonstrates we're more than just a contractor, we're a trusted partner."

Teer said that two of their most popular services for rental clients are their Linen Service and Stock & Shop Service.

"Having our in-house Laundromat allows us to offer our rental and Airbnb clients fast and affordable turnover of their unit's linens," she said. "This is a huge convenience and cost savings for our clients. Additionally, our Stock & Shop service goes one step further and eliminates rental clients from having to keep their units stocked with basic goods. We provide everything from toilet paper, trash bags to dish soap."
According to Teer, the core of business for Fabulous! Cleaning Services lies in the Lakes Region, but their actual service area covers a lot of ground, extending from Augusta to Old Orchard Beach.

"We understand clients have a choice when it comes to hiring a cleaning contractor – and it's about more than just professional cleaning. Trusting the individuals to deliver on their promises and having comfort with them in your home or business is critical," Teer said. "We know it's important for clients to know who we are, so our company is founded on the following core values: Passion, Integrity, Accountability and Responsibility."

Fabulous! Cleaning Services defines those values as follows:

Passion – we are passionate about our work. Cleaning just isn't our job; it's our passion and exceeding expectations is our goal. We created this business not just to bust dirt but to create smiles.

Integrity – We understand our clients' homes are their sanctuary. We treat our clients' homes and businesses with dignity and respect. Our employees are professional, friendly, and of course we think they're fabulous.

Accountability – Our business has high standards, but we know our clients' standards are higher. We employ customized checklists for each client to ensure those standards are realized prior to leaving each appointment.

Responsibility – Cleaning is a tough business but that doesn't mean it has to be hard on your health or the environment. We only use 100 percent safe and eco-friendly cleaning solutions for our residential clients.

The company offers highly competitive rates and regularly canvasses their competition to ensure their pricing remains between 5 to 10 percent below competitors.

Family owned and operated and fully insured, Fabulous! Cleaning Services uses state-of-the-art technology and best practices to deliver on their promises and never loses sight that business done the "old fashioned way" of being genuine, honest, and reliable are the keys to success.

"We believe our clients are the best voice to speak about our services. Almost every day, we receive a note, a text or a voicemail thanking us for making their space feel Fabulous! Just this weekend we received a thank you note from a client who was in town for the week," Teer said. "We had cleaned her property prior to her arrival, and she was thrilled to arrive to a sparkling home. We dedicate an enormous amount of time to the detail work of a clean home. We thoroughly wash down appliances and give them a full-face lift, often making them look brand new. Although most clients immediately notice the shiny countertops, polished sinks and faucets, it's the work we do in nooks and crannies and hard to reach areas that sets us apart. We ensure the whole home receives the same attention as the kitchens and bathrooms."

For more information about Fabulous Cleaning Services, visit them online at www.fabulouscleaningme.com, find them on Facebook @FabulousCleaningMe or call them at 207-240-7451. <