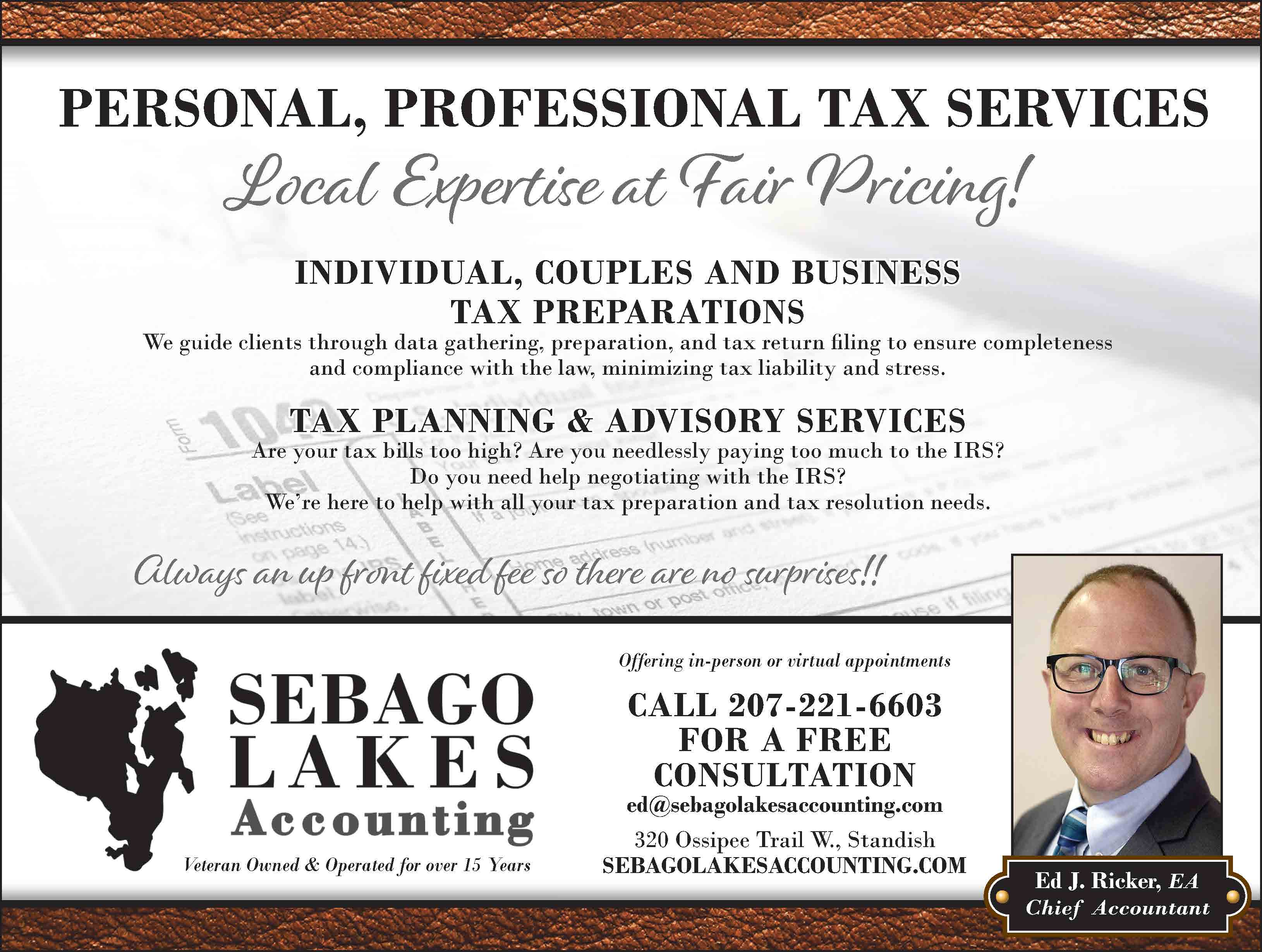 For Ed Ricker, the owner of Sebago Lakes Accounting, the secret to operating a successful business, isn't complicated.
"Consistency and persistence are two of the things that will get you through," Ricker said. "And treating everyone as if they are the only client you may have."
Ricker has owned Sebago Lakes Accounting for the past four years, but he's no stranger to the field, having spent more than 20 years in the investment and finance field. He's lived in the Windham area for the last 16 years and knows the community and those who live in the Lakes Region of Maine well.
At Sebago Lakes Accounting, Ricker offers a range of tax preparation services and can help his clients develop strategies to reduce their tax bills or become more efficient so they can keep more of their hard-earned money.

"Sebago Lakes Accounting believes in the importance of a solid relationship with its clients," Ricker said. "We understand it's not easy being a small-business owner in today's marketplace, and we're committed to maintaining a lifelong relationship with all our clients, offering tax preparation and tax resolution services."

He says the misconception of accounting firms is that they are all the same.

"People think of accountants as somebody taking numbers and filling out forms," Ricker said. "They see that from most places when they have their taxes done, but what we do is so much more than that. Yes, we do tax preparation and filing, but we also assist companies in creating 1099s for small businesses. and we file sales tax reports on a monthly or quarterly basis."

What Ricker says makes Sebago Lakes Accounting stand out from competitors is a combination of attentive and excellent customer service, competent and knowledgeable tax preparation work and highly competitive fees and pricing.

"The difference that many people tell me is our responsiveness to our clients," he said. "When you call us, we are going to call you back and quickly. We won't leave you hanging and can find the answers to your questions right away."

Ricker said he strives to allay his clients' anxiety about taxes by showing empathy and putting his experience and knowledge of the tax system to full use.

He guides clients through all phases of the tax process, including data collection, preparation and filing to ensure everything is complete and in full compliance with existing tax law, minimizing tax liability and the stress factors that are typically associated with taxes.
"I'm here to relieve my clients from the stress of having to worry about your accounting needs," Ricker said. "Truly the best thing about what I do is to see the relief on people's faces when their taxes are done, and they personally didn't have to do them. It's like a huge weight has been lifted off their shoulders."

Another aspect of Ricker's job is to educate and advise Sebago Lakes Accounting clients on what options they can deploy to minimize future tax liabilities.

"The ever-changing tax laws are a significant challenge to keep up with," he said. "Whether it is stimulus funding, or the change of an entire administration in Washington, writing new tax law is part of the system and keeping up with it all is a continuing process for Sebago Lakes Accounting. We stay out in front of the changes by whatever means possible and that could be through webinars and audio programming or through continuing education up to 24 hours in the course of a single year."

According to Ricker, Sebago Lakes Accounting also specializes in offering real estate tax strategies and advice.

"If you're looking to purchase real estate as an investment, speak to us before making your real estate decisions," he said. "Saving money for our clients is what we do."

For a free consultation with Sebago Lakes Accounting, call 207-221-6603, email: ed@sebagolakesaccounting.com or visit sebagolakesaccounting.com. He is currently offering both in-person as well as virtual appointments. You can also find him on Facebook. <