When you're in the market to buy or sell a home, choosing the right real estate agent can be a daunting task. You want somebody you can trust to look out for your best interests and a company with experience and expertise in all aspects of the profession. Most importantly, you need to find an agent who knows the local area and neighborhoods and understands what kind of home you want to buy or sell. In Windham, Maine Real Estate Experts is the answer to finding the perfect real estate agents.
Locally owned once more, Maine Real Estate Experts at 887 Roosevelt Trail in Windham take pride in their work and demonstrate daily how buying and selling a home or property should be done.
"We are the same great agents doing what we do best to take care of our clients and our local communities," said Yvonne Myer, a broker and the Windham office owner/manager for Maine Real Estate Experts. "Our agents offer an exceptional real estate experience, personalized service and experienced REALTORS. We cover all aspects of real estate sales including residential, waterfront, seasonal, land, commercial, and investment properties."

Myer has been a REALTOR since 1999 and purchased the Windham branch of The Maine Real Estate Network in 2017.

"At that time, The Maine Real Estate Network was the largest and best independent real estate company in Maine," she said. "There were nearly 20 offices at the height of the company in almost every area of the state. It was a great company to work for but unfortunately the wheels of change are always spinning and TMREN, as it became known, was sold to The Bean Group, one of New Hampshire's largest independent real estate companies."

After a couple years it became apparent to Myer that it was in the best interest of her agents, the company's clients and the community to work with a Maine- owned company again.

"I made the decision to affiliate my office with Maine Real Estate Experts, founded by Bill Trask," Myer said. "Our real estate journeys have been similar and I share his beliefs in how to best take care of our agents, our clients and the local communities in which we serve."

The Maine Real Estate Experts office in Windham now employs 15 agents and now with 4 offices in the state, Maine Real Estate Experts is up to a total of 65 agents overall.

"The company's goal for the future is to put more local offices in the markets we serve," Myers said. "We hope to be a market leader, but more importantly local experts that buyers and sellers alike can count on to guide them through one of the most important transactions of their lives."

She said that with so many brokerages and agents out there to choose from, finding the right REALTOR should not be strenuous task.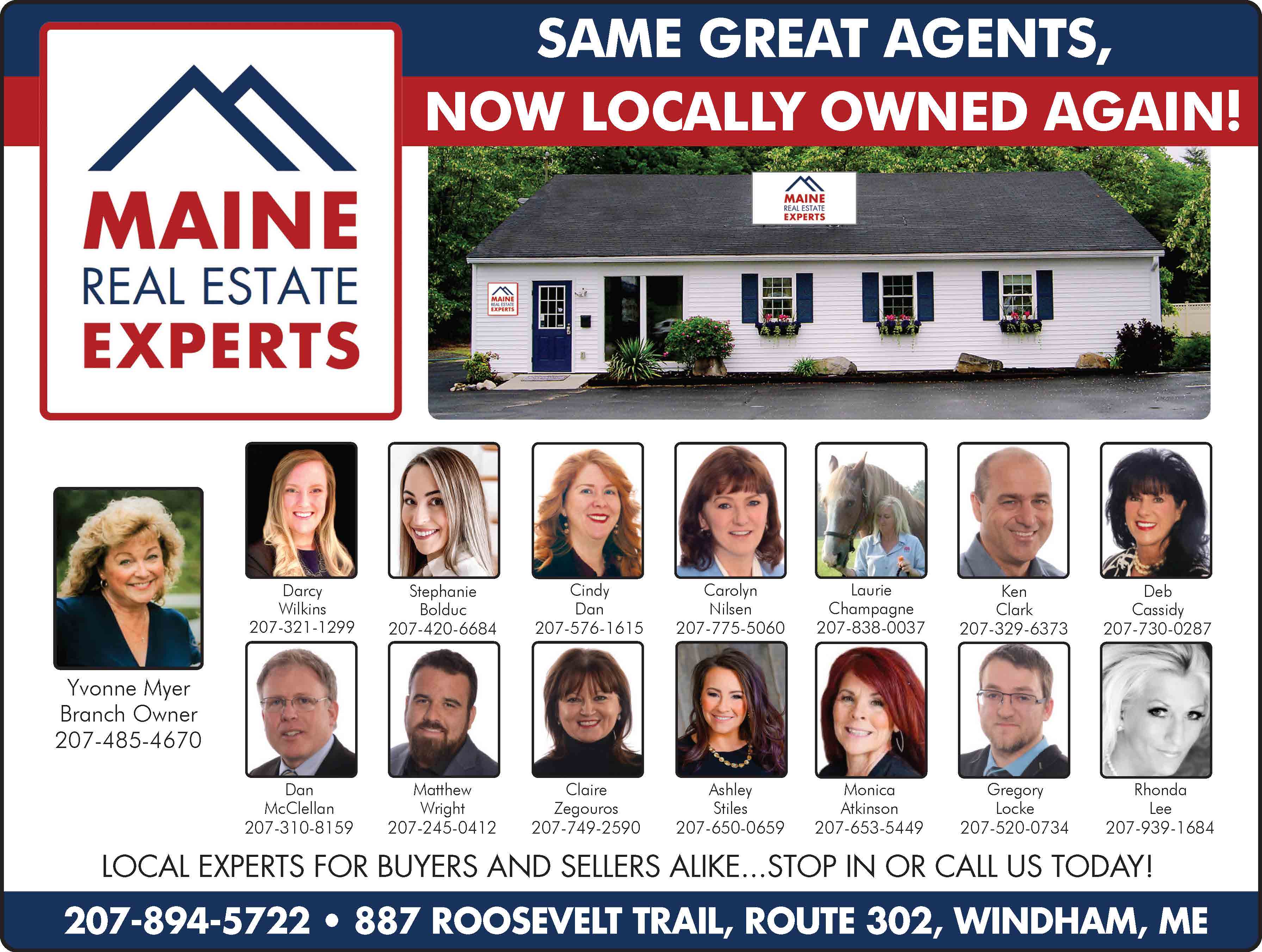 "Our agents are experienced and trustworthy. They will help you along the way to ensure a successful transaction," Myer said. "We can't say that there are never issues in a real estate transaction, but that is what we are here to do, navigate the complexities and advise you of options when obstacles arise."
According to Myer, the agents at the Windham branch service a wide geographic area.
"We have an extensive knowledge in the local communities as well as other areas around the state, many of us have grown up in other towns or cities and bring our life experience to our clients," she said.
Myer advises speaking to an experienced Maine Real Estate Experts agent prior to looking to purchase or sell property.
"We can help get everything in order for a smooth transaction," she said. "We can help with the pre-qualification process even if there's a credit issue.
Sellers are encouraged to reach out before putting their home on the market, so our agents can help prepare the house so it can sell and is attractive to potential buyers."
For more information about Maine Real Estate Experts in Windham, call 207-894-5722, stop by their office or visit them online at
www.mainerealestateexperts.com
and on Facebook at
www.facebook.com/MaineRealEstateExpertsWindham
<