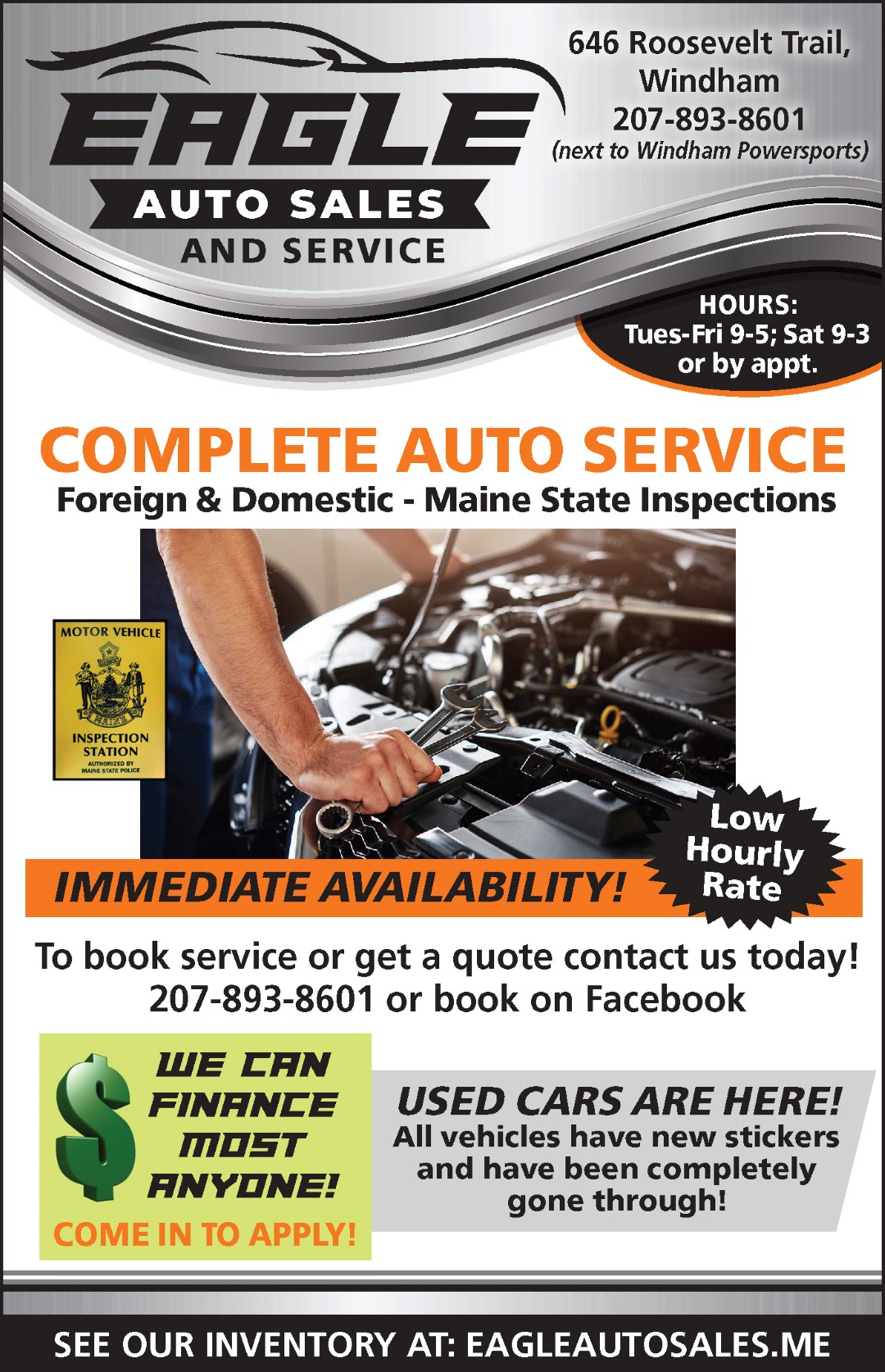 The owner of Eagle Auto Sales, Chris McDonald, believes that customers care about the vehicles they
purchase, how and where they buy them and what happens after the sale. For the past eight years, McDonald has earned an outstanding reputation through his other business, Windham Powersports, developing great relationships with customers and standing behind the products he offers.
Located at 646 Roosevelt Trail Suite A in Windham, the goal of Eagle Auto Sales is to become a valued and trusted partner with the community for reliable used vehicles and service.
"I own Windham Powersports and have spent the last eight years building a reputation of quality customer service and affordability in our field and I plan to carry that over to our auto department as well," McDonald said. "We do not believe in a band-aid fix to 'get you to buy' we want to find the solution that will keep you and your family safe in your vehicles."
As such, McDonald said that Eagle Auto Sales will offer
affordable vehicles that will fit just about every need and budget out there, including options for some 'Buy Here Pay Here Deals' for those who may not qualify or be able to secure traditional methods of financing.
"Our primary goal is to be one of Southern Maine's premier used car dealers," McDonald said. "We are also a full-service garage and soon-to-be inspection station working with all brands of cars and any issues present. We employ some of the area's top-notch mechanics and inspection technicians."
According to McDonald, auto repair rates offered by Eagle Auto Sales are highly competitive and reasonable.
"Our garage charges $75 per hour which I believe in our market is very competitive," he said. "We are open to working with anyone able to get to our garage in Windham."
McDonald said that the launch of Eagle Auto Sales will add another option in the area for those looking for reliable transportation and an opportunity to purchase from someone local and knowledgeable in the business that they know and trust.
"I want everyone to know we are here and available for their auto needs from buying their next car to servicing their current car," he said. "I love our community and work very hard to be a part of it in every way possible and am excited to be able to offer another automotive option locally."
Eagle Auto Sales is officially open in Windham
and is located next door to Windham Powersports
at 646 Roosevelt Trail Suite A in Windham. From
left are mechanics Ryan Hamlin and Dan
Boissonneault and owner Chris McDonald.
PHOTO BY ED PIERCE
Employing a staff of eight between Eagle Auto Sales and Windham Powersports, McDonald said he is keenly aware that the community is looking for honesty, value, cost and dependability when searching for a new vehicle and he will strive to offer customers those benchmarks in a local setting.
"We are very new in the car game, but the reputation we have built working with small engines and ATVs in our sister shop, Windham Powersports, shows what we hope to happen and accomplish at Eagle Auto Sales," he said. "Automobiles, Fair and Affordable and Customer Oriented. We look forward to working with all our new clients at the new shop. And keep an eye out for the Eagle Auto Sales name branded on the backs of our kids if these sports ever get restarted."
Eagle Auto Sales currently holds dealership licensing for off-road and automotive sales and service.
"As well we hold inspection licensing for A, C and E stickers and are certified by the state for motorcycle stickers and soon-to-be auto stickers too," McDonald said. "We research all the time and try to know and find out what people are looking for and what their needs are. Our objective is to meet those needs and offer great products. Keep an eye out for our stickers on the backs of cars and you should start seeing them soon. I have owned my first shop, Windham Powersports, for the last eight years locally and hope to add Eagle Auto Sales to that long standing record for the next eight-plus years to come."
For more information about Eagle Auto Sales, call 207-893-8601 or visit their website at www.eagleautosales.me or on Facebook at www.facebook.com/Eagle-Auto-Sales <