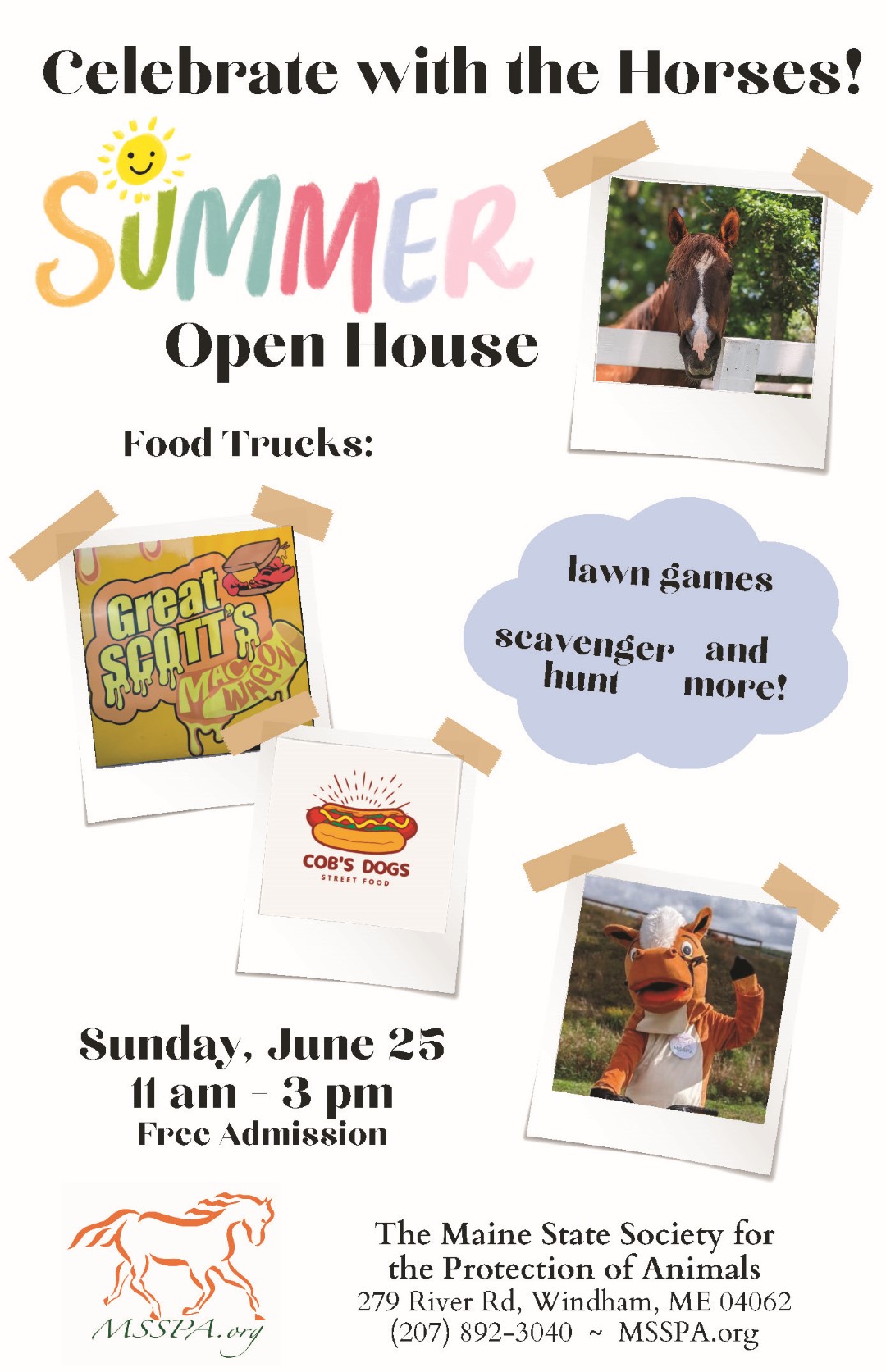 Unsung heroes are continuing their worthwhile efforts right here in Windham, making sure that horses
suffering from abuse and neglect receive the best possible care and treatment every day throughout the year. And despite the pandemic, the ongoing love and support offered by the Maine State Society for the Protection of Animals remains a stable force for suffering equines.
The mission of the MSSPA is to provide refuge, rehabilitation and placement of seized equines, support the placement of surrenders and educate the public.
"I really think the best aspect of what we do is the rehabilitation of horses," said Robert Sheckler, MSSPA community programs manager. "When you see a horse coming here in bad shape physically, and then when rehabilitated you can see their true personality, it's amazing."
He cited the example of a horse named Dexter, which arrived at the MSSPA with mobility issues after not having a hoof trim in several years.
"Without having his hooves trimmed, it caused him to become crippled and lame as a result of joint problems caused by tendons and ligaments that were stretched out and his rehabilitation took a full year to complete," Sheckler said. "Now Dexter is walking and running like a normal horse. We're seeing a change in his personality now too. It's like a reemergence and now that he's recovered, he is very friendly and much more sociable. Because he's no longer in constant physical pain, he is able to express his true personality."
The Society is unlike any other animal welfare facility in all of New England. It was originally formed in 1872 to protect the horses who pulled Portland's streetcars, but it now provides full-time staffing, with 24-hour access to veterinary services and offers shelter and a home for horses at its farm at 279 River Road in South Windham.
Sheckler said that the MSSPA uses its resources to provide direct care to equines who have suffered abuse. It promotes humane treatment, training and use of animals through education and hands-on experiences. It also collaborates with other animal-service agencies to maximize resources for all.
"Horses in the care of the Society have been removed from abusive situations by law enforcement and placed with the MSSPA where they receive refuge and rehabilitation," Sheckler said. "Once the horses are restored to their best health, the next step is training and thereafter the horses become available for adoption. Horses who do not find adoptive placements receive lifetime care in the River Road shelter."
During 2020, some 116 horses were impacted by the MSSPA. A total of 47 horses received rehabilitation services or were maintained at the farm, with eight equines under foster care, 19 horses listed on Maine House Matchmaker and 42 horses provided with emergency support from the Society's Feed and Care Bank.
Unlike rescue organizations for smaller pets, MSSPA faces a different set of challenges when trying to adopt out rehabilitated equines. The group of potential adopters is smaller, some level of training and experience is required and not everyone has a facility suitable for horses.
"Many horses in our care are not able to be ridden due to age, abuse or neglect," Sheckler said. "One of our biggest challenges is finding companion-only placements."
The pandemic has also been a significant obstacle as the MSSPA has had limited opportunities for public fundraising events and it's had to curtail hosting a popular birthday party program.
"The year ahead is certainly uncertain because of the pandemic, but we want to resume hosting birthday parties as soon as we are able to again," Sheckler said. "We did notice after the farm was closed to visitors some historically less-social horses became really excited when for a while over the summer we were able to host some "Picnic with Ponies" events. It showed the positive aspects for the horses of the socialization aspects and psychological benefits of interacting with the public."
He said that the organization is a tax-exempt, 501(c)(3) public charity and receives no federal, state, or local funding. It is funded by a combination of donations, bequests, grants, and fundraising activities and does not charge for its services and does not seek reimbursement from any public funding source.
To learn more about the Maine State Society for the Protection of Animals, visit www.msspa.org and find them on Facebook and Instagram. <