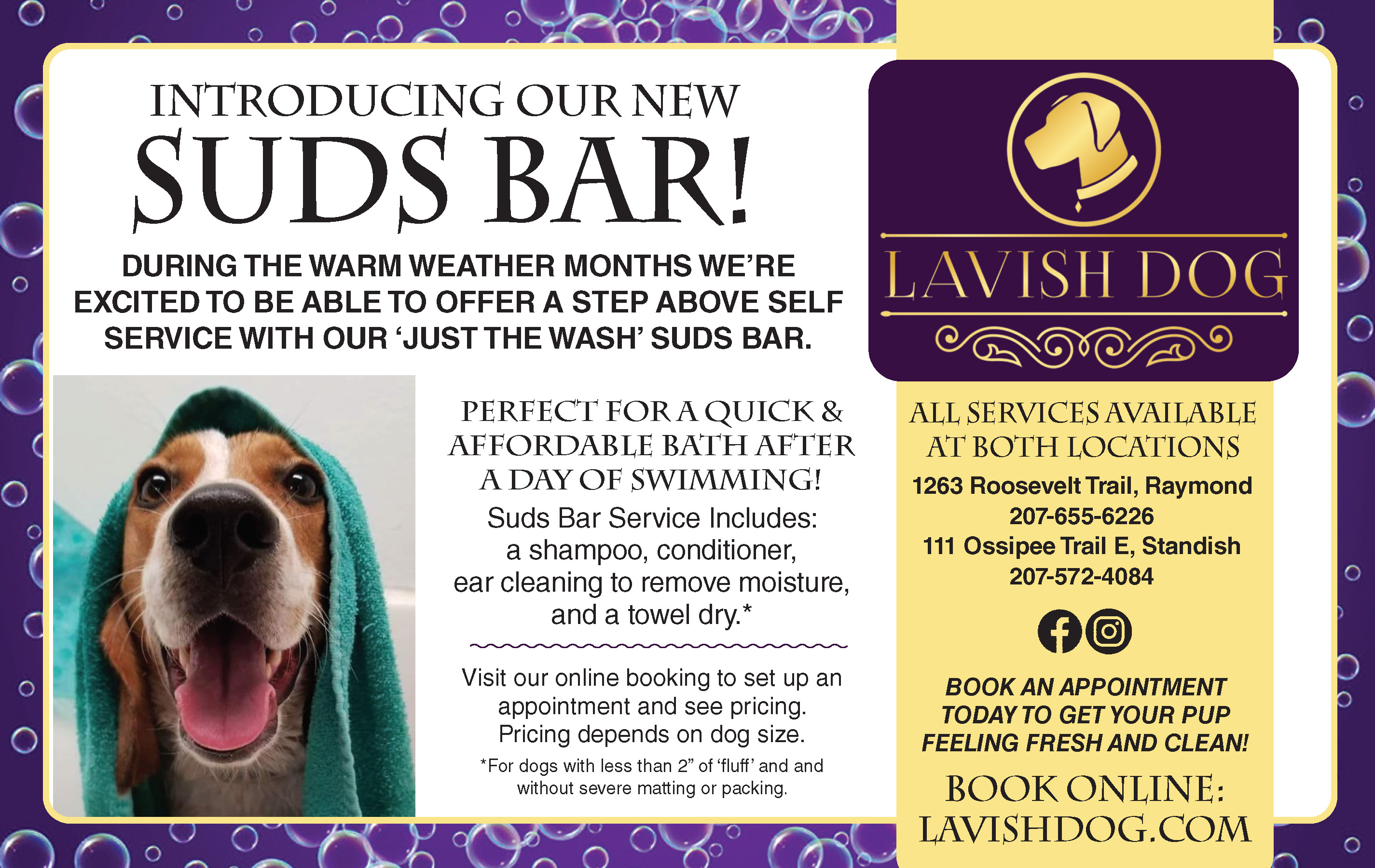 Transitions are never easy, but it's safe to say that life does become easier as we adapt to change.

In Raymond, Julie Chouinard, the owner of Dog-Gone Grooming is retiring after years of service and being succeeded in business in January by Caitlyn Brundage of Lavish Dog Day Spa.
"In saying thank you and goodbye, I realize how blessed I really am," Chouinard said. "I'm blessed to be able to open and operate a very successful business over 15 wonderful years. Dog-Gone Grooming has become 'My' dream come true for many reasons. I'm reminded every day how fortunate I truly am. I'm fortunate that I got to build so many amazing relationships with clients, friends and of course their dogs."
Chouinard said that she has watched so many puppies grow up to old and seen her older dogs cross over the Rainbow Bridge taking a piece of her heart with them.
"I know my heart will break again the evening of Dec. 23 as I lock the door for the last time. There are so many emotions but nothing like saying goodbye to all the folks that have put their trust in me to care for and love their dogs," she said. "Since I live local in the community, hopefully our paths will cross again. My plans for the new year will be spending a lot of time with my family, husband and friends enjoying life."
According to Chouinard, she's leaving a lot of her clients in very capable hands.
"I know they will be loved and taken care of the same way," she said. "Please help me welcome Lavish Dog Day Spa to Raymond. Caitlyn and her girls are so excited to become part of this wonderful community. Welcome Lavish."
Brundage currently operates a location of Lavish Dog Day Spa at 111 Ossipee Trail East in Standish and is excited to meet and transition customers at the Dog-Gone Grooming location at 1263 Roosevelt Trail in Raymond after Chouinard retires.
"We are a full-service grooming salon. Every groomer works on one dog at a time, straight through with no kennel drying," Brundage said. "We are currently working with all breeds and sizes. Every bath or groom comes with a premium shampoo, conditioner, facial scrub, CO2 spa, nail grinding, ear cleaning, and tooth brushing. If a dog is shedding, we automatically include a shed-less spa for no extra charge."
She's happy to take on any client moving over from Dog-Gone Grooming and also new ones too at the Raymond location,
"Our signature is the full spa treatment and one on one, straight-through service for an all-inclusive price," Brundage said. "We are probably in line with others who operate the way we do. We are more expensive than salons who will take dogs in first thing and call clients as they're ready. We are less expensive than mobile or groomers that go to the owner's home to groom."
Like everyone else has experienced, Brundage said that 2020 has been a roller coaster year, but the opportunity to purchase Dog-Gone Grooming was something Lavish Dog Day Spa could not pass up.
"In the end, Julie was very generous helping make this something feasible and we are so grateful because this is really a fantastic opportunity," Brundage said.
Lavish Dog Day Spa launched at a very small location on River Road in Windham in 2015 with Brundage as the only employee. Since then the business moved to a much larger location 20 minutes away in Standish. It now has five employees and with the expansion to Raymond, will be looking for additional groomers.
"We strive to provide quality service for clients and pets. Our goal is to make your pet feel like part of our family and not just another client," Brundage said. "We genuinely care about the pets and their owners. We have to be doing something right because our feedback has been pretty positive."
The company also offers a Loyalty Program where after eight visits customers can earn points for $20 off a full-service bath or groom.
For more information about Lavish Dog Day Spa, visit them online at www.lavishdogdayspa.com or on Facebook at www.facebook.com/lavishdog <