Brody Robbins, the owner of Robbins Property Services is committed to being a trusted partner for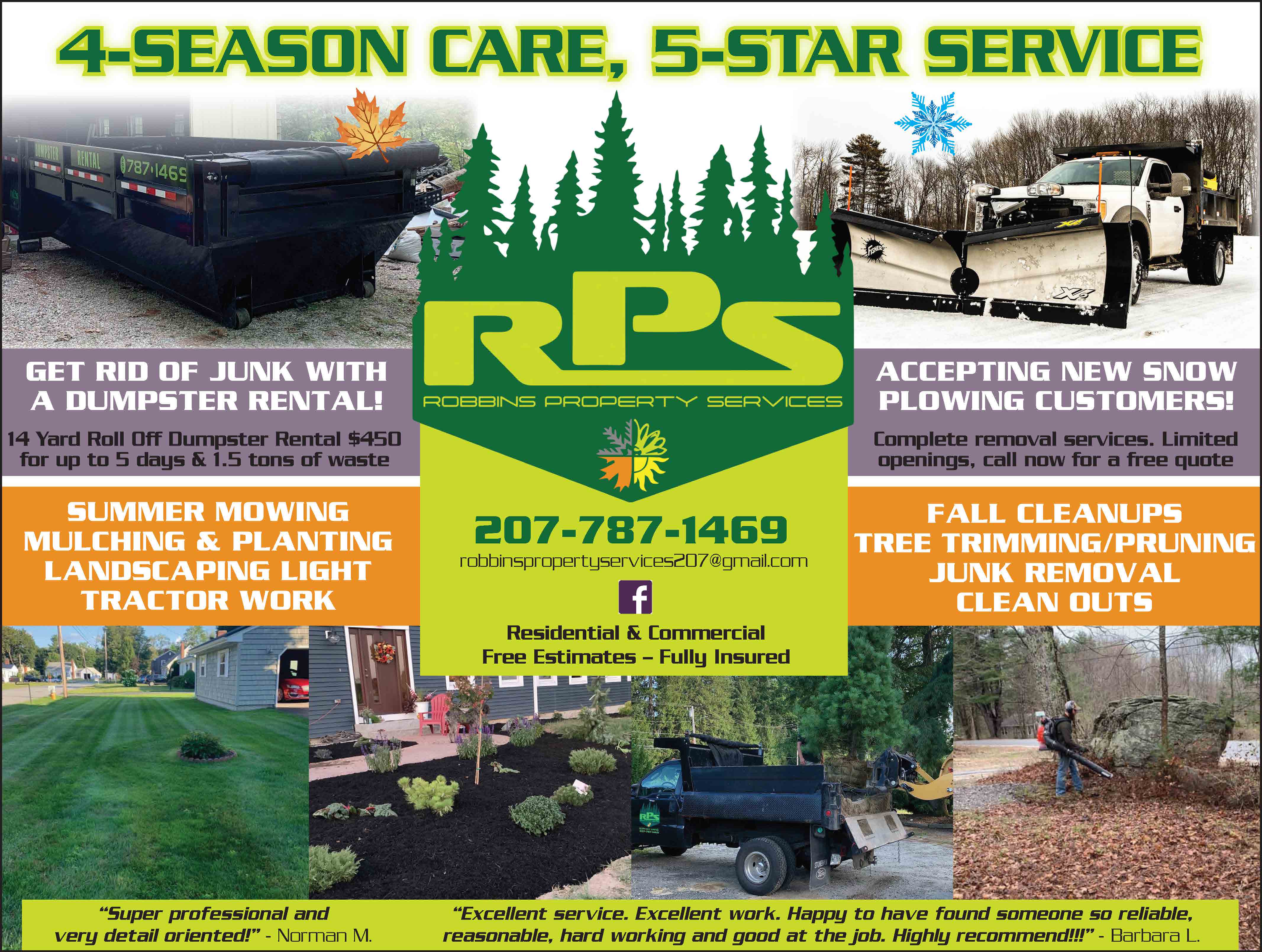 residents with homes and businesses in Windham and Raymond and providing dependable service that exceeds the expectations of customers.
In business for the past two years, Robbins has watched his business grow by offering superior mowing, mulching, seeding lawns, tree trimming, tree pruning, junk removal, yard and site cleanups, along with snow plowing and sidewalk shoveling in the winter months. His commitment to excellence and making prices competitive is unwavering.
"At Robbins Property Services, our intent is to make every customer feel like they are the most important customer we have and we do that by paying attention to detail and exceeding expectations on each job," Robbins said.
According to Robbins, reliability, work quality and dedication to customer satisfaction is the cornerstone of Robbins Property Services.
"We are fully licensed and insured and we want the same things everyone else does," Robbins said. "Our pricing for what we do is extremely competitive, reasonable and fair. We love to work outside every day and to keep our customers happy."
A former landscaping foreman for several large landscaping companies, Robbins said he learned a great deal about how to successfully operate a business and dreamed of an opportunity to launch his own company before striking out on his own in 2018. Now he employs a staff of four and Robbins Property Services is rapidly cementing a reputation for honesty and impeccable work.
He said as the word has gotten out about his business, he continues to find customers who may not be aware of the extent of landscaping services that Robbins Property Services offers to the community.
"Everyone typically thinks we just mow lawns," Robbins said. "But when they discover we can help them in so many other ways, they ask why we didn't let them know about those other services much sooner."
For example, Robbins makes his own mulch and can deliver and place it where it's needed so customers don't have to make a trip to a box store and do-it-themselves. They also offer an environmentally friendly and carefully blended mixture of salt and sand to help protect driveways and sidewalks during the harshest of winter conditions.
The company also features an array of great deals and discounted costs, such as making available to the public a 14-yard roll off all-inclusive dumpster for up to five days that holds 1.5 tons of waste or trash.
Right now, Robbins and his crew are getting ready to perform fall cleanups and preparing lawns and yards for winter. The company also is lining up customers for winter plowing services.
Robbins Property Services offers free estimates and are available to work throughout the Sebago Lake Region.
"I founded this company to deliver quality services with the knowledge and experience needed for this community," Robbins said. "We do what we say we will. And we can be counted upon to get the job done, no matter how tough it may appear to be."
For more information about Robbins Property Services, call 207-787-1469 or visit them online at https://robbinsps.com/ or on Facebook at https://www.facebook.com/robbinspropertyservices/ <