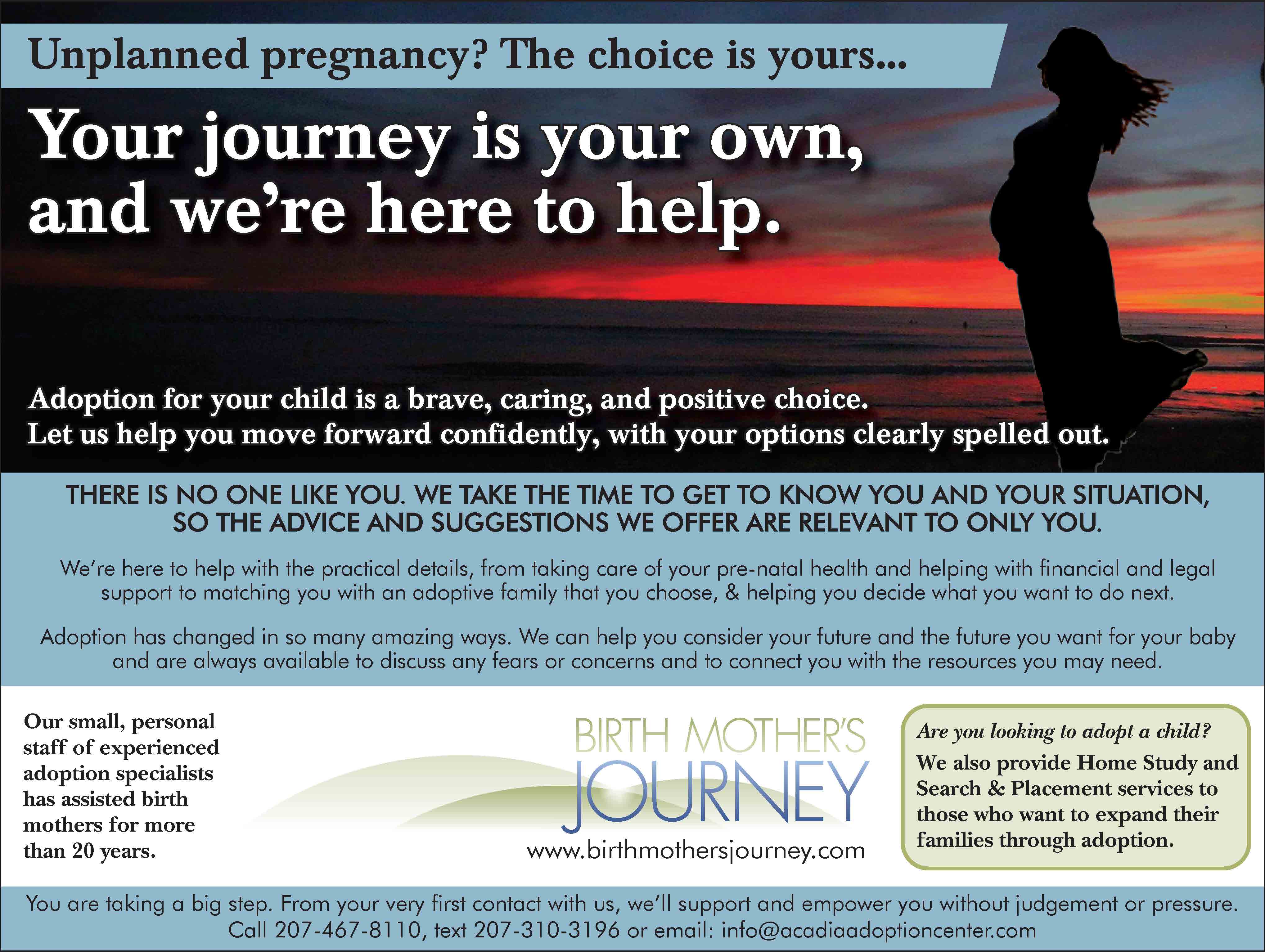 Here in the Lakes Region, Acadia Adoption Center is changing the narrative about birth parents placing a child for adoption and transforming their lives, the life of their child, and the adoptive parents, alike.
"Here everyone experiences new beginnings and not a sad ending," said Janet Knights, assistant director of Acadia Adoption Center. "We empower birth mothers by reviewing their options for an unexpected pregnancy and providing them with information about the adoption process so that they can make the best choice for themselves and their baby, even if adoption is not their choice."
Working with women who suddenly find themselves pregnant and unprepared, Acadia Adoption Center has been a life-changing alternative for pregnant women for more than a decade. From its office in Naples, the center assists birth m
others through the process of adoption and helps them reach a decision they can be proud of.
"Every birth mother should know that we don't ever judge them," Knights said. "We treat everyone with respect and full discretion so that birth mothers have peace with their decision."
Many of the birth mothers who reach out to Acadia Adoption Center for help find them online at their website,
www.birthmothersjourney.com
or are referred to by other birth parents or area hospitals for sensible guidance.
Knights said that through the years, the center has found that the situation of every birth mother experience is different and strives to be supportive in every aspect of their adoption journey.
"Adoption for your child is a loving, brave, caring, and positive choice," Knights said. "But it can bring uncertainty about finances, your safety and where you'll live, the birth father, your family and friends."
She said that because every situation is unique, Acadia Adoption Center takes the time to get to know every birth mother and listen to what they are going through so that the advice and suggestions they offer are relevant to their particular circumstances.
"Birth parents make adoption plans for different reasons," Knights said. "We are here to answer their questions about adoption so they can decide whether it is right for them and their child."
As a licensed adoption agency that works with expectant parents from all over the United States, Acadia works with a network of social workers, lawyers, hospitals and other professionals who help facilitate the entire adoption process.
They can provide financial support for birth mothers and help with pregnancy related expenses such as rent, food, transportation, cell phone bills, and maternity clothing if needed.
And Knights said the support of Acadia Adoption Center doesn't end once the child is born.
"We also offer a post-birth scholarship program which allows them to cover their living expenses while they get back on their feet, prepare for their future, and decide what to do next.
Many birth parents choose to use their scholarship to further their education," she said.
According to Knights, birth mothers choose the family that fits the hopes and dreams they imagine for their child and can communicate with the adoptive parents using a web-based transparent platform for updates and pictures for the next 18 years, if and when they choose.
"We are committed to providing you (birth parents) with as much support and help as you feel you need.
As you investigate and gather your choices, we encourage you to follow your instincts and make the best decision for you and your baby, without pressure or judgement" Knights said.