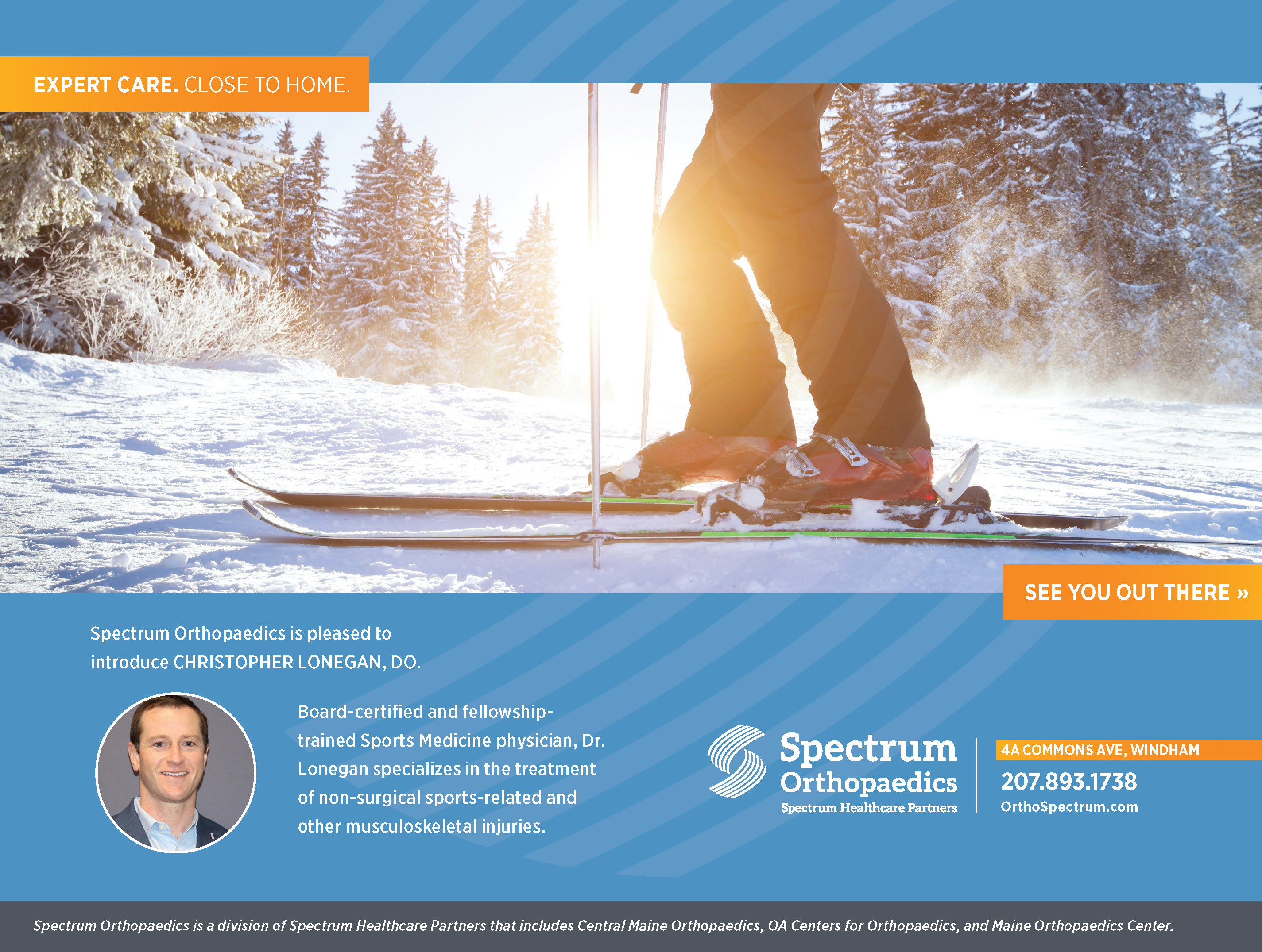 Orthopaedic Care in Windham Has Never Been More Convenient
It has been an exciting few months for Spectrum Orthopaedics in Windham. Spectrum Orthopaedics
– which includes OA Centers for Orthopaedics – recently unveiled an expanded space, which includes the opening of OrthoAccess, an orthopaedic walk-in clinic, and the expansion of the physical therapy center.
OrthoAccess is designed to offer quick, cost-effective, and specialized care for a range of acute orthopaedic needs such as sprains, strains, fractures, and other activity-related injuries.
Spectrum Orthopaedics in Windham is led by Jeffrey Bean, DO. Dr. Bean is a board-certified, fellowship-trained sports medicine physician who specializes in the treatment of non-surgical sports-related and other musculoskeletal injuries. He is a familiar face around town, as a Windham native and sports medicine consultant to local schools, including Windham High School and Bridgton Academy. Dr. Bean also serves as the team physician for St. Joseph's College and the head team physician for the Portland Sea Dogs.
Dr. Bean has always embraced a practice where patients can walk in and be seen. "

Since I arrived at OA Centers for Orthopaedics 11 years ago, I've been committed to providing care to the local community, the community where I was born and raised. I

understand the desire and need for immediate, stress-free access to high-quality, cost-effective orthopaedic care. Every year, I provide walk-in care for the local summer camps and most all other patients throughout the year who need to be seen acutely are accommodated same day. Now, it officially has a name! OrthoAccess Windham."
The new physical therapy center has state-of-the-art equipment and offers patients more room for exercise and functional movement. It also allows patients to be seen in an expedited fashion. Megan Cutter, DPT, physical therapist at the Windham practice states: "Our new expanded space allows patients more room to move around and gives us the ability to provide therapy in a way that feels like what 'real life' is to our patients. So, when they're discharged from our care, they know what to expect at home or on the field."
As the state progresses on its reopening plan, more people are getting involved in outdoor recreations and hobbies, increasing the likelihood of an activity-related injury. The walk-in clinic cares for patients of all ages and offers immediate assessment for a wide range of activity-related injuries, such as a sprained ankle while out on a hike or a back injury while gardening.
No appointment is needed, and specialists are available to assess and treat injuries. Some of the advantages of OrthoAccess include:
·
No appointment needed: skip the ER and start with a specialist. This saves you both time and money.
·
Specialized treatment: you will always be seen by an orthopaedic specialist.
·
Lower cost: because OrthoAccess is an extension of an orthopaedic practice, their charges and co-pays are generally the same as a visit to a specialty doctor. Charges and co-pays at hospital emergency departments or even urgent care clinics are generally much higher.
·
Shorter wait: the wait time is typically shorter at OrthoAccess than at a hospital emergency department. The longest waits are usually during the first hour of clinic time. At other times, patients are often seen right away.
In Windham, the Spectrum Orthopaedics clinic, OrthoAccess, and physical therapy centers are conveniently located on Commons Avenue. There are also OrthoAccess clinics located in Portland, Saco, and Auburn.
Quality and patient safety have always been a hallmark of Spectrum Orthopaedics and have been an even greater focus during the pandemic. "We want to ensure all of our patients, and those visiting our clinics, can be seen and treated safely, effectively, and efficiently. We have instituted a variety of protocols based on best practices in infection control," stated Herbert Cushing, MD, Spectrum Healthcare Partners chief medical officer and infectious disease physician. The Windham practice currently screens patients before entering the clinic, requires face coverings while in the building, and has implemented new check-in procedures minimizing patient time in common areas.
Exam rooms, furniture, and commonly used items are frequently sanitized.
The OrthoAccess walk-in clinic is open Monday to Friday from 8:30 a.m. to 4 p.m. (no appointment needed). Dr. Bean and his team also see patients by appointment in the clinic Monday to Friday from 8:30 am to 4 p.m., or for physical therapy, Monday to Thursday from 6 a.m. to 7 p.m., Friday from 6 a.m. to 4:30 p.m. To learn more or to make an appointment, call 207-893-1738 or visit spectrumhcp.com/orthoaccess.