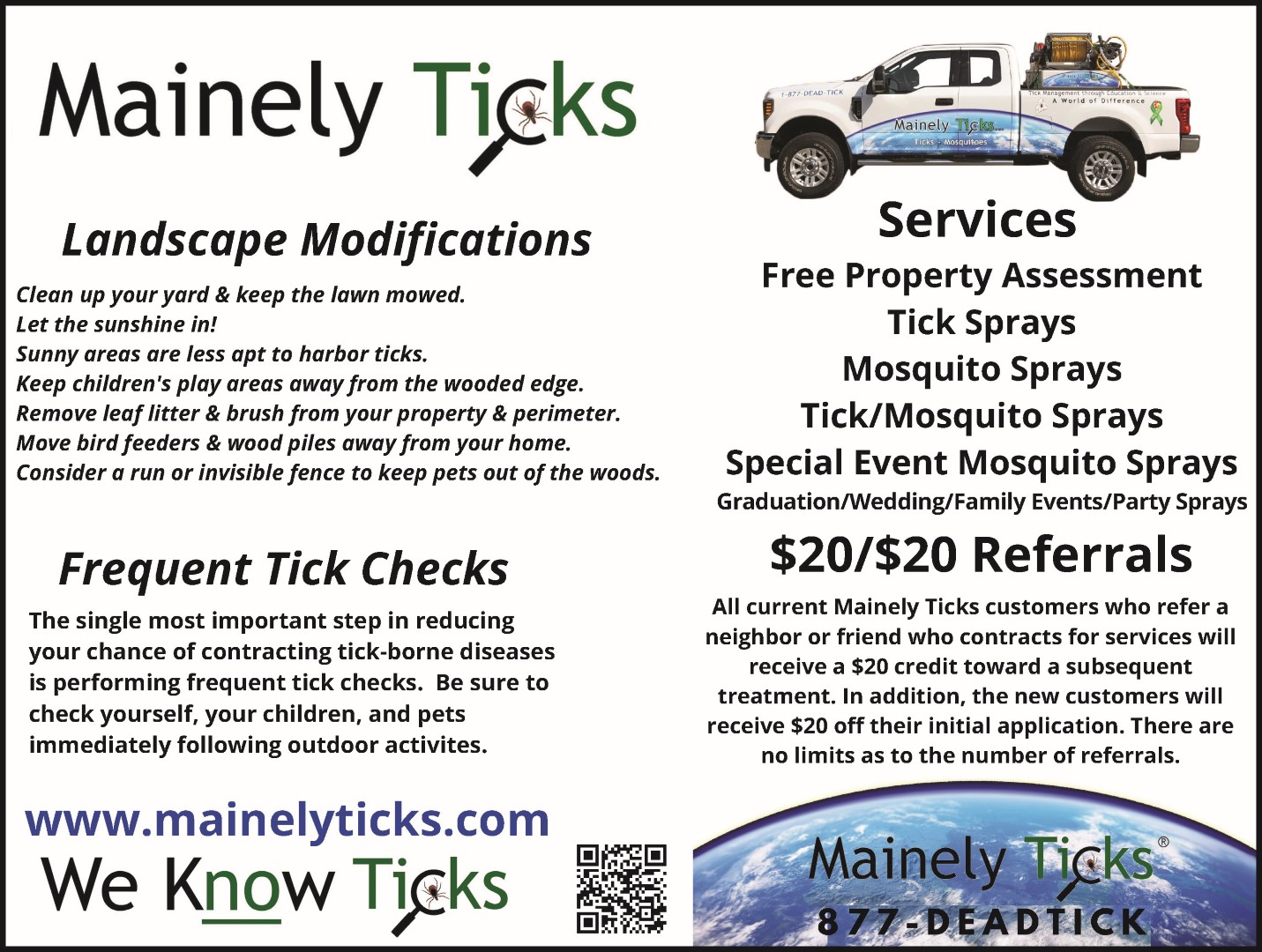 As we all are protecting ourselves, our loved ones and the world from the spread of COVID-19, we
also need to remember that with children home during the day and playing in their yards, we need to protect ourselves and family members from tick bites.
That is where Mainely Ticks, an Integrated Pest Management company that has served Cumberland and York counties for 15 years, takes a community-based approach with their mission of Tick Management through Education and Science.
"We make sure people know how to protect themselves and their children from contracting Lyme and other tick-borne diseases," stated co-owners Bob and Barb Maurais.
"Right now, while everyone is focused on the virus, we do want to remind and educate people that deer ticks are already out," Bob said. "Seventy-five percent of all Lyme is contracted 100 feet from the home and senior citizens and children have the highest incidences of Lyme disease here in Maine." Adult Deer Ticks as well as newly molted nymph ticks (which are about the size of a poppy seed) are active and can transmit Lyme disease along with other tick-borne illnesses.
Barb reminds us that with children now at home and encouraged to spend time outdoors, it is important for everyone to actively pursue personal protection. "Before hiking and playing outside, make preventing tick bites part of your plans. Apply repellent to exposed skin and consider wearing protective clothing pretreated with 0.5% Permethrin."
In 2005, when Bob and Barb began building the Mainely Ticks website, Barb wrote, "You may have Lyme disease and not even know it." Little did she realize that she was talking about herself. Later that year, Barb was diagnosed with Lyme disease, Bartonella and Babesia. After treatment, they renewed the company's mission of advocating, educating and increasing awareness about tick-borne diseases through talks and conferences throughout Southern Maine along with distributing educational materials throughout the state.
In the January 16, 2020 edition of the Portland Press Herald, Staff Writer Joe Lawlor wrote about this subject in his article, "Lyme Disease cases in Maine hit a record high last year". He stated that there were at least 2,079 Lyme cases in 2019, eclipsing the previous high of 1,852 cases in 2017. Quoting the Maine Center for Disease Control, Lawlor wrote, "Lyme disease and other tick-borne diseases are on the rise, so Mainers need to proactively protect themselves."
Bob reiterated that personal protection is important for everyone. "Prevention is the best prescription," he said. "Adults should do a nightly tick check on themselves and their children and pets."
Tick Removal. If a tick is found, use fine-pointed tweezers to gently remove the tick from where it is attached. Pull upward with steady pressure. Do NOT aggravate the tick by trying to smother it, squeeze it, apply lotion or heat. Upset ticks will regurgitate their stomach contents.
Tick Avoidance. Deer ticks require a damp, humid environment to survive and are most often found in wooded edges, especially in leaf litter and low ground cover. They are usually picked up on the lower leg and tend to crawl up the body looking for a place to attach and feed. Modify your environment by cutting lawns and removing leaf litter. Keep children's play areas away from wooded edges and tall grass. Deer ticks will not thrive in sunlit areas.
Protective clothing. Wearing light colored clothing whenever working or playing in tick endemic areas makes spotting ticks easier. Also, you can pretreat clothing and socks with 0.5% Permethrin spray to provide up to six weeks of protection even after repeated washings. www.insectshield.com is a company that professionally treats clothing. Save 20% at checkout by using promo code MAINELYTICKS1 when sending your own clothing to be treated, or promo code MAINELYTICKS2 when you purchase clothing.
Tick repellents. You can substantially increase your level of protection against ticks and mosquitoes by applying a DEET based repellent (20% to 30%), IR3535, Picaridin, or oil of lemon eucalyptus to your skin. Go to https://www.epa.gov/insect-repellents/find-repellent-right-you and take the quiz to determine which repellents are appropriate for you and your family.
Frequent tick checks. The single most important step to reduce your chances of contracting tick-borne illnesses is frequent tick checks. Be sure to check yourself, your children and pets after spending time outdoors in tick endemic areas. Use the sensitivity of your fingertips to feel for small bumps, starting with a thorough inspection of the scalp, in and around the ears, hairline and neck, arms, armpits, back, torso, belly button, groin, front and back, between all skin folds, legs, behind the knees and between your toes.
Mainely Ticks offers residential tick and mosquito spraying options in select communities in Cumberland and York counties. For more information or to request a quote for services, visit www.mainelyticks.com