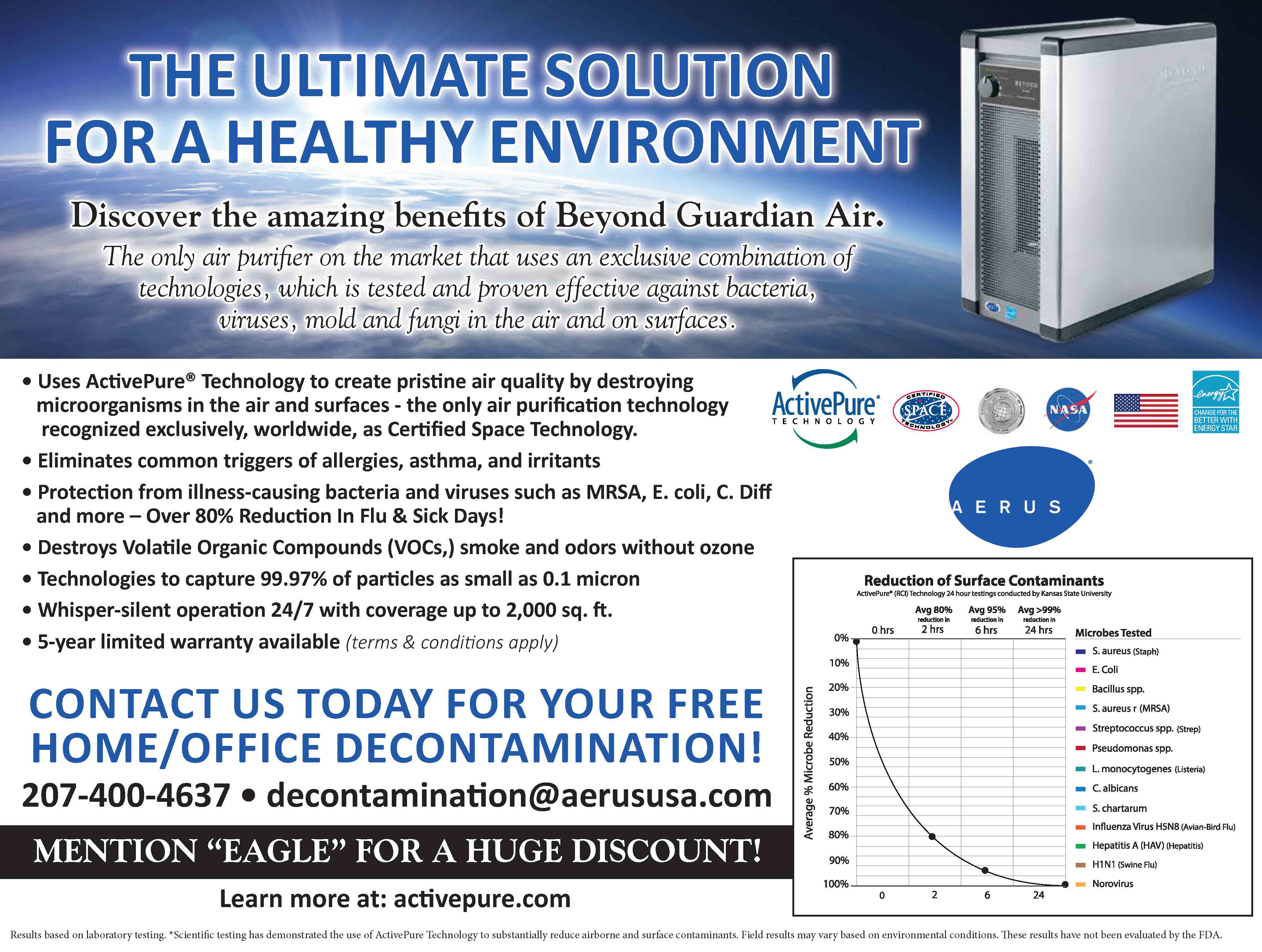 In the April 3rd edition of the Windham Eagle, readers discovered that Aerus Pure Water of Portland
is offering a free one-time air purification service to area residents. In light of recent circumstances, sanitization of surfaces and the air we breathe is of the upmost importance and concern.
"I would like to provide a decontamination service free of charge to any individual in the greater Lakes Region area and beyond, whether it's in the home or office," Chris Tarr explained in that article. Tarr is the owner of Aerus Pure Water of Portland, located at 352 Warren Avenue. He has been the owner since July 2019. Tarr is still contributing this free offer to anyone who requests it.
But what many may not know is Aerus offers much more than the ActivePure Technology. The company offers water conditioning and filtration services as well.
Aerus originally began as Electrolux – the renowned high-quality vacuum cleaner. Since 1924, Aerus has been a leader in the healthy home space and has been honored by the Smithsonian for the invention of the first canister vacuum.
The company has grown by leaps and bounds, adding the cutting-edge water and air purification systems, including the revolutionary ActivePure Technology in 2000.
Its accolades have only continued to include engineered products that aid in creating a healthier home. In fact, ActivePure Technology was inducted into the Space Technology Hall of Fame, an honor shared with only a handful of other influential technologies like GPS, hearing aids, and LASIK.
Additionally, Aerus continues to invent and upgrade water purification systems that meet the needs of homes across the country, including the homes right here in Windham and Raymond where many rely on well water. Well water is known for the scale build up created from hard water. Often, well water includes contaminations that make drinking the clear liquid unsafe.
Aerus' water conditioner system reduces water contaminants, scale build-up from hard water, electricity use, and even extends the life of your appliances all while delivering better-tasting water and providing relief for those with sensitive skin and who care about the environment.
"Water conditioning aims to address three major issues that are present in most water sources: limescale, bacteria and algae," Tarr said. "These problems can cause issues in water systems, including the insides of pipes, on heat exchangers and water fixtures. We also offer Origins Reverse Osmosis for those who want to improve the taste, odor and appearance of their water."
With reverse osmosis you get the quality of bottled water without the cost and environmental impacts as a result of plastic bottles. This system has easy-to-change filters that provide premium water, exceptional taste, and total convenience. Reverse osmosis filtration system is a compact, space-saving design and produces 75 gallons of water per day. The system includes a classic faucet, a 3.2 gallon tank and all the hardware. What is even more exceptional is that the Origins Reverse Osmosis is offered at a reasonable rate.
Aerus also offers a whole home water filtration system. Contaminants like disinfectants, chemicals, and other deposits often sneak into the water even after public water filtration systems have cleaned it, making water taste worse. This is a perfect option for those homes with city water and need additional water filtration.
Finally, of course, is the amazing air purification and sanitization system, ActivePure. This system is used by hospitals, schools and sports stadiums to end staph infections and other viruses.
As stated in the April 3rd article, ActivePure has virtually eliminated bacteria, infection and fungus at a major sports stadium. After four players in the Texas Rangers Major League Baseball organization contracted methicillin-resistant staphylococcus aureus (MRSA) infections in one year, the team installed ActivePure air purifiers in its stadium's locker room and gym. Over 30 major league baseball stadiums use the systems at the present time, keeping the infections and bacteria at bay.
Local Windham resident, Lorraine Barrett has been using the purification system in her home for over seven years. "I must admit, my husband and I both smoke in the house and the purifier is amazing at keeping our indoor air clean and smelling fresh. When our kids come to visit – they never complain about the smell," Barrett laughed and then continued. "We also have a home in Florida, and I have an Aerus purifier there too. Although we don't smoke in that house it does magic on keeping the pollen count down."
Call Tarr today and get your free decontamination service. "And if an individual wishes to learn more about the other services we offer, I will go over all the alternatives," Tarr said. "Together we will find the best option for their home and budget." For more information, contact Tarr at 207-400-6437.