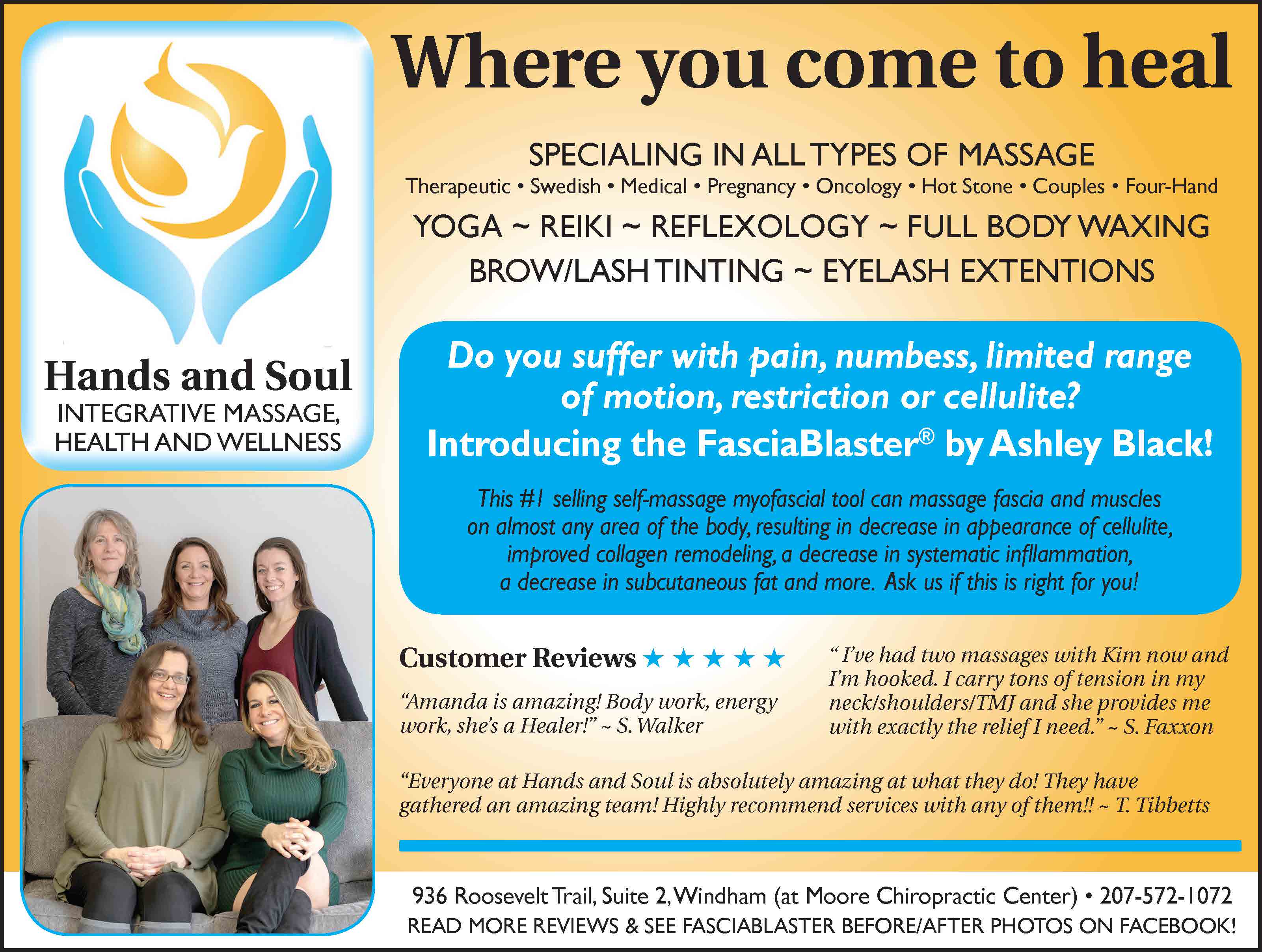 To create the best individualized treatment option, Hands and Soul, located at 936 Roosevelt Trail, Suite #2, provides integrative massage, health and wellness combinations with the intent to deliver healing at the maximum level. In order to offer the best restorative health possible, Owner Amanda Thomes along with other licensed Massage Therapists, Kimberly Mentzinger and Patricia Kazcmarek, provide deep tissue, medical and therapeutic Swedish massage as well as pregnancy, oncology, four hands and couples massage.
"We have also recently incorporated therapeutic yoga classes on Tuesday evenings from 6 p.m. to 7 p.m." stated Thomes, who is a Reiki Master and offers energy work as well. "We are very excited to have Anecia Trickey join Hands and Soul to teach the yoga classes. She is amazing and has quite the following as a yoga instructor."
Thomes stated they have also added fascia blasting to their integrative health options. She explained that fascia, or myofascial tissue, contributes to pain and cellulite when it's tight. "Fascia blasting, a technique that loosens the fascia through physical manipulation and pressure, allows increased blood flow and circulation which helps to reduce pain and cellulite."
And there are many more options Hands and Soul provide for their clients.

Aestheticism

, Samantha Hale, is on staff to provide customized facial services to include, but are not limited to waxing, tinting and eyelash extensions.
If one is looking to add to their massage experiences, CBD cream massage, herbal foot soaks, hot stones as well as Himalayan salt hot stones are other options that can enhance the healing process. CBD cream and pills are also offered and sold separately.
"Our CBD creams and pills are made by Nature's Resolutions which is a local individual who grows her plants organically and is a member of the Maine Organic Farmers and Gardeners Association," Thomes stated. "Her product is amazing. It's so popular, I simply can't keep it on the shelf."
Thomes knows a thing or two about the many healing techniques and results of the various massage therapy and energy healing alternatives. "I knew at the age of nine that I would be doing something like this with my life," said Thomes, who has approximately 20 years of professional experience.
Staff at Hands and Soul
Thomes explained that her father was always in a lot of physical pain due to an injury he sustained from falling off a 40-foot ladder. "He actually broke his back and he was in a wheelchair for a while. He was able to walk again but he was in constant pain." As a child, Thomes, would offer to give her father a back massage to help ease some of the discomfort he often felt. "I would actually know where the pain was in his back before he would tell me."
Her mother, who was a nurse at Mercy Hospital, also played a role in Thomes career choice. "My mom was a massage therapist, training others at the hospital. In fact, she actually introduced infant massage to the staff."
But perhaps what solidified Thomes' chosen career path was a movie she saw about a man who could heal with his hands. "I thought to myself, 'I can do that'."
Thomes attended what is now known as SpaTech Institute in Westbrook. Upon graduation in 2002, she began her first massage business by traveling from home to home - but it wasn't long before she was invited to worked for Dr. Roy Moore of Moore Chiropractic and Wellness Center. After five years there, she relocated her business to Innovations Hair Salon where she had her office for twelve years.
"Once the salon closed its doors, I knew I wanted to create my own healing center with a focus being more on healing and less about the spa experience." So Thomes set out to find where that center would be – and it turns out – Dr. Moore had the space. Officially opening at this location on December 1, 2019, Thomes said she feels as if she has come full circle and has found the perfect home for her healing center.
And perfect it seems to be for the clients of Hand and Soul. "It's a wonderful welcoming place," stated one happy customer. While others say: "Hands down, the best therapeutic massage I've ever received. Kim is amazing." And, "No better way to break up the day than visit my favorite massage therapist, Amanda Thomes. I feel amazing."
As Thomes reiterates, "Hands and Soul is where you come to heal" and it appears her clients could not agree more.
To learn more about healing opportunities offered Hands and Soul or to make an appointment, contact Thomes or other staff members at (207) 572-1072. Office hours are 9 a.m. to 7 p.m. Monday through Saturday. Be sure to follow them on their Facebook page. A website will be up and running soon.