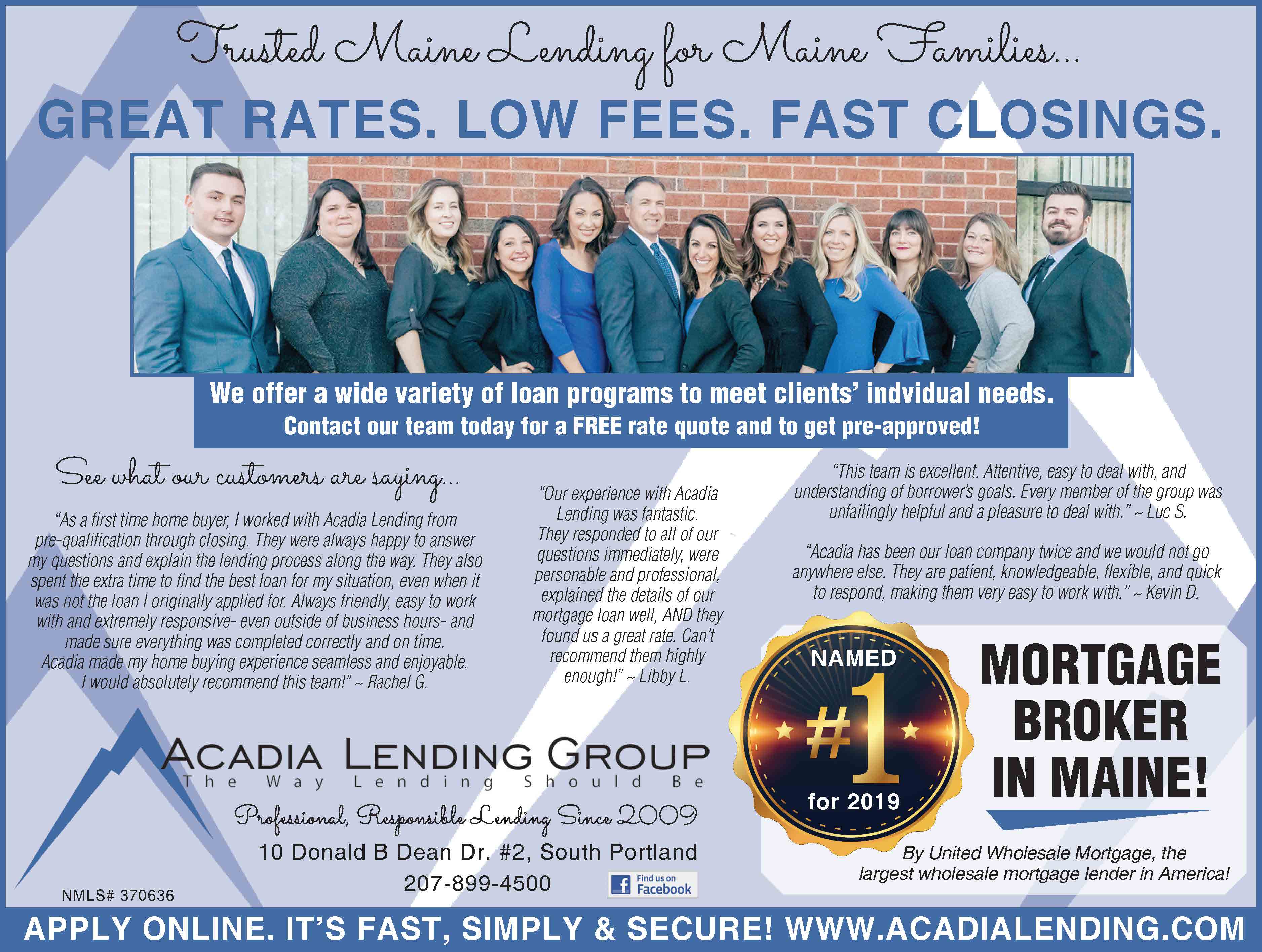 To purchase a home of one's dream is at the top of most every Americans' aspirations. It provides a
sense of security and is a key to future wealth building. It is also a huge financial commitment. And while it's an exciting process, having the wrong mortgage lender steering you down the wrong path could leave you paying more money than necessary, cutting into your future wealth.
It is for this reason, among many, that Acadia Lending Group, located at 10 Donald B. Dean Drive in South Portland was established with its mission of finding the best mortgages for their customers. The Acadia Lending Team works closely with their clients, getting to know them - their needs, budget and life plans with the intent that the customer will never have to fear financial loss.
"We work very hard for our customers because nothing pleases us more than helping our clients achieve the dream of affordable home ownership," explained Heather Rose, co-owner and partner with her husband, John, both of whom are Windham residents.
Working hard for their customers has paid off in more ways than one. First and foremost, the Acadia Lending Team has many very happy, satisfied and repeat customers. Secondly, they have received multiple awards for being the top mortgage broker company in Maine – and most recently – the team can boost their top ranked loan officer on a national level, Skylar Welch, also of Windham. "Skylar is ranked in the top 1% in the country for mortgage broker loan originators," stated Heather. "We are proud of her and we are proud of our whole team of dedicated employees for their genuine commitment to our customers."
And these high standards and awards have all been accomplished in just ten years, when Acadia Lending Group opened its doors in 2010.
Acadia Lending Group owners and partners, Heather and John, have always been in the mortgage business. They met as coworkers at a mortgage company in Massachusetts in the early 2000s after they graduated with business degrees from college. After five years, they were ready for a slight change. "We loved our job and our life there, but I wanted to return back home to Maine," explained Heather, who is originally from Down East.
In 2005, they moved to Windham and worked for a mortgage company in Portland. While there they continued to learn and grow in the lending business, obtaining their Mortgage Brokerage License a few years later.
Wanting to continue to grow and expand, the Roses began to take the next step in their careers and Acadia Lending Group was it. They began the process of owning their own mortgage broker business in 2009, officially opening their doors one year later. It was during a period when the nation was experiencing a financial crisis and mortgage brokers were expected to be a dying breed.
"I will admit it was a scary time, but I knew we would succeed," Heather said. "I knew it would take hard work, but I've learned in my life that there is no substitute for hard work. If you do the right thing every day and you value your clients by taking the time to build a relationship and gaining their trust, it has been proven to me that business will always be there."
Not only has business been there for Acadia Lending Group, but it has grown by leaps and bounds. In just a short ten years, they went from a company of three (Heather, John and a processing agent – who is still there today) to a company of 13 staff members of both processing agents and mortgage loan officers. With award winning accolades to their name, they have also received many positive testimonials from satisfied customers including the following:
"From our first conversation to the final closing, [they were] there to answer every question we had (and we had a lot as first-time home buyers). [They] communicated clearly everything we needed to know, expect, and provide for our home loan. [They were] always available for our questions and concerns, and [they were] quick to get us all set up and ready to go!"
Another happy customer stated, "Both friendly and professional, [they were] very prompt in [their] responses to my questions and demonstrated genuine concern for the success of my home purchase and sale. [Their] answers to questions came quickly and were brief but clear. [They] stayed on top of things and made sure all paperwork was completed on time."
It is the Acadia Lending Team goal to end their day feeling good that they have helped others in some way. "We are not in this business to make a quick buck. We want to end our days knowing that we helped our clients by giving them the best advice possible and thus being happy with their choices. And, I personally, want to make our staff happy as well," Heather said. "To accomplish that each and every day is the most rewarding experience."
And as the Acadia Lending motto suggests, this is the way mortgage lending…and life…should be.
For questions or to learn more about Acadia Lending Group, contact Heather, John, Skylar and the whole Acadia team at www.acadialending.com/ or call at 207-899-4500.