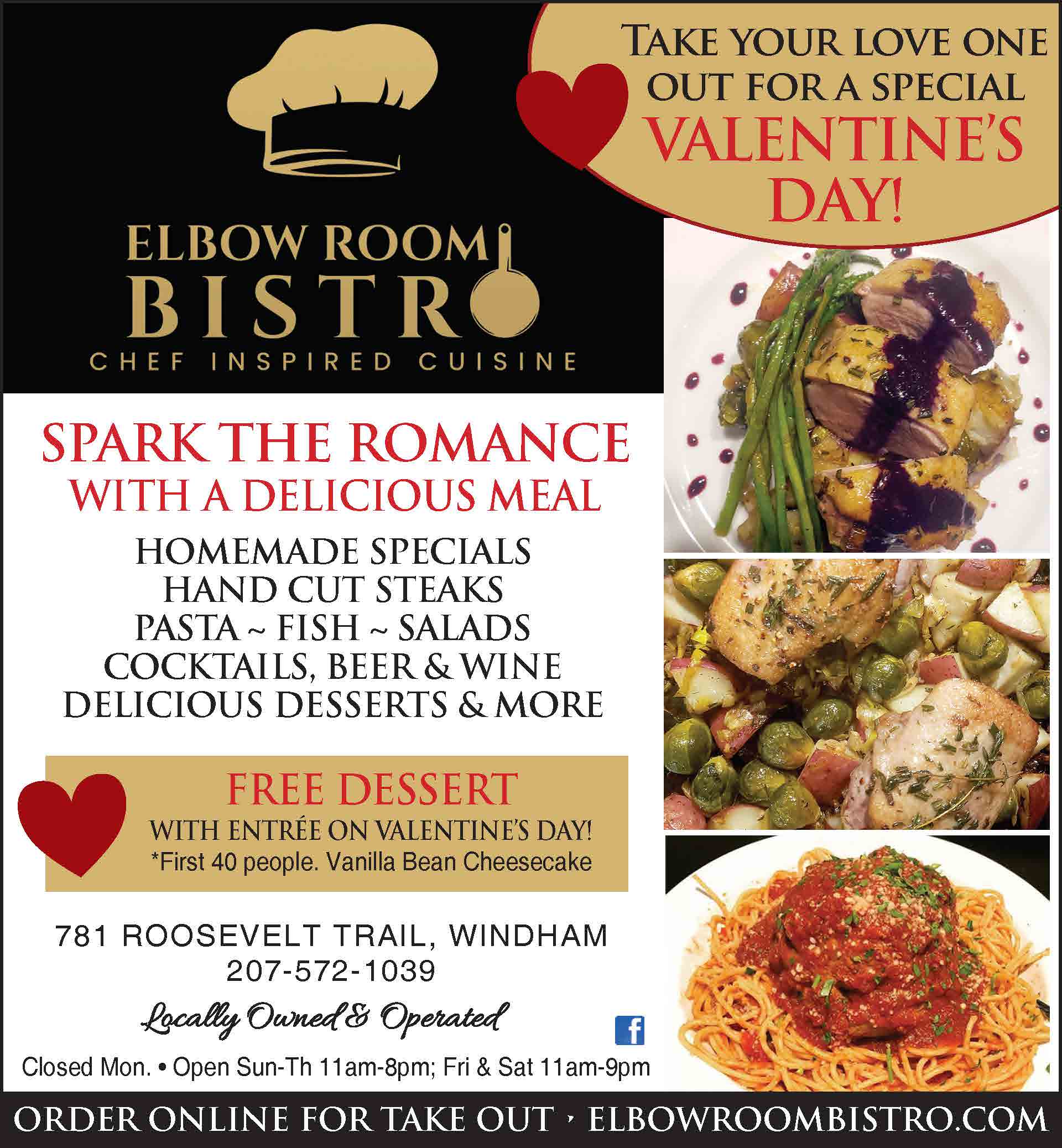 "What's going into the old Bomb Diggity space now that they've closed?" "Is that new café/eatery/pub/restaurant open, yet?" These questions have been the fodder and focus of the greater Windham community in the past couple of months. Today – we have the answers:
The Elbow Room Bistro is now occupying the former Bomb Diggity café, located at
781 Roosevelt Trail in Windham.

It officially opened on December 18th and is serving high end, specially prepared and chef-inspired cuisine at local prices.
"We've had a quiet and slow opening and it has been intentional," stated owner, Nick
Kalogerakis,
"My son Luke, who is the chef, and I wanted to take it slow and grow in the most authentic way. We wanted to get it right and have happy customers the minute we opened the door.
When you walk into the former breakfast/lunch café that now serves lunch and dinner, you will be immediately received by welcoming and friendly staff who will promptly accommodate your needs.
Nick, who was born and raised in Massachusetts, began cooking at the age of 17 and moved up the food service industry ladder quickly. Eventually, his father and brother collaborated with Nick, owning a couple restaurants in towns surrounding the Boston area. However, it wasn't until Nick moved to Florida that he learned to cook in ways he hadn't been exposed. "It wasn't until I moved to Florida that I learned how to prepare foods in a variety of traditions as well as learning regional preferences and cultures. This is when I really learned the art of cooking."
Nick eventually returned to the Northeast, landing in Maine in 2005. He purchased and co-owned Texas Roadhouse in Scarborough for several years before retiring as a business consultant. He now makes Windham his home.
Following in his dad's footsteps, Chef Luke knew the culinary arts was his calling. He started cooking four-course meals at the age of 13 and, upon graduation from high school attended the prestigious Johnson and Wales University in Rhode Island until a cancer diagnosis changed his course in life.
"I always promised Luke that I would help him open a restaurant after he obtained his degree," Nick explained. "His cancer diagnosis sped up the process." Nick quickly added that in one more year, Luke will be considered cancer free. "So, when this space became available, we decided to take action."
Nick stated that the father and son team began experimenting with different dishes inspired by his son until they felt like they got the balance of ingredients just right. "What we serve today are dishes that we have tested and tasted ourselves," began Nick. "Additionally, every cut of meat is inspected
individually, and all foods are made from scratch on a daily basis. Everything we serve is fresh."
In the short time the Elbow Room Bistro has been opened, there have been many happy customers. The many testimonials you will find on Facebook include the following:
"I'm so happy the Elbow Room came to Windham. We've been waiting for 'the go to place.' We stopped in for

lunch. I had a portabella burger and sampled [my husband's] fish tacos. Both were delicious, reasonably priced [and not to mention] great staff and ambiance. They have also done a good job with seating given the space. Looking forward to stopping by for dinner next!"
Kevin and Lori Hammond who recently purchased a small farm homestead in Windham and have made this town their home have rave reviews about the bistro. They both lived over 30 years in Portland, and thus have the
palate
that aligns with TripAdvisor's top 10 restaurants in the nation (of which Portland was in that top ten).
"Before we moved to Old Orchard Beach three years ago, we were longtime residents of Portland," began Lori. "While living in Portland, my husband and I were exposed to many upscale restaurants serving high-end foods. So, I must admit, my husband and I – who were both born and raised in rural Maine, have developed the taste for fine foods. When we tried The Elbow Room Bistro, we were ecstatic that there was a restaurant in Windham that served highly selected and chef-inspired cuisine. What makes it even more amazing is their prices are average – while their food is not. We feel like we hit the jackpot with The Elbow Room."
The fact is, they have been receiving five-star ratings since their opening three weeks ago by the locals in the greater Sebago Lakes Region area. Although both Nick and Luke have worked hard to meet the high ratings they have received since opening, they recognize they couldn't have done it completely on their own without the help of Derrick, DJ, Susan and the rest of the Elbow Room Bistro team.
If you haven't tried The Elbow Room, then you should check it out for yourself. Their hours are Sunday through Thursday: 11 a.m. to 8 p.m.,
Friday to Saturday, 11 a.m. to 9 p.m. and closed on Mondays. For more information or further questions, contact Nick and Luke at
www.elbowroombistro.com
, or call 207-572-1039.