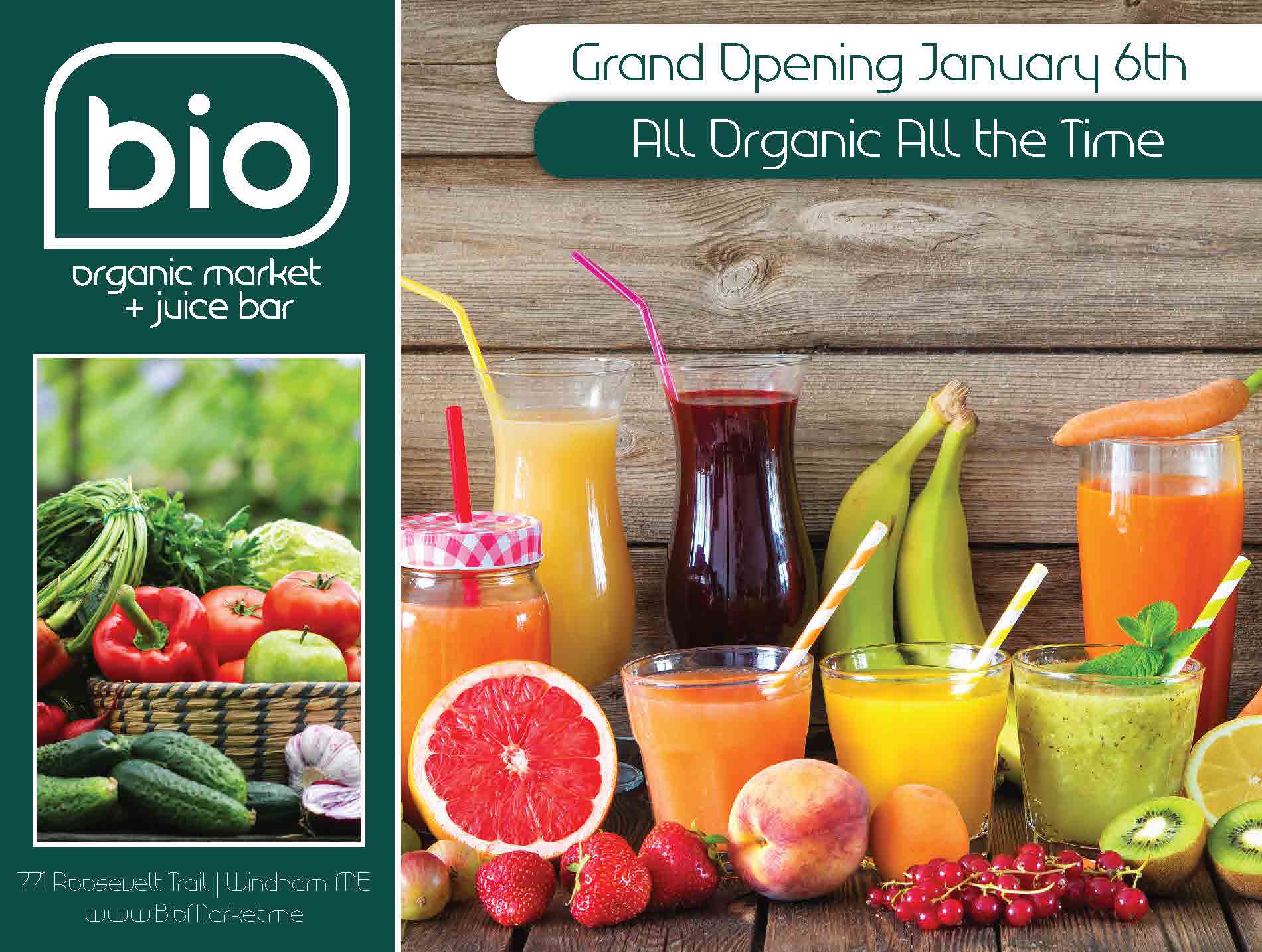 Located in the Windham Shopping Plaza at 771 Roosevelt Trail, Bio Organic Market + Juice Bar will be opening the doors to its juice bar on Monday, January 6, with the market to open in the following months. Bio's promise is to deliver "All Organic All the Time," sourcing as much as possible from local organic farmers. This is expected to be a welcome and exciting addition to the Sebago Lakes Region.
Fueling the body with high quality food and products is something owner, Charles Hawkins has strived to do since he was young, while inspiring those around him to do the same.
"I grew up eating organic and even back then I recognized the benefits and not because I was told, but because I could see it. I always had more energy than those around me and I never got sick like my friends and classmates. Even as we've all aged, I've still noticed a difference, especially when I've strayed."
His passion only grew further when he began working with a local organic grocery store in his hometown of Richmond, Virginia. "This was the first job I had where I really felt like I was making a difference. I wasn't just helping the customers. I was helping local farmers, distributors, vitamin companies, and so many more I didn't know about…all the way down to the individual." It was during this time of his life he developed the dream of one day opening his own community based organic market.
Hawkins believes when an individual decides to shop organic, it is the responsibility of the store to ensure they are buying the freshest, most honest, clean products possible, a lesson he took from his job in Virginia. That's why Bio is committed to doing its homework when it comes to the quality of the products entering the store and, in turn, the customer's home.
"It's not just about the look and taste of the products," he said, "It's about how it's grown, harvested and stored before it comes through our doors. If we don't do our due diligence, there is no guarantee our product standards and those of our customers are being met. This is where a lot of grocery stores and markets fall through."
He continued "As insufficient regulations emerged, and stores became accustomed to carrying more products with labels containing 'fresh' or 'natural' the meaning of organic in your everyday grocery stores has been lost." Bio plans to bring real, fresh organic choices back to the Sebago Lakes Region.
As with his other Windham business, Maine's Alternative Caring, Hawkins also has plans to use Bio as a means to do good in the local communities it serves, ultimately allowing Bio customers to do the same. "Just by making the choice to buy local and organic products people are already taking steps to improve the local community," stated Hawkins. "Even one juice from the juice bar gives back. It gives back to the farmer who raised the fruits and vegetables for it, the employee who picked them, the driver who delivered them and the employee that made that one juice."
In the last year and a half, Hawkins has frequently given back to the Sebago Lakes Region through Maine's Alternative Caring, with monthly donations, fundraisers and scholarship programs. It's his hope that Bio will allow him to give even more back through charitable giving, donations and educational programs aimed towards leading a healthy lifestyle while learning about nutrition.
Bio also has plans to go a step further to get involved and be socially engaged with the Sebago Lakes Region by hosting events and being a leading supporter of causes that align with the company's mission and core values in an effort to not only give back, but bring real change.
Through shopping with Bio Organic Market + Juice Bar, customers will not only get to be part of something bigger with the charitable and giving spirit of the store, but they will be taking part in enriching our community on multiple levels.
"I really am so grateful for the opportunities Windham has given me, and I am beyond excited to give back in a way that I am passionate about," said Hawkins. "Our team can't wait to see what the next year will bring."
Bio Organic Market + Juice Bar is a cannabis free company and will be open to the public on January 6. For more information visit
www.BioMarket.me
or find them on Facebook.