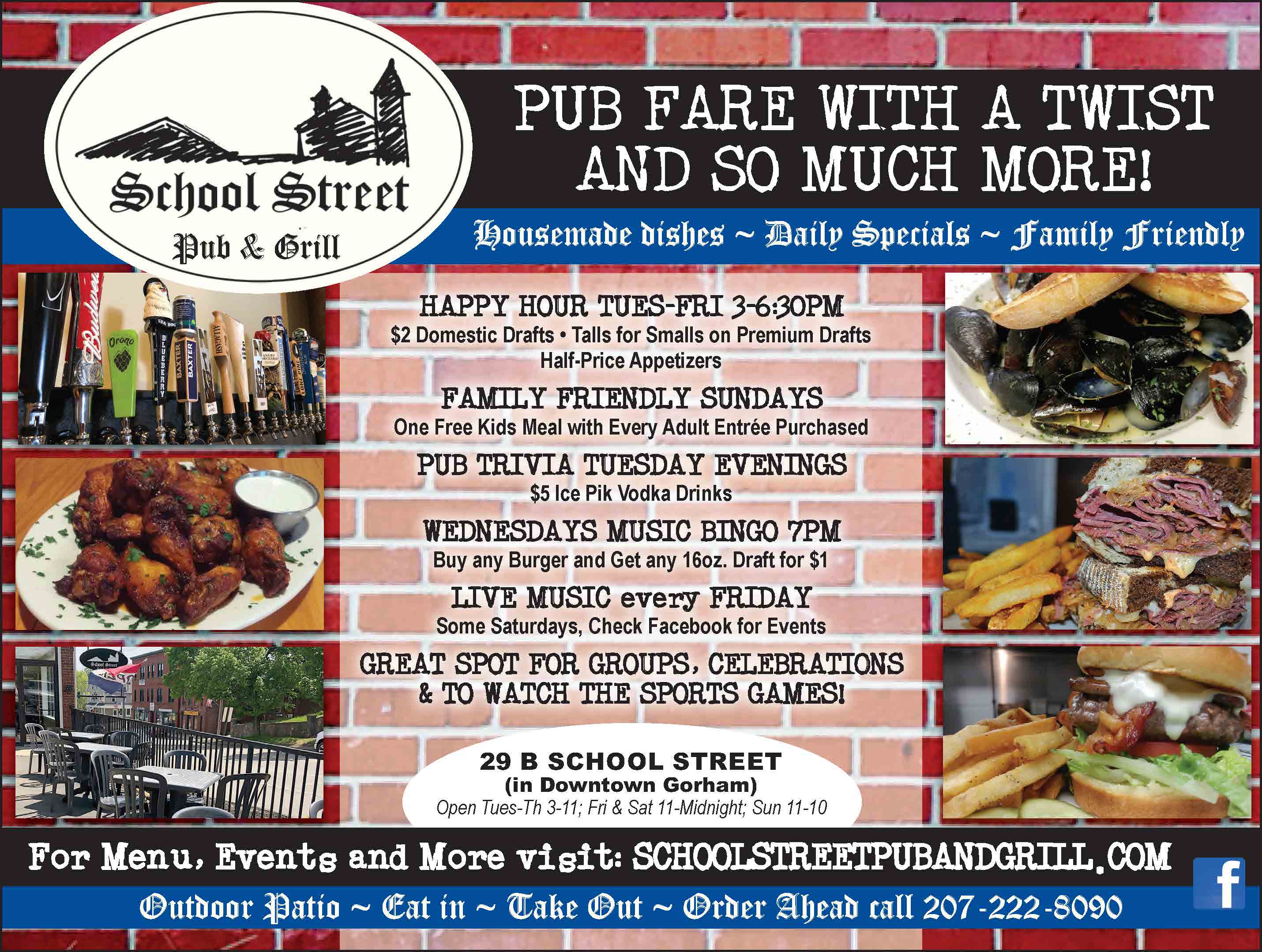 By Lorraine Glowczak
Known as the pub with a twist, School Street Pub and Grill located at 29 School Street in Gorham lives up to its motto. On the surface, it may appear to serve the typical pub fare, but unlike most pub and grills, the menu not only contains signature food options – much of the choices are made to order and from scratch.
Owner, Matt Troiano takes pride in their high-quality and reasonably priced menu options. "Everything is made from scratch here," he began. "For example, the breading on our chicken tenders is made right here in the kitchen. They do not come frozen with breading already on them to be thrown quickly in the fryer. We pride ourselves to take the time to do it right."
This family-friendly pub and grill is in the center of the quaint and quiet town of Gorham. Into its third year as the town's go to pub, Troiano became owner approximately eight months ago. "I've been here since School Street Pub opened its door," Troiano said. "I was the bar manager and when the previous owner was ready to sell, he approached me – and I couldn't refuse."
Troiano, who is originally from New York, has been in the hospitality business since his college years. He attended Champlain College in Burlington, VT and while working on his degree in pre-law, he worked his way through college by being employed at various restaurants.
In 2010, Troiano moved to Portland and continued working in the hospitality industry, working his way up to manager positions. When School Street Pub was available for purchase, he was ready to take the next step.
Owner, Matt Troiano
Part of that next step is to make School Street Pub and Grill the best it can be. The pub is already a local favorite for many reasons. Molly Adams who frequents the pub on a regular basis stated that it not only offers a family-friendly dining experience, but it is also the perfect place to meet friends for an adult beverage, conversation and laughter. "The cooks always make sure the food is consistent while the bartenders keep a close eye on whether a customer is ready for a drink refill."
Although a local family-friendly pub favorite, Troiano would like to see more people from out of town enjoy everything they have to offer. It's starting to happen. "I received a review online from a Portland couple who visited us recently," Troiano began. "The review stated that it was not only nice to get out of the hustle and bustle of downtown Portland but that they had enjoyed the atmosphere and the food, too – which was of the same quality they would find in Portland. The 20-minute drive was worth it, they said in the review."
With menu options from pan roasted shrimp and scallops with wilted greens and garlic mashed potatoes and pan-seared steak tips prepared as ordered to chicken wings, poutine, mussels, deep-friend Brussel sprouts and pub nachos, - all made with fresh ingredients and from scratch - everyone's preferences can be met.
"We also have a few vegetarian options," Troiano said. "A favorite is the 'Beyond' burger. I have to convince people that it is vegetarian because it is so hardy." As the menu states, the "Beyond" burger is "certified vegan, no soy, no gluten, no GMO – no joke!"
And there's more. "They
offer live music on Friday and Saturday nights with no cover charge so if you feel like dancing, this is a fun locale to do so," Adams said. Plus, there is music bingo on Wednesday nights, pub trivia on Tuesday nights and on the second Saturday of every month is comedy night.
Last but not least, a pub is not a pub without adult beverage options. School Street Pub and Grill offers 16 local and domestic brews on tap as well as the usual variety of liquor options with one popular signature drink that has become the local favorite – the Dirty Pickle Martini – made with the brine from the house made pickles – no preservatives and no food coloring.
Whether you live in Portland, Windham, Raymond or other Lake Region communities, be sure to check out this local favorite destination in the quiet town of Gorham. The drive will be worth it as you experience the pub with a twist.
Hours for the School Street Pub and Grill are Tuesday through Thursday, 3 p.m. to 11 p.m. Friday and Saturday, 11 a.m. to midnight and Sunday, 11 a.m. to 8 p.m. For more information, peruse their website at
www.schoolstreetpubandgrill.com/
or call at

207-222-8090.