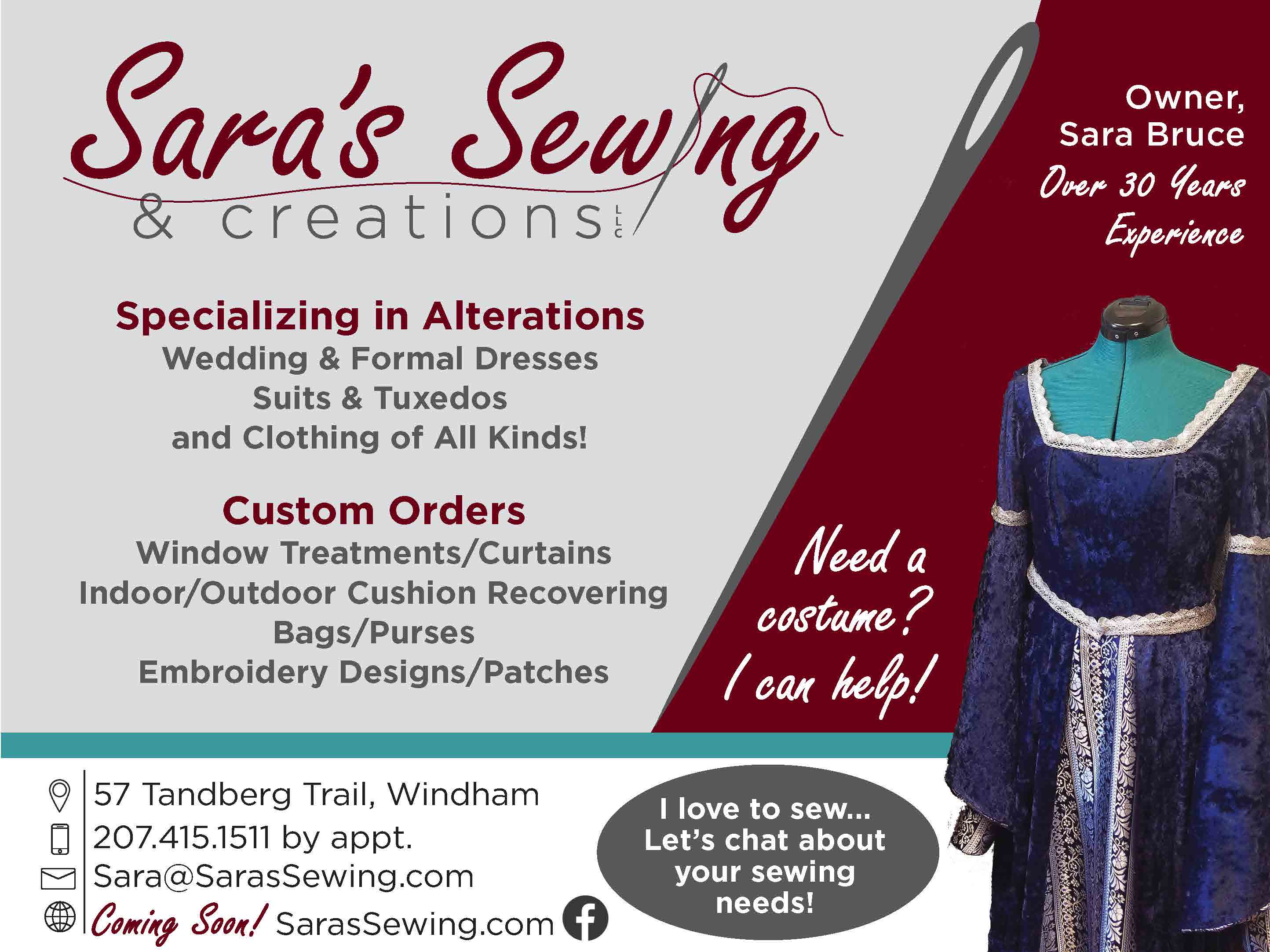 By Lorraine Glowczak
It's a professional talent that is slowly diminishing as a much-needed trade that is difficult to be found, but there is one local and gifted person who is bringing it back to life. Seamstress extraordinaire, Sara Bruce of Sara's Sewing and Creation, LLC has taken her long-time hobby of stitching, needlework, sewing repair and embroidery and created a business right here in the Lakes Region.
"I learned how to sew over 30 years ago in Home Economics class by a teacher who wasn't a fan of cooking," Sara stated. "I wanted to learn how to cook but instead, I inherited her passion for sewing, and I have made it a part of my life ever since."
In February of this year Sara took the leap from her hobby/home business and opened a sewing studio located at 57 Tandberg Trail in Windham. Whether it is replacing a zipper, mending a shirt, wedding, or formal dress, Sara can do it all. "I also love to make bags, pillows, curtains and machine embroidery," she explained. "I make and sell these items but can also do special requests and custom-made pieces."
It all started when people realized she enjoyed sewing. "People started asking me to do projects for them that they either didn't know how to do or simply couldn't find the time," Sara stated. "It got to the point that I realized I could make a business out of it. When my daughter went to college, I realized I wanted to take the next step and have a real studio and business."
In only three months since she's opened shop, her business is booming. "I've been a bit busy lately with altering prom dresses" she said. "I'm so happy that it has been successful so quickly. I also have some wedding gowns and bridesmaid dresses that I will be working on next but am always looking for more ways to help with many sewing needs."
There are many local customers who have found Sara's

techniques and talent to be among the most professional and would highly recommend her services. Jonathan Priest, a Windham Insurance specialist with MetLife whose success is reliant, in part, on a professional looking appearance has used Sara's Sewing and Creation to his advantage. "Sara has hemmed many of his wife's skirts and has repaired seams for me," began Priest. "She has done so in a timely manner and in the style of an expert. In fact, when I bring my items home, my wife is always taken aback because it is as if they came directly from the factory itself. Sara is super approachable and really nice. I highly recommend her and her sewing services."
Connie Ayotte is another customer who raves about Sara's expertise. "I am a dance mom and Sara has altered a dozen or more costumes for me," Ayotte stated. "She is amazing and fast – with a quick turnaround. It always comes back to me perfectly. I highly recommend Sara because she is experienced and knows how to fix the most difficult situations – always thinking outside the box to solve a problem. And just as important – she is local!"
Sara's talents do not end here. She also teaches sewing at the Fiddlehead Art and Science Center in Gray in their afterschool enrichment program. "I also am looking into teaching adult sewing classes at the local Adult Education Centers in the near future," Sara stated.
Sara is originally from the Madison, Maine area, graduating from Carrabec High School. Upon graduation, she attended Beal College in Bangor and gained an Associates Degree in Office Management. "Then we moved to Windham and I received my Business Degree at Saint Joseph's College," Sara explained. "I'm now putting what I learned as a business major into action with something I love to do."
For any sewing project or custom-made items you may have, Sara Bruce of Sara's Sewing and Creation, LLC is at your service. You can follow her on Facebook, give her a call at 207-415-1511 or email her at sara@sarassewing.com. Services are by appointment only. Her website is now under construction and will be up and running soon.